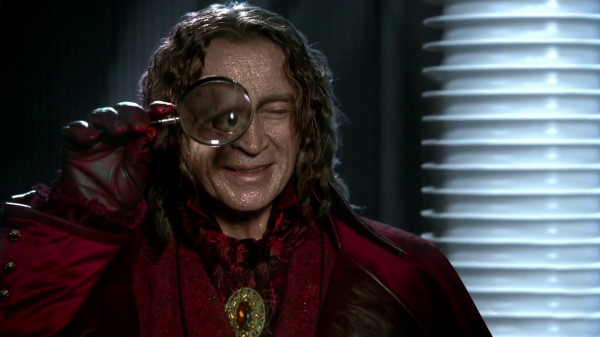 Podcast: Play in new window | Download | Embed
Feedback and further digging into theories about the stories so far. We talk about Baelfire, August, the curse, Tamara, and more.
Enhanced episodes: Enhanced or not? That is the question.
Cora-focused episodes were enhanced: possible hint about season finale or just reminding us of the recent major events?
Don't miss this Sunday's behind-the-scenes special, "Once Upon a Time: The Price of Magic."
TAKE A LOOK BACK AT HOW THE RESIDENTS OF STORYBROOKE HAVE FARED SINCE THEIR FAIRYTALE MEMORIES HAVE BEEN RESTORED, ON THE RETROSPECTIVE "ONCE UPON A TIME: THE PRICE OF MAGIC," SUNDAY, APRIL 14 ON ABC

Series Creators/Executive Producers Eddy Kitsis and Adam Horowitz to
Offer Some Inside Scoop on What's Transpired and What's to Come

ABC invites new and avid "Once Upon a Time" viewers to take a look at one of the most talked about and critically acclaimed shows. "Once Upon a Time: The Price of Magic" will explore the series in a way that will bring new viewers up to date — but which current viewers will also find illuminating – in discovering the consequences the residents of Storybrooke have had to endure since magic was introduced into the town, and whether Mary Margaret's path has been tainted since learning that her heart has been darkened after she killed Regina's mother, Cora. Series creators and executive producers Eddy Kitsis and Adam Horowitz will provide some inside scoop on the importance of family, the characters' journeys and the mythology of the show. They will also tease what's upcoming in the exciting final four episodes of the season. "Once Upon a Time: The Price of Magic" airs SUNDAY, APRIL 14 (8:00-9:00 p.m., ET) on the ABC Television Network.

Nothing is more important than family, and this season has shown just how close these bonds are, even between good and evil. Magic always comes with a price: the residents have come to discover just how true these words are ever since Mr. Gold introduced magic into Storybrooke when the curse was broken. Mary Margaret and Emma – mother and daughter reunited – were sucked into a portal that transported them to what was left of fairytale land. It was there that they met Mulan and Aurora, who helped them defeat Cora and Hook and enabled them to travel back to Storybrooke, reuniting them with Emma's father David and son Henry. But Cora and Hook also found a portal into town, and Cora set her sights on reuniting with daughter Regina. She also tried to find Rumplestiltskin's dagger in order to take him down and become The Dark One. Hook set his sights on killing Rumple, not for power but for revenge for killing his true love (and Rumple's former wife), Milah. Mr. Gold also set out to find his son Bae, which he did with the aid of Emma and Henry in New York. But much to everyone's shock, Bae turned out to be Emma's former love, Neal, who is also Henry's father. Upon returning to Storybrooke to find a cure for Mr. Gold, who was poisoned by Hook, Mary Margaret did something completely against her nature – she used dark magic to kill Cora – causing her heart to darken. And what plan does Greg Mendell, who has been recuperating in town since his car accident, have in store for the magical inhabitants of Storybrooke? Greg saw magic as a boy in the town and believes Regina may have killed his father. His price of magic may just be revenge.
Listener Feedback
Nick Nick from Oregon suggested August may be the prophesied boy?
Nick Nick points out that both Henry and August have led Rumplestiltskin to Baelfire. August is also now a boy again.
We think there is some life to that theory. The seer did not specify who the boy is and the writers tend to hint at different characters.
What about the little boy Owen (now Greg)?
Nick Nick believes the curse has several layers
We don't know what happened when people crossed the line before Rumple brought magic to Storybrooke.
If there are layers, Rumple does not necessarily know what is in each layer. He has been surprised, as when David told him he could not cross the town line.
Nick Nick also thinks that Step 1 of Operation Cobra is still in progress
Tamara knows about the book, yet she hasn't done anything to it.
Henry did mention in Season 2 Operation Scorpion, which was to get Emma and Snow from Enchanted Forest.
Thanks for supporting us!
David Neuland
LaurieAnne
DJFirewolf
You can sponsor ONCE podcast, too!
I bet that Tamara will somehow get a hold of Cora's book that Regina locked up in her cabinet. With the book maybe she will be able to use magic. :0

OmgRoxas
Tamara might not need the book. Tamara's taser was confirmed by the writers to be special. We think the taser removes magic from people.
I have a theory about Neal/Bae what if he HuckFinn and somehow he met the lost boys and they took him to Neverland where he met Hook the reason I have this theory because Huck and Bae have things in common for one Bae grew up with a coward for a father and Huck grew up with a father who was drunk they both are thieves

Aleana
Daniel is very slowly succumbing to the idea of Neverland … and coffee.
The curse may have affected other lands, such as Neverland and the Land without Color. We have seen Jefferson and Frankenstein.
While I was listening to the full discussion for Lady of the Lake (catching up on your S2 episodes during the hiatus) I was surprised that you didn't understand that the "and by her grace" comment that Lancelot made when he found the water was a reference to the Virgin Mary. Once Upon a Time plays fast and loose with religion generally, but Arthurian Legend is centered around Christianity by definition and the episode didn't stray away from that–after all, the Holy Grail is supposed to be the cup used at the Last Supper, and Lancelot tells them of a "cup that grants eternal life," so the show at the very least isn't afraid to use religious language. I thought it was a nice nod to the original story, wherein Lancelot was known for his Christian virtue (which would have, at the time of the Arthur legends, would have been a Catholic Christian understanding of virtue, with a focus on Marian devotion) before his fall from grace due to his affair with Guinevere.

Isabelle
The man that asked Annie to marry him, his last name was Gale, which is Dorothy's last name…

Christy
If a heart that's removed becomes enchanted, does it remain enchanted when it's put back? Does Mary Margaret now have an enchanted heart that can now love David, Emma, and Henry more strongly than before? Is her magical heart able to purge the darkness from itself? Will they explore how there are veins of light and darkness in each one of us? Can the Joker's dastardly plan actually work this time? Tune in next week, same bat-time, same bat-channel!

Roger
Both Aurora and Snow have had their enchanted hearts put back in. So did Daniel, but it wasn't his own.
Laura asks if we will see Aurora, Mulan and Philip again?
Their story hasn't been finished, and writers have rarely introduced characters to write them out without a definite end/answer to their story. We'll have to wait and see!
First off, I love you podcast and that you aim to be spoiler free, just no fun knowing. I was watching Peter Pan with my nephew and noticed when Peter, Wendy, Michael, and John are flying to Neverland they jump on the clock and it goes to 8:15. Not sure if that is a coincidence but I found it interesting and share if you weren't already aware. It really reminded me of Henry watching the clock. I haven't been able to listen to all podcasts so perhaps you know this or noted it. If so, sorry.

Melissa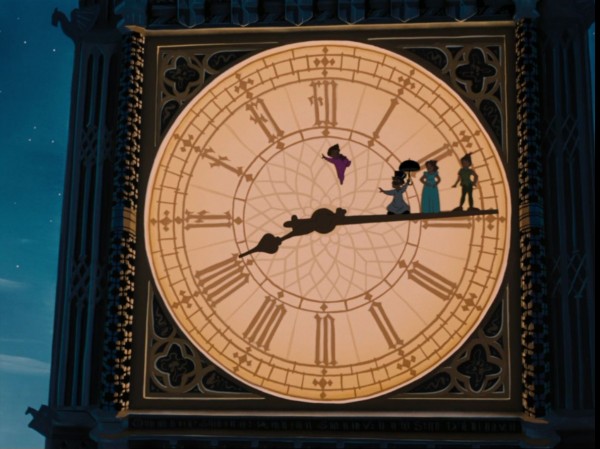 Is one of the Lost/Once writers a big fan of Peter Pan?
Caroline suggests that Rumple wrote the book that brought everyone over.
August wasn't in Henry's book and neither was Dr. Whale/Frankenstein. Henry pointed out that he didn't know where these characters came from. Expect to see more non-fairy tale characters!
Timothy suggests that Belle may have written the book.
Belle was locked away in the tower. She loves books. Did she use that time to write the book? Belle was in the asylum for 28-29 years. We don't know when the book came to Storybrooke.
Here's a thought that might help Daniel's coffee go down a little easier. 🙂

If Bae really went through the beanhole to Neverland, he would have seen his mother again. This could help explain the look on Mila's face when Rumple (now the dark one) mentioned leaving her son. It also opens up a whole story line for why Bae and Hook don't like each other or Rumple.
Anyway, I look forward to more Once Upon a Time and more Podcasts. Keep up the good work.

Christine
Hook went to Neverland AFTER Milah's death. But where did they go before her death? Did Bae see his mother again?
Announcements
Behind the Scenes THIS SUNDAY, April 14.
Send in your interview questions for Barbara Hershey or Eion Bailey (E-mail with "Questions for Barbara" or "Questions for Eion" in the subject)
Exciting summer podcasting!!!
Roundtable soon?
Thank you for the Apple Podcasts reviews!
DonTJr

yappysquirrel said, "Daniel, Jeremy and Jenny have taken my deep love of fairy tales and this show to a new level of enjoyment."
K Piper 1983
cDtippy
kidist degefa
BriarRose 1984
FireAnnice
Hope Mullinax
leyre
JPX9003
Your reviews encourage us and help others find the podcast!
Please rate and especially write a review for us on Apple Podcasts.
Preorder season-two DVD/Blu-ray set!
You can now preorder the complete second season of Once Upon a Time on Amazon.com! For a limited time, save $10 off the DVD set and $15 off the Blu-ray set!
Preorder the second season today!
Join us for the LIVE podcast!
Initial reactions on Sundays at 9:15 p.m. (EDT/GMT-4)—right after the Eastern and Central episode airing.
Full discussion, feedback, and live calls on Wednesdays at 8:30 p.m. (EDT/GMT-4).
On these days, visit ONCEpodcast.com/live to watch and chat live.
What did you think?
Email Feedback@ONCEpodcast.com (audio files welcome)
Call (903) 231-2221
Comment on the shownotes
Visit any page on ONCEpodcast.com and click the "Send a voice message" link to record and send a message right from your computer.
Help us out!
Share this post in your social networks
Follow us
On Facebook:
On Twitter:  echo do_shortcode('[twitter follow="ONCEpodcast"]'); ?>
Daniel J. Lewis:  echo do_shortcode('[twitter follow="theDanielJLewis"]'); ?>
Jeremy Laughlin:  echo do_shortcode('[twitter follow="phlegon"]'); ?>
ErinJ:  echo do_shortcode('[twitter follow="erinjcruz"]'); ?>
Hunter Hathaway:  echo do_shortcode('[twitter follow="travelingpixie"]'); ?>
Jacquelyn / RumplesGirl:  echo do_shortcode('[twitter follow="punk_bunny_87"]'); ?>
Spoilers
Episode 19 Synopsis
New cast members for episode 19
Character news
Spinoff casting and news
Marvel Graphic Novel
Season 3 news