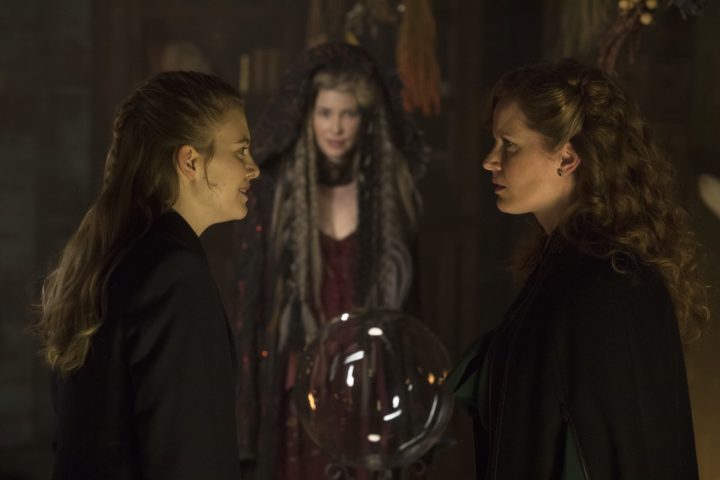 Why did Mother Gothel help Regina and Zelena to wake up Lucy? Who killed Doctor Sage? All these and more as we hit the road, digging deep into the episode "Secret Garden" including Mother Gothel's—dirty hippie witch—agenda, Zelena's dysfunctional family, as well as the Resurrection Amulet's unparalleled power.
Podcast: Play in new window | Download | Embed
Mother Knows Best
This episode felt like Once Upon a Time getting back to its roots in the worst way. However, they surprisingly did a good math with this flashback. They had previously said Robin was 25, and if she is 18 in the flashback and Lucy is a baby, that means Lucy is now eight (allegedly).
So Robin's age finally makes sense.  In episode 7×01, Hyperion Heights, Henry leaves Storybrooke and he's 18 which would put Robin at age 5 as she was born when Hebert was 13 in episode 5×08, Birth and in episode 5×05 Dreamcatcher, Henry stated he was 13.  It wouldn't be for another 10 years before Henry meets Cinderella putting him at 28 which would make sense as many milestones for the characters seem to take place at 28.  In this episode, Robin states she's 18 which would make Henry 31 when Lucy's born and about 38-39 when the curse was cast as Robin stated she was 25 in episode 7×10, The Eighth Witch and Lucy was eight wedge the curse was cast.  Still doesn't explain why Regina, Zelena, Hook or Rapunzel haven't really aged but at least the aging is making a little more sense.

— DeAndre Williams
That said, this would contradict Zelena's statement that Robin growing up quickly was meant to imply that in another realm actually time moves faster, which would also account for Henry growing up so much while all the people he left in Storybrooke didn't age very much.
It was nice to see the past and see the answer as to why Zelena's back and how she and Robin got to the Enchanted Forest. Tiana's castle also looked better than what they've done in the past. On the other hand, it was a little flat, rushed and creepy in the wrong way. It was bothersome how they can jump between realms easily without explaining it. At least they did a good job fixing the timeline.
One thing we liked about the episode is how they introduced Robin's storyline and how she was supposed to follow Zelena's footsteps and learn magic just because she is the daughter of the Wicked Witch. We were a bit troubled with the Storybrooke stuff, seeing young Storybrooke girls practicing dark witchcraft. Are one of the girls Emma and Hook's child?
There are so many game-changers in this episode. Why was Gothel helping Zelena and Regina in present day Hyperion Heights? Why bother wake Lucy up? How did Zelena know Mother Gothel? Did Gothel try to recruit Zelena into the coven before Robin summoned her?
Memento Mori
When they found Robin in Memento Mori's, she said that she ran away, rather than the fact that Gothel kidnapped her. Did Robin do that just to get back at her mother? Madame Leota, on the other hand, one of the most powerful witches in all the realms and is critical to Mother Gothel's plans for her coven. Furthermore, Madame Leota is a ghostly character from the Haunted Mansion franchise. Originally conceived as a character to be featured in The Haunted Mansion, Leota's character has been expanded, to be featured in multiple Disney attractions, as well as a feature film. She was originally portrayed by Leota Toombs, whom she was named after, while Eleanor Audley voiced her. Madame Leota generally favors speaking in rhyme as her incantations seem to be based around it.
The Memento Mori, the name of the shop where Zelena and Nook found Robin, is the medieval Latin Christian theory and practice of reflection on mortality, especially as a means of considering the vanity of earthly life and the transient nature of all earthly goods and pursuits. With a Latin translation, "remember that you have to die", Memento Mori has been an important part of ascetic disciplines as a means of perfecting the character by cultivating detachment and other virtues, and by turning the attention towards the immortality of the soul and the afterlife.
Why did Doctor Sage die? Sage, meaning to heal or to save, is basically a hippie drug to help with life and is symbolically also know to be very "clearing" for spaces and smudging rituals, etc. In addition, the Romans regarded sage quite highly and much sacrifice and ceremony was associated with its harvest.
Why did they have magic in Hyperion Heights, which is supposed to not have any magic at all? Does Anastasia still have magic inside her? If Anastasia is supposed to be that powerful, how did Mother Gothel just make Anastasia do what she wants just like that? Is Gothel getting magic from the earth? After all, Mother Nature is an ancient pseudonym for Gothel.
Depending on your beliefs, the past episodes talked about witches in a fanciful detail motif kind of story. But now, stuff's getting real; it's literal, and it's not pleasant and it's difficult even trying to mesh the two flavors of story that is witchcraft. Gothel's talking about Zelena in the same way, referring to her as the Wicked Witch, which she is but it seems totally different from the way the story is currently going.
Is it possible Mother Gothel wasn't necessarily that evil after all? In the little snippets of backstory that we got from this episode, she said that she relates to Anastasia, having receiving her magic early on and people not knowing what to do with her. Another frustrating thing about this episode is Gothel actually ressurecting Lucy. Her following through her word is very out of her character. It did give us a nice closure with Lady Tremaine and Drizella, who is yet another villain who has had a change of heart as she is sacrificing herself.
Climbing out of the well
The Tremaine-Drizella stuff was tough. We loved when Ivy is emotional and vulnerable. Adelaide Kane plays that really, really well. Even when she spits a witty comeback towards her mother, you can still see the pain behind it, like she was forcing it out because it was her only way to be strong instead of crying. Meanwhile, Lady Tremaine was the opposite of Zelena. Her whole life, Rapunzel was the opposite of what Zelena did in this episode. She was rejected by her daughter but she went hard and rejected her (Drizella/Ivy). That said, it was nice that she did the right thing in the end. Having always loved her or not, it's the right thing to do and it was the wrong thing to sacrifice her in the beginning. Is Lucy important to Gothel's end game, that's why she woke her up? Does she need her to develop some type of rapport with the heroes? Is Ivy good now? Is she going to be on the good side and is anyone going to trust her?
If Rumplestiltskin/Weaver comment, "things around her are about to get very dark" isn't dark enough, where are we going this season? When is Rogers going to wake up? Rogers/Nook seems like someone who has a Stockholm syndrome but in reverse. Does Gothel put some kind of spell on him that's why he hasn't waken up? Is a curse really a curse if you can wake people up one by one? If it's a Land Without Magic and magic being there is what makes Henry's heart poison activate again, then they are not doing a very good job because, clearly, there's magic there already which they just used to resurrect Lucy. If it's somehow tied to the curse, then they did a really awful job explaining that. If they get their memories back—Jacinda, Tiana, Henry, will they want to stay in Hyperion Heights or come back to the Enchanted Forest?
As enjoyable as the season has been, hopefully there will be a cast reunion before the series finale. It will be nice to see Emma, Hook, their daughter, Snow White, Charming, baby Neal, and everyone else. Speaking of cast reunions, episode 7×17, which is also the show's 150th episode, is the one that Lana Parrilla directs. Will we see familiar faces for the 150th episode?
Who killed Doctor Sage? Who cut her hair? Rumplestiltskin? Mother Gothel? If Doctor Sage is a witch, why would Gothel try to kill a witch if she is trying to resurrect witches? What does she need the hair for? Glamour? Is Doctor Sage really dead?
Did anyone notice the Easter Eggs in this episode? They mentioned Doctor Strange, which is a nice nod to Disney and Marvel's merge. It was also nice getting a pop culture reference when Zelena and Robin talked about being Beyonce, Jay-Z and Blue Ivy in the new Enchanted Forest. Furthermore, did we have The Sound of Music reference in this episode? Rogers said Tilly's been fed with tea with jam and bread. Or is it a Wonderland reference? Finally, the Apollo Bar made the appearance again when Jacinda was in the vending machine.
As the episode goes, Henry is showing more signs of belief. Are the storylines going to be separate so they can wrap everything up in time for the series finale? It seems that the only thing getting in the way of waking Henry up is Gothel. After all, almost everyone of them is awake except Henry and Rogers/Nook.
Did we miss anything from the episode? Sound them all in the comment section below! Do you have any theories and feedbacks about "Secret Garden"? Share them all in the forum and find more information about "Secret Garden" and the last 12 episodes of the series!
What did you think?
Email Feedback@ONCEpodcast.com (audio files welcome)
Call (903) 231-2221
Comment on the shownotes
Visit any page on ONCEpodcast.com and click the "Send a voice message" link to record and send a message right from your computer.
Help us out!
Share this post in your social networks
Follow us
On Facebook:
On Twitter:  echo do_shortcode('[twitter follow="ONCEpodcast"]'); ?>
Daniel J. Lewis:  echo do_shortcode('[twitter follow="theDanielJLewis"]'); ?>
Jeremy Laughlin:  echo do_shortcode('[twitter follow="phlegon"]'); ?>
ErinJ:  echo do_shortcode('[twitter follow="erinjcruz"]'); ?>
Hunter Hathaway:  echo do_shortcode('[twitter follow="travelingpixie"]'); ?>
Jacquelyn / RumplesGirl:  echo do_shortcode('[twitter follow="punk_bunny_87"]'); ?>