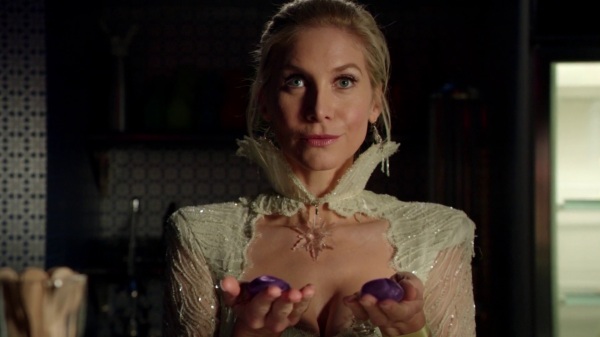 As soon as the Spell of Shattered Sight hits, the residents of Storybrooke started turning against each other, making them hurt everyone verbally and physically. Meanwhile, Elsa and Emma finds a way to free themselves not only of the ribbons that tie them with Ingrid, but the town as well from the hideous spell. In the past, however, young Emma was sent in a new home where she finds what would have been the best big sister she could ever have, only to discover that it was the same person that would want to turn her into a nutjob.
Podcast: Play in new window | Download | Embed
We expressed from our initial reaction how we are still a bit skeptical of the episode but the more we watch it, the more we appreciated this episode. We definitely liked it better than we did. When the Snow Queen did a magical swipe at Anna, that part threw us. It was a scene that made us feel like she was making a transition the way she was supposed to.
Land without Magic (Past)
In Boston 1982 was the year Storybrooke came into the Land without Magic, giving Ingrid a year to spare, but what an interesting gangsters to greet her arrival into our land. But if this is one year before the curse, it doesn't quite tie up with the show's timeline.
Meanwhile, in Richfield, Minnesota in 1999, we were wondering if it was Ingrid the one to inspire Emma to drink hot cocoa with cinnamon? That particular scene, however, was a sweet moment between Emma and Ingrid. She was even likeable in those scenes, but Ingrid didn't look into Emma's video camera in the take the way it was showed in an earlier episode. It also seemed like Ingrid has done her homework when she treated Emma not as a child, but rather as an adult.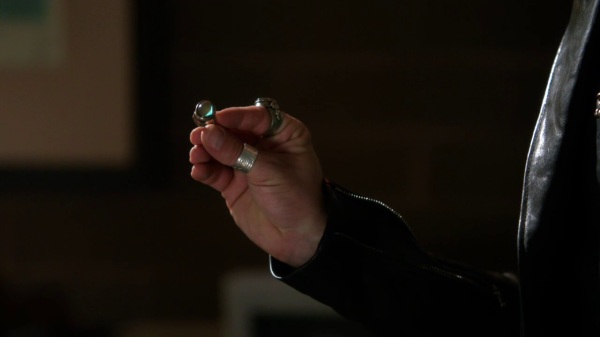 At the scene in the arcade with Ingrid and Emma, the ring that was attached to the Dalmatian was the exact same ring that was shown in the episode, Breaking Glass. It was with her box of keepsakes that Hook went through. It was nice how they connect little things such as this from one episode to another.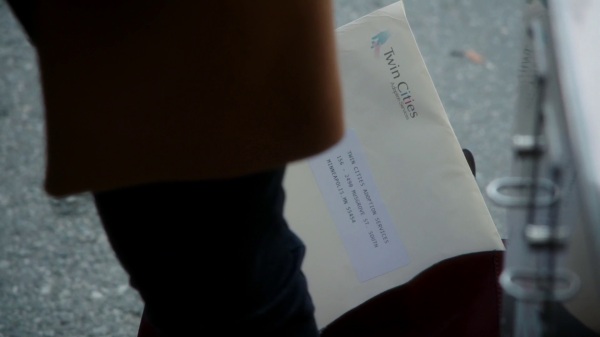 From one detail to another, we also noticed what was written on the envelope of Twin Cities Adoption Services. Apparently, it doesn't exist but, it's a simple company used in some adoption social worker resume sample.
We were still a bit skeptical with all the Harry Potter references this season, since the book was first released in the United States in 1999. Especially if she was really 12 or 13 when she lived with Ingrid, it wouldn't quite tie in with the proper timeline. In 2001 in Maine, however, was when she magically made it to Storybrooke. Was that why she didn't age? Because she was originally from the Enchanted Forest then she came to Storybrooke, where people stopped aging until the curse was broken?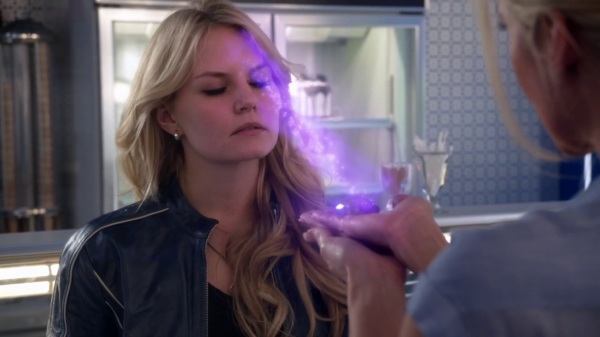 The last we saw from the past was inside Ingrid's ice cream shop, which was in November 2011, and would have been about a month after Emma first came to Storybrooke. This is due to the fact that Emma first wore that blue jacket in 1×04, "The Price of Gold" so this was probably around 4th or 5th episode of the first season.
Thank you for supporting us!
Steve Johnson (subscriber)
Lisa Slack (subscriber)
David Neuland (subscriber)
Holly Brown (new Patreon backer)
12 Patreon backers ($24.50 per episode)
You can sponsor an episode or more of ONCE podcast, too! Email Daniel@ONCEpodcast.com if you would like to arrange a corporate sponsorship of our podcast for the upcoming third season.
Storybrooke (Present)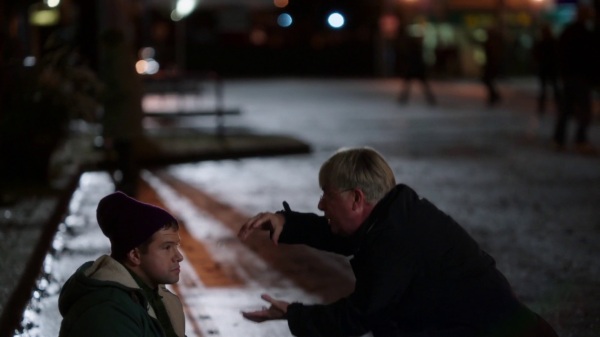 The first thing that we see in present day Storybrooke was Ingrid walking through Storybrooke, checking out as the residents of Storybrooke tear themselves apart. Meanwhile, at the Sheriff Station, the dynamic between Snow White and Charming is great; we love every scene that was shown in this episode. The way Mary Margaret switched from the sweet Snow White to dark Mary Margaret was incredible, like she simply switched it on and off. But why doesn't Kristoff seem violent?
This week, there was another deleted scene that was shown on Good Morning America with Regina coming to visit Ingrid from when she first came to Storybrooke. In the scene, Dopey was also tied behind the counter somewhat using the rock troll's memory spell to make sure that he won't spill her secrets. Was Dopey the original ice cream man?
Back at the Sheriff Station, we were quite right in guessing Anna's involvement in solving the problem, telling them of the Trolden Glass story. However, its story clearly didn't align with the Snow Queen. But, just like the tale, it was love that helped turn everything back.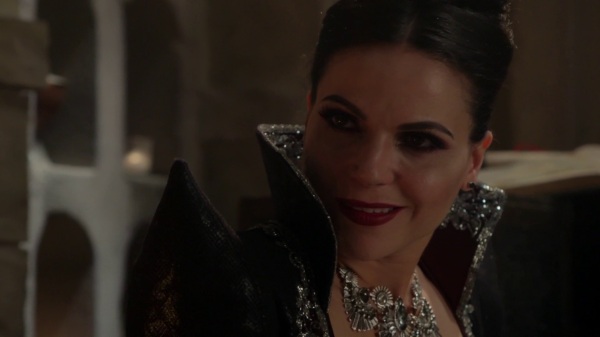 Why did Regina not remember that she was the one who sealed herself in her own vault? Could it be a consequence of her own dark magic? Why can't she undo her own Containment Spell? Was it because she used a spell that was only supposed to undone from the outside?
Back in Mr. Gold's shop, Rumple talks to Hook about waking up Belle in New York City, as well as the stars in the sky needing to align with the stars on the hat tomorrow. Next episode? Is he planning to go back to Neal's old apartment? If Gold wants to be viewed as a hero so much, why not just BE THE HERO?  He has the power, anyway. Plus, if all magic comes with a price, what price that Rumplestiltskin (or other people) has to pay for whatever he is planning to do next?
Rumple told Hook that he was spared from the Spell of the Shattered Sight because his heart wasn't in his chest. If Cora was dangerous alone without her heart, how come someone who doesn't have a heart unaffected by the spell? Wouldn't a person without a heart be more dangerous under the spell and not unaffected by it?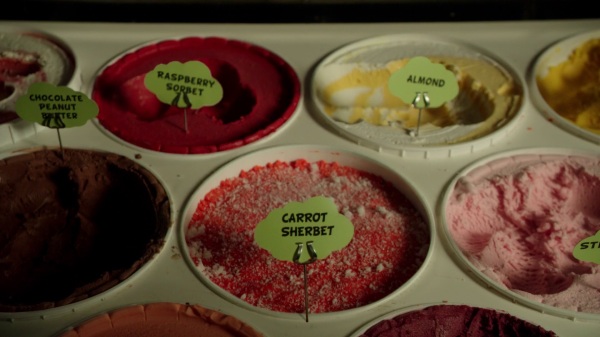 We looked up all the flavors in Ingrid's ice cream shop, Any Given Sundae and found the following:
Raspberry Sorbet
Almond
Chocolate Peanut Butter
Strawberry
Carrot Sherbet (which was untouched, and where Elsa and Emma's memories were hidden)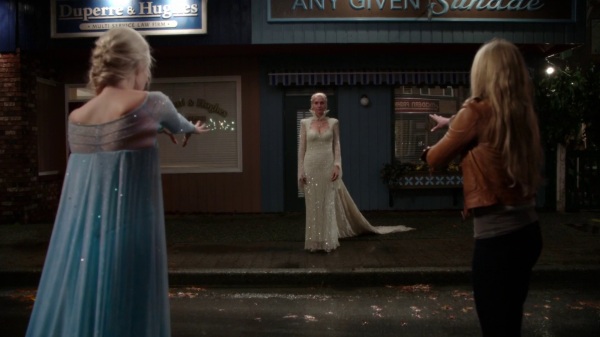 When Elsa and Emma tried to cut off their ribbons, Ingrid said that "the love that flows through our ribbons is without equal." So, does that mean that the magic of "true love" can be broken with extreme hate?
One thing we noticed as Hook walks through a fighting town, we noticed a black guy in a white suit being harassed by employees of Granny's diner. Is it a nod to anything? This, somehow, made us think of the White King from Wonderland.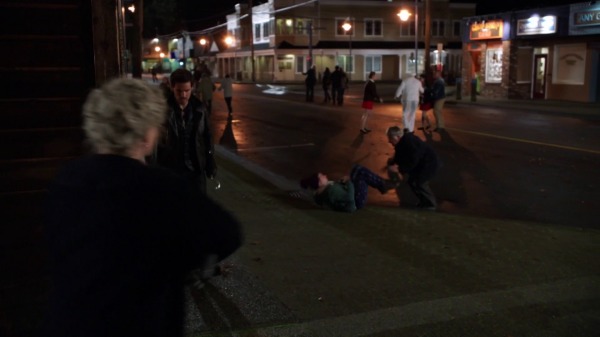 Whom do you think it is (if anyone)?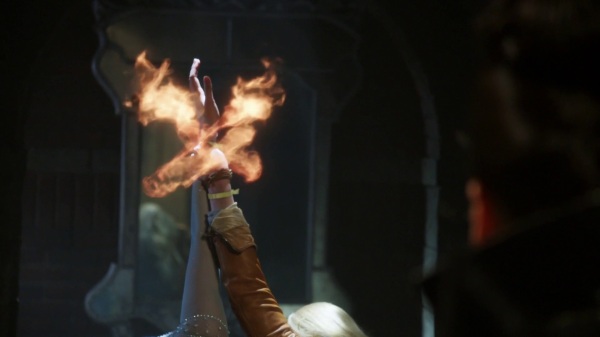 What was Emma thinking when she took Elsa to free the Evil Queen down her vault. The good thing about Regina is that she's generally focused on one mission, but Emma made some interesting decisions in this episode—asking Anna, who doesn't have magic, to take care of her baby brother; taking Elsa down to Regina's vault and be prickly to have their ribbons destroyed.
Emma figuring out Regina's hate was an antidote to the love of the ribbons was clever and a satisfying end to the ribbons.
The resolution of what was in the bottle was equally as satisfying. I really didn't see this coming. Who knew Gerda kept those memories and would want everyone to get them back?

—Chris
We theorized before whether Henry and Belle will be affected by the spell and it seemed that he simply put Belle to sleep. Henry, on the other hand, was still affected by the curse, even if he wasn't born in the Enchanted Forest.
It would have been really cool to see Emma or Snow White sword-fighting Regina or anyone else while holding a baby, just like Charming did with baby Emma in the Pilot episode. It perfectly shows love—of the baby, the entire kingdom.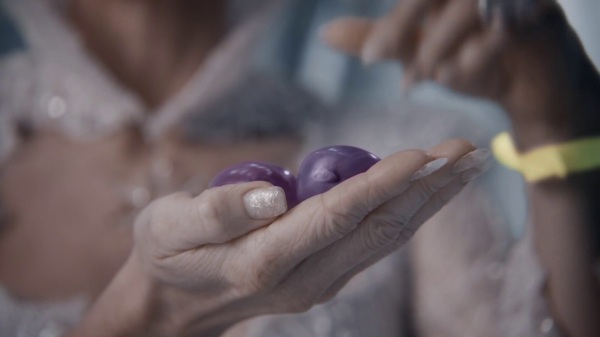 As Elsa and Emma visited Ingrid in her cave, the line "if someone loved you in the past you can make them love you again" was such a interesting loophole. Ingrid gave their memories back. Did she just give the good memories back and not the bad ones?
It was nice little reunion when the Evil Queen visited everyone in jail. We loved Snow White and Charming's parental instincts, despite being affected by the curse. Was baby Neal affected by the spell? It was also a fun reference when Regina called Snow White and Charming "the two idiots."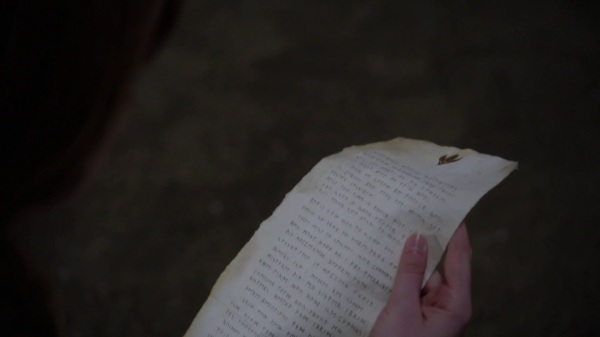 Going back to Elsa and Emma with Ingrid, it was a quite amazing scene with how they ended it.
"Gerta… What have I done, I need to reverse this," DON'T KILL YOURSELF INGRID!

THIS Scene!! Incredible, what courage, Ingrid loved her sisters, all she wanted was love, the letter gave her that, the sisters running on the field… I love the score playing, such beauty. Elizabeth Mitchell, you stole and broke my heart.

—Aleana
This had to be the best ending to a villain. Ingrid sacrificing herself for everyone after how evil she was, I can't even put into words how amazing it was. Here at the end and knowing her whole story, shes definitely the best villain yet. This was such an amazing ending. Regina and Snowing laughing about Regina wearing the Evil Queen outfit was great. Rumple walking down the street putting on his coat to end the episode was just unnerving. Next week is going to be phenomenal!! 7/5 pet rocks

—Chris
We love how Ingrid said, "I am a monster.  Not because of my powers but because of what I LET THEM turn me into." This definitely showed that evil wasn't born, it's made. It was a great way to show a villain's demise.
After the spell was broken and everyone was together again, the scoring sounded a lot like what was in the season one finale. But will Henry say something to Emma how Hook seem unaffected by the spell after he goes all Home Alone on him?
In the one scene that we saw Belle, she was asleep. Did Rumple accidentally put Belle to sleep this whole time?
Interesting note: the Snow Queen is the first major "villain" to not die as a direct result of Rumple's actions (although this can be debated if you trace back the events of Ingrid's life to her first meeting with Rumple). In Season 2, Rumple manipulated Snow to kill Cora so that he would be healed from the poison of dreamshade. In Season 3, he sought to avenge his son's death by killing both Tamara and Zelena. And he essentially killed his father, Peter Pan, by taking his own life with the daggar in the mid-season finale of Season 3.

And now another "villain" who is on the road of redemption is facing a possible death at Rumple's hands with Hook's heart under his control. Plus Rumple's killed his first wife, Mila, and many others along the way——so it seems as if the ultimate villain of this story is indeed the "Dark One"—not Regina Mills aka the "Evil Queen" as Season 1 strongly seemed to suggest. I believe he will take center stage in the latter half of Season 4 when he's freed from the dagger, which I believe will happen in the mid-season finale.

—Kyle
Will Rumple eventually turn out to be the ultimate villain once he succeed in freeing himself from the dagger? How villainous can he be once he have cleave himself from the power of the dagger?
Next week, we'll still do out live initial reaction on Sunday, December 14, but instead of doing our full discussion by Wednesday on the 17th, we'll be doing it instead on the December 18 at the same time, 8:00 p.m. (EST/GMT-5). However, we recommend that you join us earlier at 6:00 p.m. (EST/GMT-5) as we record our review of Into the Woods.
What did you think?
Email Feedback@ONCEpodcast.com (audio files welcome)
Call (903) 231-2221
Comment on the shownotes
Visit any page on ONCEpodcast.com and click the "Send a voice message" link to record and send a message right from your computer.
Help us out!
Share this post in your social networks
Follow us
On Facebook:
On Twitter:  echo do_shortcode('[twitter follow="ONCEpodcast"]'); ?>
Daniel J. Lewis:  echo do_shortcode('[twitter follow="theDanielJLewis"]'); ?>
Jeremy Laughlin:  echo do_shortcode('[twitter follow="phlegon"]'); ?>
ErinJ:  echo do_shortcode('[twitter follow="erinjcruz"]'); ?>
Hunter Hathaway:  echo do_shortcode('[twitter follow="travelingpixie"]'); ?>
Jacquelyn / RumplesGirl:  echo do_shortcode('[twitter follow="punk_bunny_87"]'); ?>
Spoilers
Regina has to make a difficult choice, but what?
Gold's quest for power threatens everything he holds dear.
An intrusion during Belle's stay at Rumplestiltskin's dark castle will wreak havoc in both the past and the future
Guest stars include Merrin Dungey as Ursula, Victoria Smurfit as Cruella De Vil, and Kristin Bauer as Maleficent.
"Heroes and Villains" was written by Edward Kitsis and Adam Horowitz and directed by Ralph Hemecker.
The American promo showed Elsa walking through the door the same way Ingrid came to our land
It seems that Mr. Gold's is going to be living town
Hook also does look like he is in pain
A Dalmatian was sighted in the promo, as well.
Cruella might have a back story with Rumple and Belle
Maleficent had the traditional head wrap, the same as the one in the classic Disney animated film and Angelina Jolie's version
Cruella de Vil looks exactly like the one in the film, as well
Adam Horowitz posted a script tease of the Winter Finale, showing Belle and Mr. Gold, talking about breakfast in bed
Robin, Marian and Robin may be leaving town. Will he choose Marian or Regina?
Sean McGuire has not been seen filming in the set lately.
TV Guide interviewed Lana Parrilla and reported that we might see more of Regina and Maleficent; how they met and how they became friends.
Set photos for 4×13 showed Cruella and Ursula fully dressed up and walking around town, as well as Cruella's car from the animated film.
Ursula was also seen with human legs
Adam Horowitz also tweeted a behind the scene photo of what seemed like an entrance of a cave.