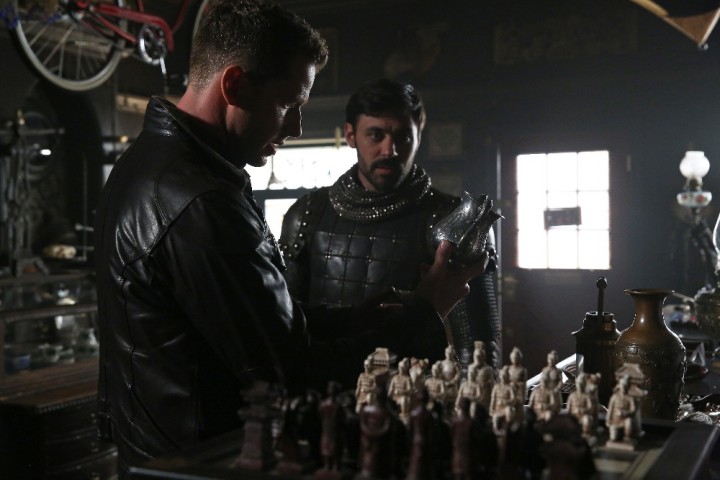 In Camelot, six weeks ago, King Arthur and Charming went on a quest together as brothers to help find a way to talk to Merlin, whereas in Storybrooke at present, the Dark Swan went shopping for something with an edge in a desperate attempt to pull the sword out of the stone.
Podcast: Play in new window | Download | Embed
In Camelot, the heroes feverishly work to free Merlin. Determined to help Emma, David embarks on a quest to retrieve a magical relic that Regina could use to communicate with the imprisoned sorcerer, but, when David leaves, Arthur insists on joining him because the dangers ahead are greater than he can imagine. Meanwhile, Mary Margaret discovers the fate of her old friend Lancelot. Back in Storybrooke, Arthur seeks David's help to catch a thief who threatens the safety of the citizens of Camelot. Across town, Emma reaches out to a conflicted Hook as she sets about her plan to draw Excalibur from the stone.
These are our first thoughts about this Once Upon a Time episode. We'll share more about "Siege Perilous" in our upcoming full discussion (usually live on Wednesdays at 7:00 p.m., USA Eastern Time).
Initial Reactions
Just by the title alone, Siege Perilous, is something that we want to research more, whether it's actually a thing with the round table. King Arthur said that that's the name of that special seat, however, the whole concept of a round table was that everyone is equal, right?
The title screen for today's episode also seemed a bit different today; like a different forest. Is that supposed to be Camelot, instead of the Enchanted Forest?
The Sheriff's station looks a little bit spruced down and emptier without Emma. David's tantrum was very unusual, but that aside, the writing in this episode was really good; dialogue was really good, really deep ideas and philosophies; the mythology in this episode was also really nicely developed even though some things seemed a little bit out of character and forced. And although it wasn't action-packed, overall it was a good episode.
On the other hand, the last 10 minutes was a bit disappointing because of the revelation of Arthur's lack of character, even though it was widely predicted. Arthur was called a villain in this episode, but is he actually a villain, or is he a person that has his priorities in the wrong order? He may be a villain to Lancelot, but perhaps to others, he's simply on the grey area despite of his questionable actions?
It was cool to see David be part of the round table now, but did Snow White talk to the real Lancelot? Cora said that she killed Lancelot a long time ago. Did she lie about killing him? Did she just locked him up somewhere?
It's not the first time Storybrooke was considered to become the new something; Pan wants to turn it once to be the new Neverland, but it feels a bit retread. We were on-board the whole rest of the episode. Didn't even have much to complain about but the twist towards the end was a bit disappointing, but not quite.
It felt like Arthur lied to his subject when he was praising him, telling him that he would be Camelot's greatest hero because that is not what the Agrabah venom does to a person. Did he mix it with something else? Squid ink, perhaps? Will Arthur get caught if they try to check on the security camera again? And if they do, will they play along or catch him out? Moreover, Arthur and Charming going on a quest together as brothers was really neat, since they were once both peasants who were now royalty.
Thank you for supporting us!
David Neuland
Steve Johnson
Lisa Slack
DJ Firewolf
Ariana Miller (new Patreon hero)
26 Patreon backers ($152 per month)
You can sponsor an episode or more of ONCE podcast, too! Email Daniel@ONCEpodcast.com if you would like to arrange a corporate sponsorship of our podcast for the upcoming third season.
We were surprised that, of all of the people that Emma might need as a hero, she was going to go get Arthur and make him pull the sword out for her, but instead, she chose Rumplestiltskin as a blank slate? How was Emma going to turn Rumple into the hero and get him to pull the sword out for her? Why him? Does she think that she can control him? And if she can, how was he the most pure of heart hero? Based on last week's episode, we also thought she was going to go after Henry, since he isn't just the one with the heart of the truest believer, he was also the author and was involved in breaking two curses so far.
When Rumple awakes and Emma was looking up at the Dark One in her mind, Rumple also looked that way,  and it made us wonder, does he know what's going on in Emma's head? Will we get to hear what he saw when he was the Dark One? Did someone even coach Rumplestiltskin when he became the Dark One himself?
Is Emma's whole date with Hook just a way to get the sword? To learn more information about the it, as well as to get Hook on her side?
Even if this episode didn't have much of an action, Siege Perilous feels like a set up episode. Setting up, giving us a little bit of a breather, some depth as to what's coming next, but what?
What's going on with Arthur? Where did Lancelot come from? Share us your theories and feedback regarding tonight's episode and please join us this coming Wednesday at 7:00 p.m., USA Eastern Time, for our full discussion of Siege Perilous!
Remember, these are only our initial reactions regarding tonight's episode so please bear with us if we're a bit all over the place. If you have your own thoughts, feedbacks, or theories regarding tonight's episode, however, send them over to us and join our upcoming full discussion!
What did you think?
Email Feedback@ONCEpodcast.com (audio files welcome)
Call (903) 231-2221
Comment on the shownotes
Visit any page on ONCEpodcast.com and click the "Send a voice message" link to record and send a message right from your computer.
Help us out!
Share this post in your social networks
Follow us
On Facebook:
On Twitter:  echo do_shortcode('[twitter follow="ONCEpodcast"]'); ?>
Daniel J. Lewis:  echo do_shortcode('[twitter follow="theDanielJLewis"]'); ?>
Jeremy Laughlin:  echo do_shortcode('[twitter follow="phlegon"]'); ?>
ErinJ:  echo do_shortcode('[twitter follow="erinjcruz"]'); ?>
Hunter Hathaway:  echo do_shortcode('[twitter follow="travelingpixie"]'); ?>
Jacquelyn / RumplesGirl:  echo do_shortcode('[twitter follow="punk_bunny_87"]'); ?>