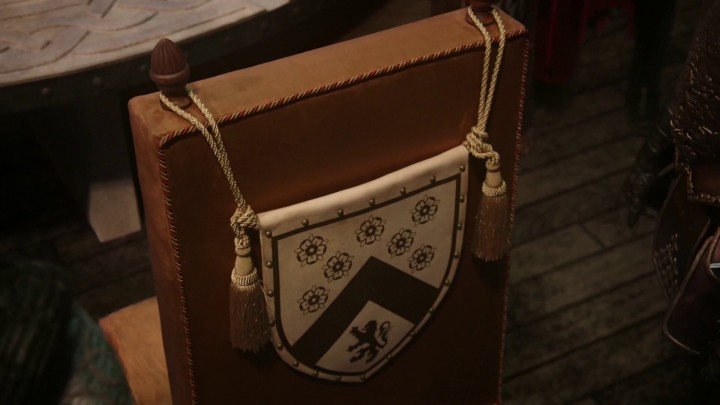 We have re-watched the episode a couple times, did some research, and gathered some of the feedbacks about the episode, Siege Perilous, and we've got some great theories going on with all of these! Why did Arthur want to get David's trust? Does having Charming take the chair a part of the deception? Will Zelena's unborn child actually change her? How will Emma make Rumple into a hero? Are we misjudging Emma? What if Emma is playing the Dark One and is planning something that she couldn't tell no one? Is someone else destined to pull the sword out of the stone? Listen to our full discussion as we dig into the episode, "Siege Perilous".
Podcast: Play in new window | Download | Embed
Camelot (Six Weeks Ago)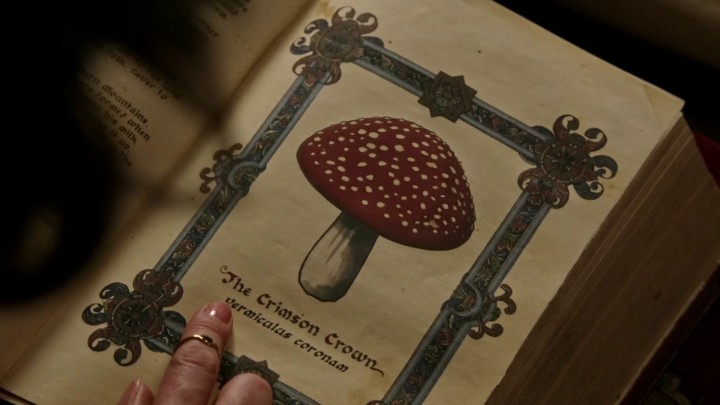 Starting off the episode back in Camelot six weeks ago, as they are talking about the toadstool, where they put out the idea that they could talk to the tree. Is Merlin actually transfigured into a tree? Has Regina foresaw that, somehow? Emma, on the other hand, looks shockingly good despite everything that's happening. It's funny how Emma and Regina looks the complete opposite. Emma looks less evil, but instead, wearing white whereas Regina prefers the more colorful garb.
Is Regina telling the truth when she said that Emma's magic is all dark now? Is she totally the Dark One yet? Is the Dark One a status you achieve, or a power that's passed on through the dagger? How does one tell when a Dark One has fully embraced the darkness? Since then, the only magic that we've seen Emma use has all been dark.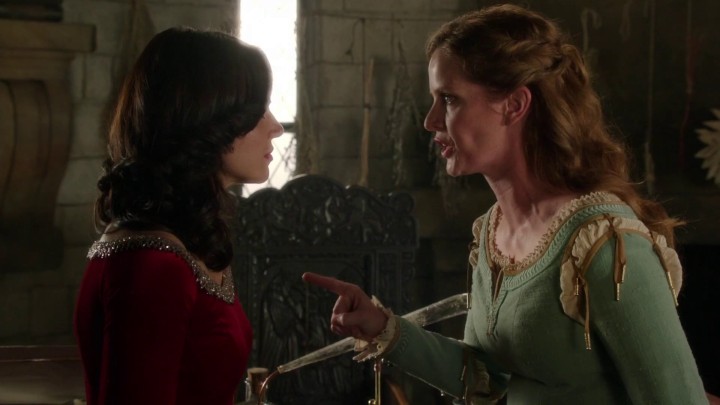 A little bit later after Robin Hood kissed Regina and left her and Zelena to talk, it seems as if Zelena wants the baby for selfish reasons, saying how she wants the baby so that someone could finally love her. Nevertheless, Regina and Zelena's sisterly banter is fun to see. Does Zelena deserve a second, second chance? She's not remorseful, hasn't shown redemption, so what good would another chance be for her? After Regina's taunting threats, is Zelena on a breaking point anytime soon? Love, on the show, is a main reason for the characters to change. However, Zelena doesn't seem like someone that has a lot of love in her. Will her child actually change her?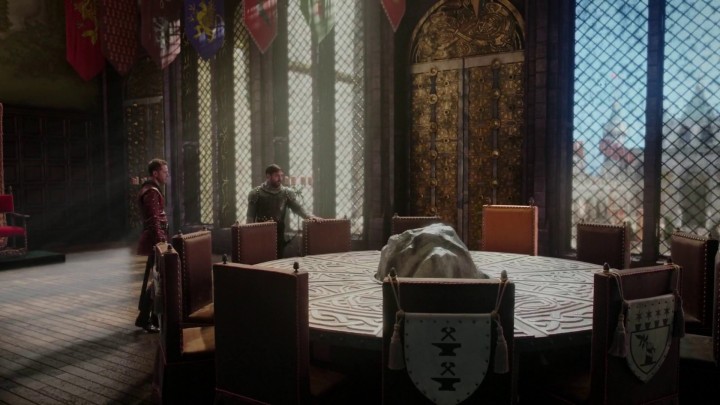 We get to see more of the round table and it was neat to see the different coat of arms in the chairs. There was one that looks like a fish, a potted plan, and another that looks like a hand. Is King Midas actually part of the round table, and probably the one who even made the Siege Perilous?
In Arthurian legend, the Siege Perilous (also known as The Perilous Seat) is a vacant seat at the Round Table reserved by Merlin for the knight who would one day be successful in the quest for the Holy Grail and fatal to any other occupant (hmmmm – what could this mean for poor David??). It was originally believed that Lancelot as the truest of Arthur's knights would be the one to fill the seat, until he was revealed to have committed treason with his affair with Guinevere. The knight who succeeded in obtaining the Holy Grail was Sir Galahad.

— Leslie
If Merlin reserved the chair, and not Arthur, does that mean that Arthur is violating certain rules that Merlin put into place?
It was interesting how David slips and says "Snow" with Arthur, as if they aren't trying to keep their identities secret anymore. Have they come clean about who they are after Regina came out that she was actually the Evil Queen?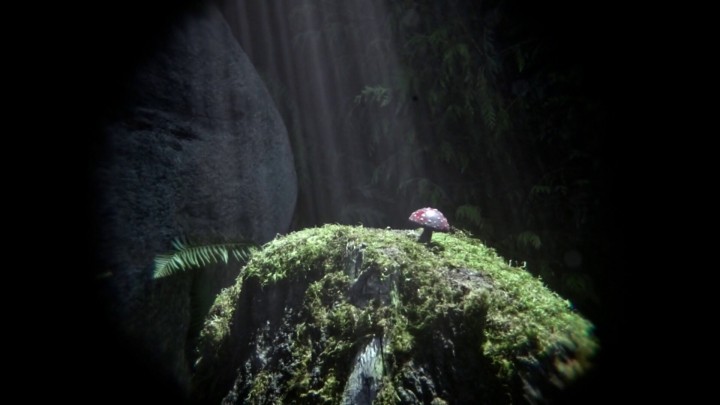 It was cool seeing the brotherliness between David and Arthur, and see him with someone he can relate with and go on quests together. It was also interesting how Charming said that he wants to not only be remembered as the man who kissed a sleeping princess awake 30 years ago. It was a perspective we haven't thought more often.
As David and Arthur are on their way to where the Crimson Crown can be found, they mentioned about having an archery tournament among their wives. This would be a perfect opportunity not only to have Snow White and Guinevere show their archery skills, but Robin Hood. It would also be the perfect time for Merida to come back and join the tournament, since it was a big moment in the animated feature, Brave.
We noticed something a bit creepy in the lake that looked like someone's hand holding the eternal flame. Is that actually someone's arm holding on to a torch or just a Halloween decoration?
During Arthur and Charming's whole quest, they also exchanged some great lines to each other when they didn't succeed, but what is bothersome is that all these great speeches were based on a throne of lies. However, not only is Arthur the one lying, both men have got some secrets up on their sleeves. Does that also imply that Merlin could be a villain, too, because Arthur is the one sabotaging them from freeing Merlin?
Is there room in any of this lore in Once Upon a Time for Morgana to be Arthur's daughter? If so, this would be parallel to David's story about having a daughter who went dark, just like Morgana did in the Arthurian legend.
The title card in this episode looked a little bit different compared to other episodes. Instead of the same forest, this time they showed what looked like another forest. Are they trying to hint something by making a few changes in the title card?
Water is associated with magic in so many ways. But why does Charming always has to fight magic things in the water? How long did it take Arthur to get Charming back? There were multiple moments when Arthur could have taken the toadstool—when her was helping David up in the water, or after helping David and he bent to pick it up.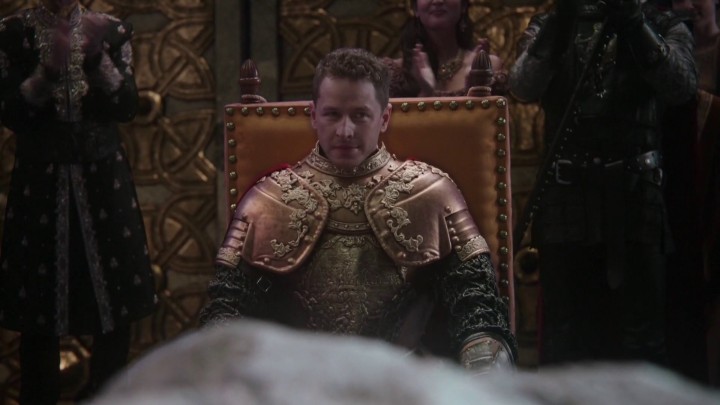 It was great to see Charming take the Siege Perilous, but does having David take the chair also a part of the deception? Are we also going to meet the rest of the knights of the roundtable?
During Lancelot and Snow White's conversation, he said that Arthur is a villain and "Camelot is not what it seems." What if Camelot is not a kingdom, but a person? Arthur also mentioned at the end of the episode that they are to build a new Camelot in Storybrooke. What if they are not talking about a kingdom but someone else?
Is Arthur really not Arthur? Is the one who pulled the Excalibur different from the one the Charmings and company are interacting with now?
Unless Arthur used enchanted gloves to trick the sword into releasing itself from the stone, I believe that a marked change has happened within him in the time since that happened. Lancelot was by his side when Excalibur was removed, so we know it must have been a while ago, but most importantly BEFORE Guinevere and Lancelot. This leads me to suspect that Guinevere is the true villain in this scenario. She is almost always with him when he is revealing the more nefarious sides of his character. What if she is Morgana in disguise, bewitching him to do her bidding and keeping Merlin out of the picture. As much as I would like to see a non-female villain for once, I can't help but suspect her.

— Philip
Is Guinevere disguised as someone else right now? Someone, perhaps, like Morgana and is bewitching him to do her bidding? She has been, after all, the one that's expressed more concern about the sword, especially when they were in Storybrooke.
Storybrooke (Present Day)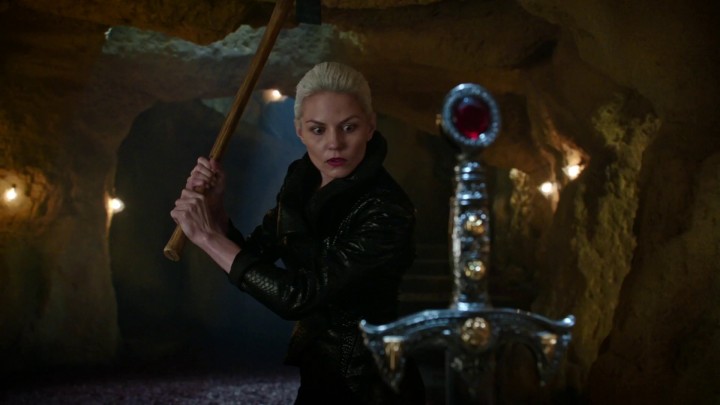 Why did Emma choose Happy's pickaxe when she went shopping down the mines? Is it because it's the one lying there, or is there something specific about Happy's axe?
Back at the Sheriff's office, the dwarves seem to be getting extra offended, small-minded and a bit dumb. Could they switch sides at some point? Are the dwarves being reasonable, forgetting the relationship they had with Emma?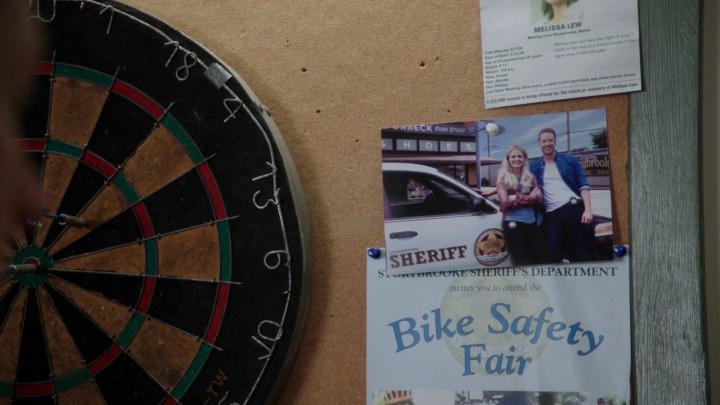 The photo at the bulletin board above Emma and David's photo was a little distracting. It was of a missing person named Melissa Lew, who went missing on June 7, 2009. Who is she?
We re-watched the episode and noticed that, when Arthur come to David saying that some of the things in his reliquary were stolen, including a missing bean, it was all a lie to lead on David. There really is no bean. Why did Arthur want to get David's trust? How did he know how about magic beans? Why come up with an elaborate lie instead of just telling them how much they wanted to go back home?
Dark One Rumple said that they needed a hero to snuff out the life and for Emma to come get the hero they need, where Emma then preceded to go after Rumple in coma.
Before Rumple became the Dark One, he was an empty slate because he was cowardly. He did neither good nor evil things, he just did nothing. Maybe Emma is trying to make him a hero so he can pull the sword and then revert back to his cowardliness and give the sword to Emma.

— Nate G.
Can Rumplestiltskin even pull the sword from the stone? Why does the Dark One want to snuff out all the light forever? What does "snuffing out the light" actually mean?
Has Emma started cutting ties with what Dark One Rumple asked her to do to be able to pull the sword out and make it whole again? Why does the Dark One want to snuff out all the light forever? What if we are misjudging Emma? She repeatedly say that all she needed was his trust? What if Emma is playing the Dark One and is planning something that she couldn't tell no one?
I think that Emma intended on trying to smooth things over with Hook, but ended up getting information she needed to heal Rumple. She seemed to change demeanor as soon as she realized the sword could help her heal him, so I really don't think that was her intention to begin with. I don't think she had a motive other than to try to get Hook to want to be with her.

If my theory is right and Emma really isn't all evil, it's really not good that Hook essentially just told her that he doesn't love her now. What good does that do? She said that all she needed from Hook was his trust and he wouldn't give it to her. It seems like a good place to start with trying to get the old Emma back would be to NOT push her away, which is all he seems to be doing. I don't see him really trying to do anything other than being grumpy that she "isn't the same," and that kind of bothers me. She still hasn't done anything to hurt anyone in Storybrooke (that we've seen), but he's treating her like she is worse than Regina ever was, which doesn't make sense to me.

— Jessica Olsen
Was Emma really secretly planning something to battle the darkness? Is there a possibility that the darkness in Emma works different than the other Dark Ones before her? How long can she separate the voices in her head?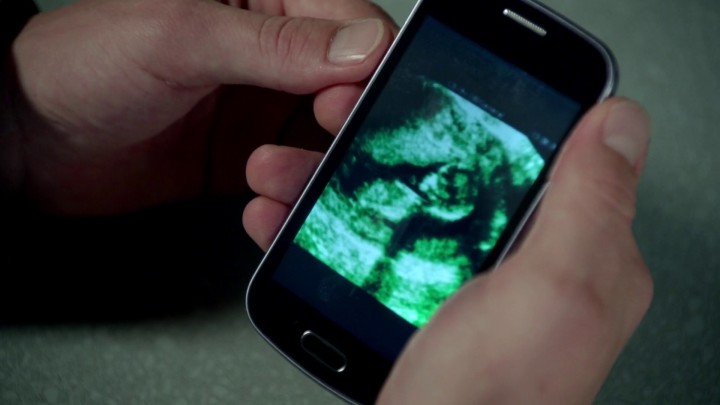 We got a little piece of information about the question we were a bit adamant about—is Zelena really pregnant—but after seeing the sonogram, it seems that Zelena definitely is pregnant. Moreover, wouldn't it be silly to plot to steal and break in to the Dark One's house? Will they bring Will Scarlet back to help them if this push through?
If the toadstool is in Storybrooke, did they never use it in Camelot? Did Arthur intentionally place it there, knowing that David and the others are seeking it? Perhaps he knows everything that's happening, and found an opportunity upon seeing the Crimson Crown page that Regina showed David and Mary Margaret.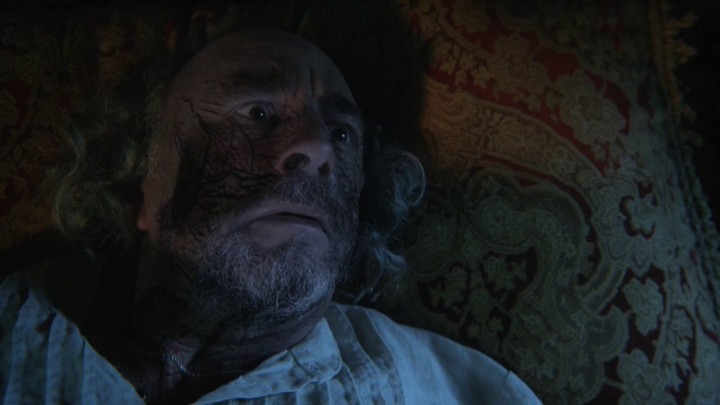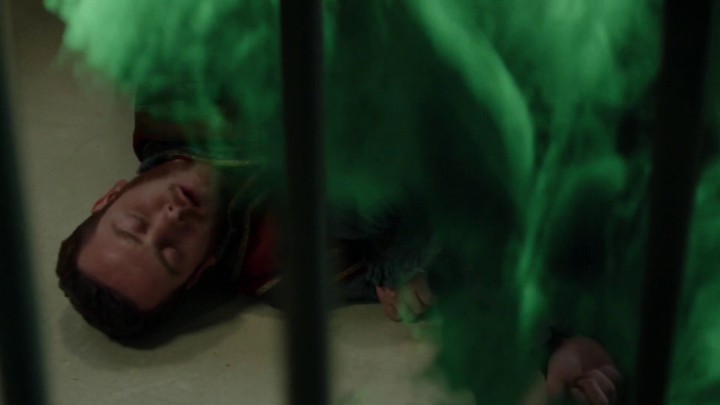 Back at the Sheriff's station, we looked more into the reliquary and found out that the green potion that Arthur asked Grif to drink that he said contains Agrabah viper venom was actually among the magic things in the reliquary. We looked back at the episode, Fruit of the Poisonous Tree from season 1, when the Agrabah vipers bit King Leopold, it left black veins in his face, instead of disappearing in green smoke. Does Arthur have a bigger reason for doing it? Did Arthur magicked Grif to make him disappear? Will it even appear in the security footage?
When Arthur was giving his squire [Griffin] the poison, his hand was shaking, and even afterward, his face was quivering by the hard choice he had to make for his kingdom. I am not sure if I am ready to call him a villain, but maybe an antihero, or a leader that thinks he needs to compromise for the greater good. Either way, he is not happy with the choices he thinks he has to make, unlike what we have seen with the Wicked Witch, Evil Queen, Dark One… (which they like to do evil things and find it enjoyable).

— Nate G.
Is Arthur simply an antihero, and not an actual villain like Lancelot warned Snow White back in Camelot? Someone who is willing to compromise for the greater good?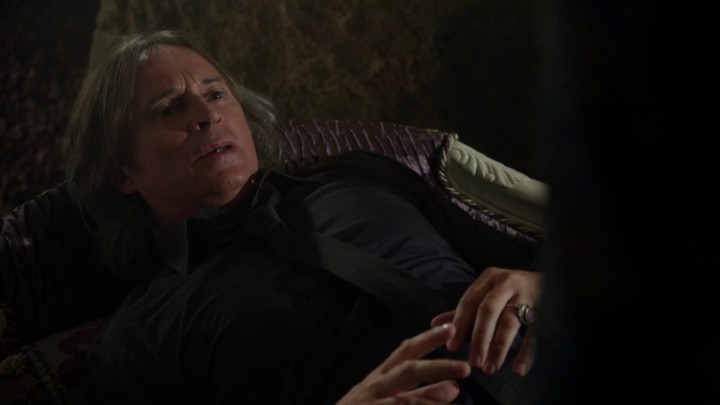 As soon as Emma kidnapped Rumple and wakes him up, you can see the cowardice in him. Emma also told Dark One Rumple in her head that she worked hard for the cutlass. This made us realize that, when she had the date with Hook, she was there just to look for the cutlass, and not to actually try to rebuild her relationship with Hook.
How will Emma make Rumple into a hero? Is she going to release Rumple and allow him to defeat her in some way, allowing him to become a hero? Does Rumple recognize that Emma is seeing the Dark One in her head?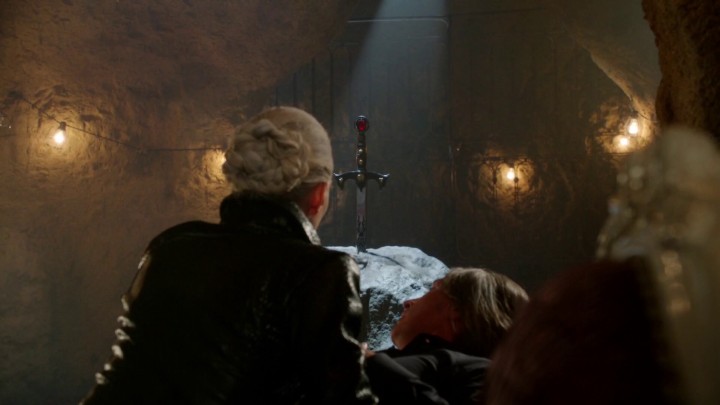 Could Henry have been the hero that Emma really needed? Or is someone else destined to pull the sword out of the stone?
…if Merlin prophesied the savior saving him, why didn't he tell Arthur the savior's name? Unless Arthur knows and Arthur is the reason Merlin is stuck in the tree to begin with… if I remember correctly, in a episode of Charmed the first born child was prophesied to wield Excalibur. Since Emma is the Savior and equally powerful, maybe Snow and Charming son is destined to wield excalibur.

— Aleana Harris
Is Baby Neal the one who's destined to wield the Exaclibur? Who is the actual hero that Arthur is looking for?
What do you think about our full discussion of "Siege Perilous?" Is there something that we missed? Head over the forums and continue chatting about the episode, as well as share your theories about the next coming episodes!
What did you think?
Help us out!
Follow us
Spoilers