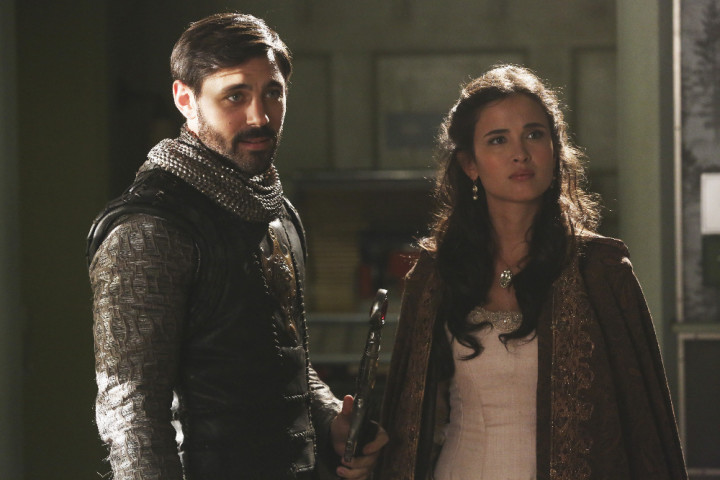 What does Arthur need to disprove Merlin of? Can we still trust Mary Margaret and David and their motives? Listen to our initial review of "The Broken Kingdom" as we share our initial thoughts about the King and Queen whose hearts also beat as one other than David and Mary Margaret, as well as the knight that has coveted far more than a kiss from a Queen.
Podcast: Play in new window | Download | Embed
After receiving a cryptic warning from Lancelot about Arthur's intentions, Mary Margaret realizes Arthur may be the heroes' biggest threat, but when she is unable to convince David of the danger, she takes matters into her own hands. Meanwhile, Hook's unwavering love for Emma provides a glimmer of hope in her struggle against the unrelenting voice of Rumplestiltskin. In a Camelot flashback, Guinevere senses that Arthur is losing his way, consumed by his obsession with making Excalibur whole, so she sets out with Lancelot on her own quest into the heart of darkness. In Storybrooke, Dark Emma unleashes a secret weapon in the next phase of her plan to find the brave soul she needs to draw Excalibur from the stone.
These are our first thoughts about this Once Upon a Time episode. We'll share more about "The Broken Kingdom" in our upcoming full discussion (usually live on Wednesdays at 7:00 p.m., USA Eastern Time).
Initial Reactions
So we were wrong about Camelot being something other than a kingdom, but it literally is not what it seems. Or is it now? In the subtitles, when Rumple put "fix" in quotation marks, our impression was that it's kind of a fake fix. It seemed completely arbitrary, though, how it affects a fix in the eye of the thrower? Or is it affecting the actual thing, or was it like a potion that can make someone think they love you, but not really love you? That being said, Arthur really does sit on a throne of lies.
If it "fixes" broken things, does that mean that magic is maintaining a façade, that whatever thing it is that's happening could still be happening in Storybrooke because Guinevere is still supportive of Arthur in Storybrooke?
Where's the break for the magic to latch on to? In what way were the Charmings were broken out of it? Whatever can undo it, will Camelot disappear?
Arthur is obsessed with the dagger, as well as making it whole again, even wanting to defeat Merlin himself. What does he need to disprove Merlin of? Arthur was heralded as the king when he came back with the sword, considered victorious; he could've risen the kingdom honorably even with half of the Excalibur. Does being "broken" meant that it's not safe?
The writing of this episode was pretty good. The hilariousness of watching Hook and Emma seeing Henry and Violet together.
We finally saw the riff between Lancelot and Arthur and some stuff is messy. Guinevere was totally willing to stay with Arthur to do the right thing and stay with her husband, but he was being a deadbeat husband who is obsessed with this thing that was pulling him away from his marriage. On the other hand, despite Arthur being obsessive with his quest, which was a little frustrating, he was expressing love. Not exactly loving her in the right actions, but when her wife comes back was when things didn't make sense anymore. Suddenly, Arthur was growly and stealing the bag from her. What happened in his own quest? Was it because Guinevere kept it from him that she was going to find the dagger herself?
Thank you for supporting us!
David Neuland
Steve Johnson
Lisa Slack
Megan Martin (new hero)
Irvin Z. Martinez (new hero)
29 Patreon backers ($256 per month)
You can sponsor an episode or more of ONCE podcast, too! Email Daniel@ONCEpodcast.com if you would like to arrange a corporate sponsorship of our podcast for the upcoming third season.
We got to see very little of present day Storybrooke, which was nice despite a little bit of confusion with the going back and forth the different timelines in Camelot, so it was nice to get a fourth timeline in Storybrooke at present. It's also cool to see Merida back. Not the way as we've expected, but it was still nice to see her again. Why did Merida get arrested? How did she end up in the dungeon? With Merida coming back, is Camelot involve in her story? Why else would she be there if it wasn't?
How is Merida going to make Rumple brave? An apple on his head? Archery practice? Now that Emma has her heart, she can control Merida into doing what she wants. However, in order for Merida to teach Rumple how to be brave, doesn't she need to be herself?
We were a little bit disturbed when Guinevere kissed Lancelot, then later on said that she allowed Lancelot to do it. Then, seeing Lancelot leave before Guinevere went upstairs, it does seem a bit honorable for him to leave before things escalate; for trying to end things as soon as it happens.
We loved getting to finally see the Dark One vault. Is the one inside it the darkness guarding the vault? Now we also know where he kept the dagger safe all these time, and that these all happened before Regina cast the Dark Curse. We also love getting reminded of Mary Margaret's vision of Emma in the same garden ripping out her heart and crushing it. Can we really still trust Mary Margaret and David and their motives, even now that they're back in Storybrooke?
What do you think about tonight's episode? Share us your theories and some other feedback about "The Broken Kingdom" and join us for our full discussion this coming Wednesday as we dig deep into the episode!
Remember, these are only our initial reactions regarding tonight's episode so please bear with us if we're a bit all over the place. If you have your own thoughts, feedbacks, or theories regarding tonight's episode, however, send them over to us and join our upcoming full discussion!
What did you think?
Email Feedback@ONCEpodcast.com (audio files welcome)
Call (903) 231-2221
Comment on the shownotes
Visit any page on ONCEpodcast.com and click the "Send a voice message" link to record and send a message right from your computer.
Help us out!
Share this post in your social networks
Follow us
On Facebook:
On Twitter:  echo do_shortcode('[twitter follow="ONCEpodcast"]'); ?>
Daniel J. Lewis:  echo do_shortcode('[twitter follow="theDanielJLewis"]'); ?>
Jeremy Laughlin:  echo do_shortcode('[twitter follow="phlegon"]'); ?>
ErinJ:  echo do_shortcode('[twitter follow="erinjcruz"]'); ?>
Hunter Hathaway:  echo do_shortcode('[twitter follow="travelingpixie"]'); ?>
Jacquelyn / RumplesGirl:  echo do_shortcode('[twitter follow="punk_bunny_87"]'); ?>