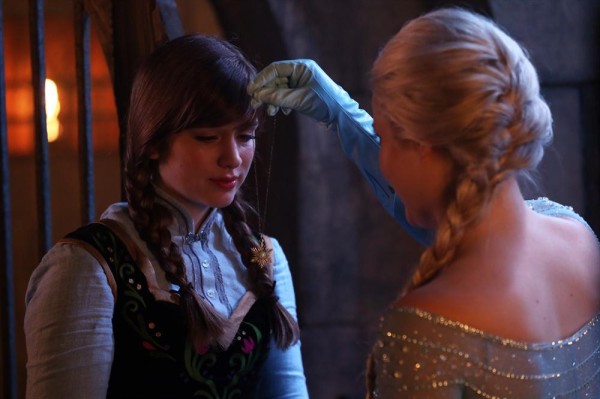 Emma struggles as her powers continue to go haywire, pushing her to seek help from Mr. Gold. But can Rumplestiltskin really help, or will he just make things worse? In the past, the Snow Queen tries to pit the Arendelle sisters against each other. Will she succeed? Or does Anna and Elsa's sisterly bond stronger than she thinks? Join us as we share our initial reaction of Smash the Mirror.
Podcast: Play in new window | Download | Embed
In Arendelle, when the Snow Queen tries to pit Elsa and Anna against each other and it proves more difficult than she anticipates, she takes drastic measures. Meanwhile, in Storybrooke Emma's powers are out of control and her fear of hurting loved ones pushes her away from everyone she cares about. In her confusion, Emma turns to Gold for help getting her powers under control. Gold tells her about a way to get rid of her powers altogether and Hook tries to put a stop to it. Meanwhile, Regina struggles with her plan to find the author of the storybook until her quest takes an unexpected turn. Robin Hood recruits Will Scarlet to assist him on a mission and Mary Margaret and David search for Emma.
These are just our first thoughts about this Once Upon a Time episode. We'll share more about "Smash the Mirror" in our upcoming full discussion live on Wednesday November 19, at 8:00 p.m. (EST/GMT-5).
Initial Reactions
This two-hour episode is certainly one of our favorites this season so far. Of all the episodes we've seen so far, this is definitely one of our top 10 or 15 best episodes that we love. There was so much tension in it that just had us on the edge of our seat; Commercial breaks were certainly excruciating!
Remember, these are just our initial reactions regarding tonight's episode so please bear with us if we're a bit all over the place. If you have your own thoughts, feedbacks, or theories regarding tonight's episode, however, send them over to us and join our full discussion this Wednesday!
One of the things that stood out to us that yes, in deed, is that secret ingredient that Rumplestiltskin needs to complete his puzzle, which is Hook's heart. Probably someone who knew him before he was the Dark One. But how did he know that?
Still, our question from last podcast stands, how did the Snow Queen learn so much about controlling her magic when she seemed so afraid when she got into the urn?
It was really cool to see Emma embracing her magic and finally controlling it, too. But does that mean that Anna (and Kristoff) are still in Arendelle? Or are they in Storybrooke now, frozen somewhere? Why did Ingrid keep frozen Hans inside the closet?
Another big thing, and another Lost reference (Page 23 is a Lost number), is that we finally got another clue about Operation Mongoose. Apparently, Regina's fate can go many different ways and that can still have a happy ending. But who is the author? Can the Sorcerer be, in fact, the storybook's author? It was the Sorcerer who lead Ingrid to the Land Without Magic, after all.
Can the Sorcerer not only lead people in another land, but also in a different time? Head on to our forum where Keb does an awesome job keeping us on the line with the show's timeline.
Thank you for supporting us!
David Neuland (subscriber)
Steve Johnson (subscriber)
Jennie Root
Jeff (new Patreon backer)
11 Patreon backers ($22.50 per episode)
You can sponsor an episode or more of ONCE podcast, too! Email Daniel@ONCEpodcast.com if you would like to arrange a corporate sponsorship of our podcast for the upcoming third season.
We did not like where they went with Robin and Regina in this episode. What with everything they said about Robin's honor, truthful, righteousness and good, it seemed that everything was just thrown out the window all of a sudden. Ultimately, we do see Robin and Regina end up together, and that they are in a pretty contrive situation, but we still hope that they would spin Robin and Regina's story into something else. Perhaps they need to resolve Maid Marian's case first before giving them a happy ending.
Hook really stepped up in this episode. The call that he made to Emma and the voicemail he left was touching. The talk between Snow White and Regina about grace and forgiveness was also pretty decent. Although there were a bit selfishness in their tone somehow, it was touching how they opened up to each other.
Emma may now have a control of her magic but now, does that also mean that Emma and Elsa are somewhat bound and controlled by the Snow Queen? With the mirror broken now and the shattered parts going around town, it definitely was a nice cliffhanger.
Speaking of the Spell of Shattered Sight, it seems that the spell brings the deepest, darkest emotions to light. Does the spell break when they destruction is fulfilled? Does that also mean that more people in Storybrooke are now going to die? Unless the hat can somehow be used.
Hook now has the hat, but Rumplestiltskin is somewhat controlling him. No one knows that that hat is deadly except Hook. So how far will Rumple go to protect his secret and keep using Hook as his puppet? Certainly, Rumple is turning dark again. Maybe Rumplestiltskin will start terrorizing everyone again in the second half of the season, very much like what he did back in season two? Let us know what you think about this episode by sending us your theory via email, joining us over the forum, or leaving a comment below and join us for our full discussion of Smash the Mirror this coming Wednesday.
What did you think?
Email Feedback@ONCEpodcast.com (audio files welcome)
Call (903) 231-2221
Comment on the shownotes
Visit any page on ONCEpodcast.com and click the "Send a voice message" link to record and send a message right from your computer.
Help us out!
Share this post in your social networks
Follow us
On Facebook:
On Twitter:  echo do_shortcode('[twitter follow="ONCEpodcast"]'); ?>
Daniel J. Lewis:  echo do_shortcode('[twitter follow="theDanielJLewis"]'); ?>
Jeremy Laughlin:  echo do_shortcode('[twitter follow="phlegon"]'); ?>
ErinJ:  echo do_shortcode('[twitter follow="erinjcruz"]'); ?>
Hunter Hathaway:  echo do_shortcode('[twitter follow="travelingpixie"]'); ?>
Jacquelyn / RumplesGirl:  echo do_shortcode('[twitter follow="punk_bunny_87"]'); ?>