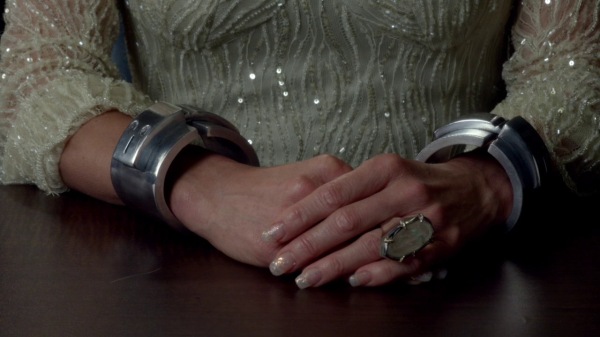 Determined to get answers from the Snow Queen, Emma interrogated her privately after finally capturing the Snow Queen with Elsa's aid. But before she could even make dairy queen spill, the Snow Queen showed her instead that every family has their ups and downs and that both of them just might feel the same—different, misunderstood, alone. Meanwhile, Robin Hood forgot how truthful, righteous and good he was despite Regina constantly reminding him that he should forget about her and find a way to fall in love with his wife again. In Arendelle of the past, however, Ingrid gave up the silly little things she and her sisters wore since they were children as an exchange of goods, not realizing that the fail safe will be her worst nightmare.
Podcast: Play in new window | Download | Embed
Keep in mind that the next episode, "Smash the Mirror" is going to be a two-hour long episode at 8–10 pm (7–9 pm Central), while there will a break on November 23.
Arendelle (Past)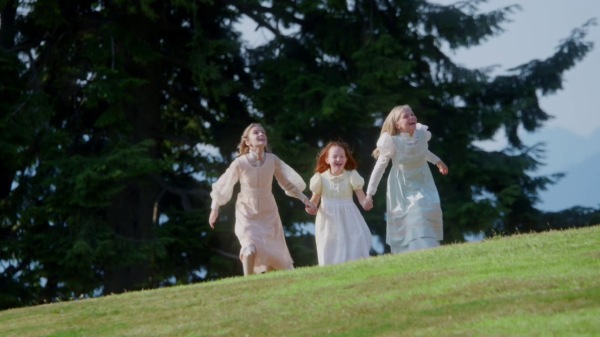 Looking out at the different sisters, it seems that Gerda was more optimist than the other two. They picked the perfect actress to play young Ingrid. It felt like Elizabeth Mitchell made some faces for the girl as they film the episodes. Surely, the creators are doing a great job casting the younger counterparts for the characters.
Did the Snow Queen (and Elsa) felt being inside the urn? Were they aware of what was going in despite being inside the urn?
It seems that the magic affects only the firstborn—Ingrid, Emma and Elsa—and quite incidentally, Rumplestiltskin has always been after the first born; even Zelena, who was clearly more powerful than Regina, was a firstborn. Are firstborns only the ones who get magic?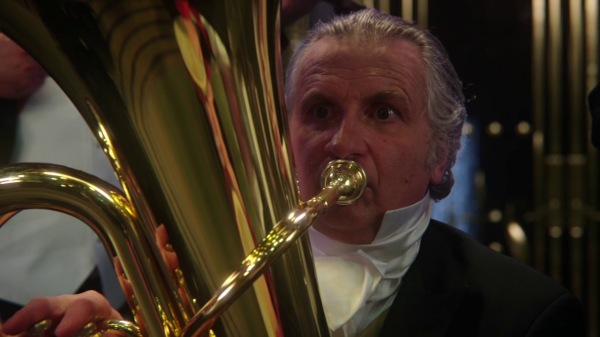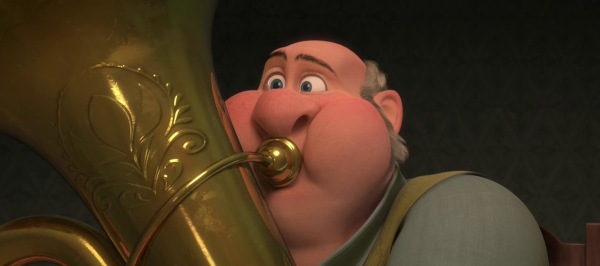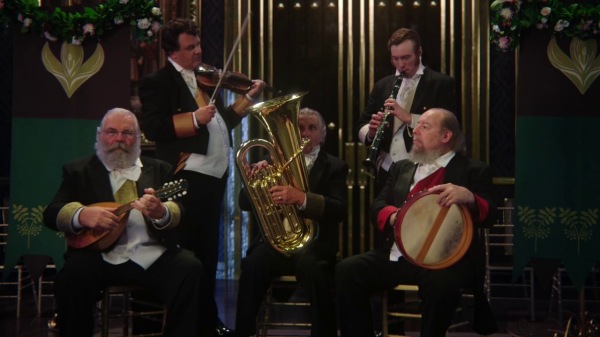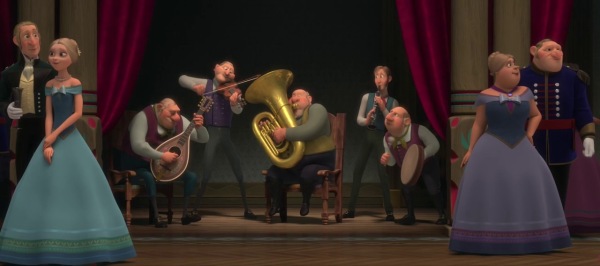 At their father's 70th birthday party, there's a band there where the camera panned to the guy holding the tuba, which looked exactly like the ones showed in the movie, Frozen. And although we found some of the repeated lines nice, some are a little bit forced. But we got the Duke of Weaselton, as well as his dancing. That, fortunately, didn't feel forced; it worked well with the story.
After the party, one of the things that we were surprised about was that there weren't too many snowflakes and flurries around Ingrid. Did it only appear when they were feeling specific emotions, like when Elsa was mourning for their parents, while Ingrid was yearning for a normal life?
We love how they keep calling the Enchanted Forest "Misthaven", giving it a proper name. But again, with the whispers, how did Gerda hear the whispers but not her other sisters? Did the tentativeness lead her to hearing the whispers about the Dark One?
In the Enchanted Forest, when the Arendelle sisters met Rumplestiltskin, Rumple said that "True love comes in many forms. But the sisterly bond—worth its weight in magic." Whenever Rumplestiltskin makes deals, he seemed to always want something of value. Did Rumple just take the ribbons just to give them back in the future? This particular scene looked like it happened way before Snow White and Charming. Was Rumplestiltskin simply looking for a symbol of true love, thinking that it could work with the Dark Curse? If this wasn't before Snow White and Charming, was this also before or after either Regina or Zelena? Check out the show's timeline if you're just as curious as us about piecing all these together.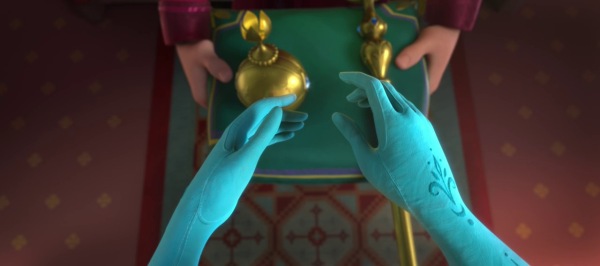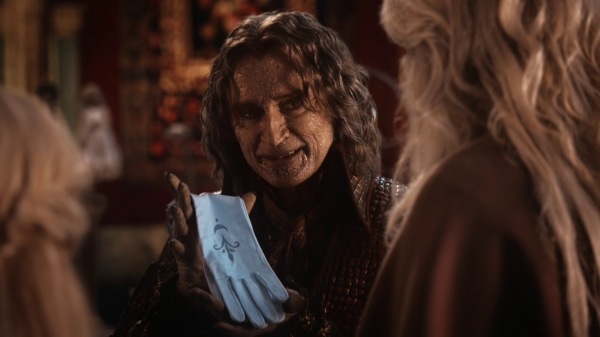 We take a look at the glove that Rumplestiltskin handed Ingrid in the Enchanted Forest and compared it with Elsa's in the movie counterpart and true enough, it looked like it was the same gloves. Elsa's father said that the gloves will help, but will it really help block her powers?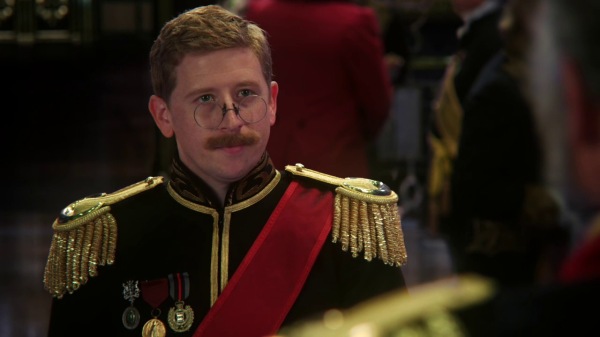 The duke of Weaselton is such a creep; referring to Arendelle as a mysterious flower, obsessed with mysteries and seems to always want what he can't have. Why didn't the first blast kill him? Why didn't Ingrid hurt the duke more? On the other hand, we love how Helga wasn't easily swayed by the duke's lies, although it was sad to see her go so fast when the duke basically ran towards her and pulled her to shield himself against Ingrid's icy blast. Why did she die so quickly? Is it because it was a direct attack at the heart? Is Ingrid simply more powerful than Elsa?
Looking back from the last episode, Helga doesn't look a lot like Emma, unlike Hook said. However, Ingrid is dressed the same as when she was freed from the urn. How did Ingrid learn to control of her powers if she seemed too afraid when Gerda opened the urn's lid? How can she train Elsa when she herself hasn't learned to control of her own powers when she get sucked inside the urn?
When the three sisters were still young, they all said that they will never look at Ingrid as the monster, so how can Gerda give into fear so easily? Maybe she wanted to be queen? She was the most optimistic in the beginning, even the one to tell them that they'd never see her as a monster so to turn so fast against her sister was rather odd.
Grand Pabbie told Gerda that all magic comes with a price. What was the price for taking away everyone's memories away in Arendelle? Why would Arendelle not survive the tragedy? Why was making everyone forget the Ingrid and Helga even existed necessary? Is Gerda worried that the entire kingdom will revolt against them?
Thank you for supporting us!
David Neuland (subscriber)
Lisa Slack (subscriber)
Steve Johnson (subscriber)
Lisa Eckert (new Patreon backer)
10 Patreon backers ($20.50 per episode)
You can sponsor an episode or more of ONCE podcast, too! Email Daniel@ONCEpodcast.com if you would like to arrange a corporate sponsorship of our podcast for the upcoming third season.
Storybrooke (Present)
When we first Ingrid inside the clock tower, we thought that she was going to see Maleficent underground, but she was just going up in the elevator. It was confusing because until this episode, the elevator was only used to be lowered down.
Robin Hood's struggle when he went into Regina's vault was a realistic struggle. Trying to love one woman while the other one is still out there, but clearly someone needs to go before they can continue on with their relationship. Then again, we love how the creators were not making it about the audience's morals, but only Robin's, making it blatantly that it was his morals alone that he was struggling it; we can all have the black, white and gray area and that all our actions will have consequences to everyone around you.
The whole "forget me" thing that Regina keeps telling Robin Hood, is this a foretelling that she was going to make a forgetful potion to make Robin forget that he ever loved her?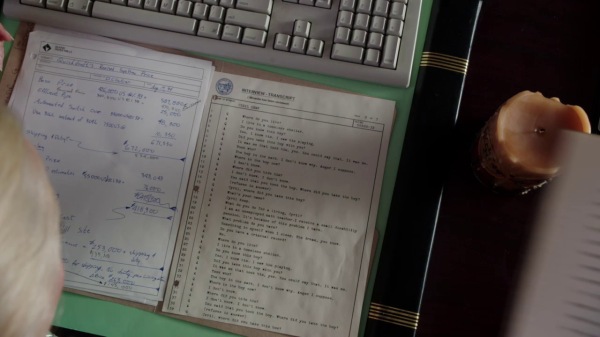 We looked closely at the sheriff's office and noticed an interview transcript of a guy named "Cyril Keep", a homeless guy who was a former teacher, accused of taking a boy. Probably nothing significant, but still had us wonder if we will get to hear about him in the future episodes.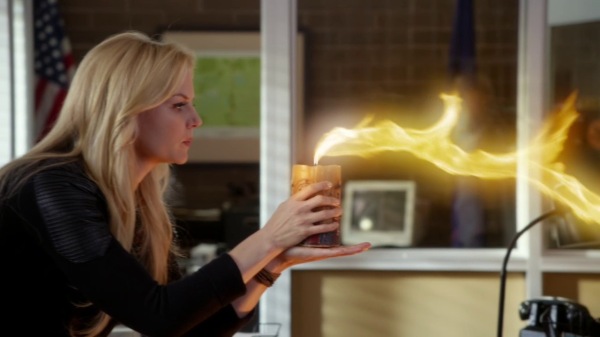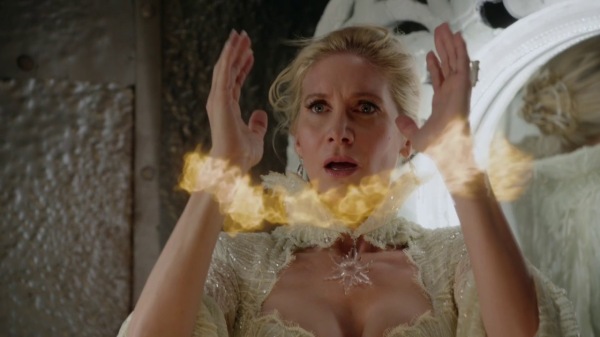 We were still a bit confused about how the candle works other than that it has a flame switch at the bottom and it can constrict the person from using magic. Although, Ingrid did look a bit surprise when Emma captured her. Or was she just acting and it was all really part of her plans? But aside from the candle, we thought that the icicle bullet was so cool!
Down at Granny's with the young mother's support group with Ashley, Mary Margaret, Aurora and the other first time mothers and their babies, we noticed a major continuity error when Ashley introduced Alex as a boy. Unless they had a second baby, Alexandra in the episode, "The Price of Gold," was a girl and should have been at least about three years old. And if Ashley and Sean had a second baby, they shouldn't have named the baby boy the same name as his sister.
Has anyone noticed that one of the babies was dressed as Mickey Mouse?
Interrogating Dairy Queen
As Emma was interrogating the Snow Queen, Ingrid told Emma to use her superpower. Did Emma's superpower develop when she was with Sarah Fisher? Snow Queen told Emma that "every family has their ups and down" in response for erasing Emma's memories. Perhaps something tragic happened? Did the child care service somehow figured that Sarah Fisher was not entirely qualified to adopt Emma after all?
It seemed that the Snow Queen is clearly unconcerned with how Emma and Elsa see her now. Is she planning to change them, using the yellow ribbons to become the symbol of their new sisterly pack?
I also find it interesting that the Snow Queen is replacing her sisters, but both Emma and Elsa resemble her sister Helga. Helga was the one that never seemed to doubt Ingrid or fear her, and encouraged Gerda to trust her as well. Gerda was the one that seemed to be hesitant with Ingrid and sort of fear her from the beginning, and was the one who trapped her in the urn. Anna resembles Gerda physically, so that could be why she didn't really give Anna a chance. It would make sense in a way why Ingrid would want to replace her sisters with two Helga's, instead of someone resembling Gerda.

— Jessica O
Is Ingrid lying about Anna? Was the reason Ingrid not giving Anna a chance was because she resembles her mother, Gerda?
Henry looked quite dashing in his suite and when he told Regina that he was getting married made us quickly think that this was a dream Regina had that she wasted away while life happened around her.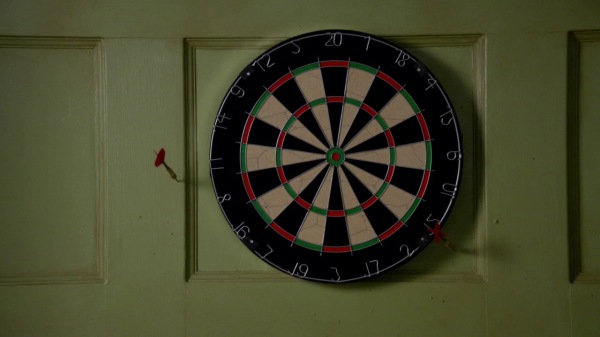 Robin Hood throwing darts at Granny's Diner reminded us of Graham in the episode, The Heart is a Lonely Hunter. In the scene, Robin hit outside of Lost numbers 8 and 15 ("Flight 815" and the infamous numbers "4, 8, 15, 16, 23, 42").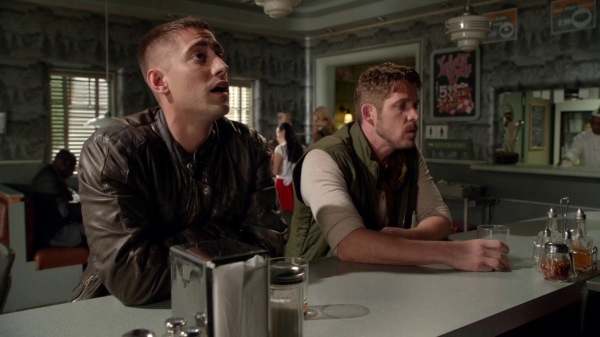 But the whole heart to heart talk between Robin and Will seemed to be telling that Anastasia is gone, probably lost. Will would not be so positive about the cost if Ana left him. Here, it seems like he was more thankful about the time he has with Anastasia rather than if Ana left him. Besides, Anastasia dying sounds far better than her leaving Will. We also thought that the conversation would inspire Robin to love Marian again but instead, he went back to Regina's vault and forget about honoring his code for once.
I still believe Anastasia is alive and well in Wonderland. They may be working out issues at the moment. Kristoff had trouble adjusting to palace life; it only makes sense that Will would too (even in the finale of OUATIW, he's still fussing with his dress clothes, just like at the ball before she left him the first time). He'd make an effort for Ana but, I don't think life around "stuffed shirts" is really his thing. What's more, I think his incompetence at it is very likely to get on Ana's nerves. She loves to play queen and having Will bumbling about is having a constant reminder of her own "humble origins". If this Lilith/Lily connection turns out to have anything to do with her, that child's complexion is also a little too dark to be Will's so, one more potential bump in their rocky road.

— Sara
When Mr. Gold tasked henry to go work on the back shop, he told him not to touch anything that he shouldn't, and we think that Henry will definitely touch something in the next episode. But was the hat in Henry's storybook? It was nice that they showed Cinderella's page when the actress that portrays Ashley/Cinderella was also in the episode.
Mary Margaret's reaction to Emma after David accidentally got hit sounded totally like a mother. And like a 14-year old, Emma ran away. However, they definitely did fail in the apartment as Elsa shared how it reminded her of the same looks she got from her loved ones.
The Snow Queen's plot reminds me so much of Richard's plan in The Guardian by Nicholas Sparks. (Book Spoiler Warning!) In the book, Richard is a sociopath who has killed pretty much everyone he has been close to, the last person being his wife. Being crazy, he goes on a very creepy "recruitment" process, killing a man and assuming his identity, so he can find another "suitable" wife. He finds another woman that looks very similar to his old wife and even has a similar name, and begins stalking her as well as taking her on extravagant dates. Things don't pan out for him, and she ends up falling for another. From that point on, his plan revolves on isolating her from all of her friends, especially her boyfriend, so he stalks her and expertly manipulates situations. I don't know if there is any relation, but there are many striking resemblances.

— Jair
Despite the Snow Queen's plans, we still think that Elizabeth Mitchell's face screams that she genuinely loved her.
Back in season one, we thought it was just that Rumplestiltskin only wanted to be freed of the power of the dagger. Now, it looks like not only does he want to be freed from the power of the dagger, he also wants to leave Storybrooke. Why? What does he want to do?
I have about who Rumplestiltskin might have to kill in order to free himself of the dagger. I believe it will be Hook. The Snow Queen is set out to remove anyone that's close to Emma from her life, so it makes sense to me that she would have him set out to kill Hook, considering how close him and Emma have gotten. Plus  with how much Rumple and Hook dislike each other, he would get great satisfaction out of killing him.

— Callie
Is Hook going to be the one that Rumplestiltskin has to kill? What is it that Rumplestiltskin needs to do in order to complete the pieces in the puzzle that he shall do with great pleasure?
Is there anything that we missed? Fill in the comment section below or join the conversation by heading over the forum. Also, please bear in mind that the mid-season finale for season 4a will be on December 14, while season 4B will resume on March 1, 2015.
Thank you for the podcast reviews!
LisaP521 said, "This podcast is the best podcast out there for Once Upon A Time fans! You must give it a listen! Great insight and research! Awesome!"
Your reviews encourage us and help others find the podcast!
Please rate and especially write a review for us on Apple Podcasts.
What did you think?
Help us out!
Follow us
Spoilers