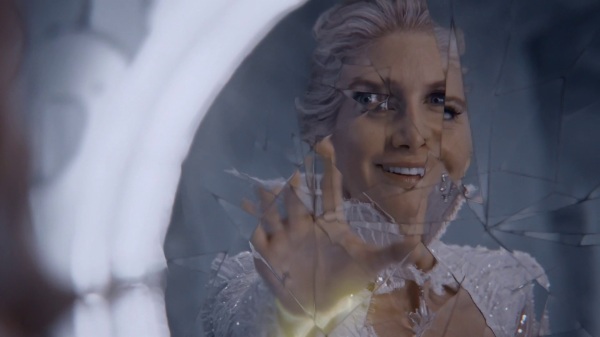 With Emma's powers getting out of control and hiding from everyone else, Rumplestiltskin took advantage of the situation by leading her in the abandoned manor to help Emma with her affliction. Robin Hood, meanwhile, employed Will Scarlet to try to help Regina in finding the author of the storybook, only to find out that Regina may not be doomed to suffer after all. Back in Arendelle during the past, Ingrid did whatever it takes to get her happy ending—the kind she haven't known for a long time, even if it means embracing the villainess inside of her, leading her to cultivate and casting a spell very much like the Ancient Norse legend in her book.
Podcast: Play in new window | Download | Embed
Erin is unable to join us tonight but she's currently in a place of awesomeness (ie; Steveston) but for now it's going to be just Daniel and Jeremy tonight sharing full discussion of Smash the Mirror.
We've watched it three times and we still think it's one of our top five favorite episodes of the season, and probably top ten of the entire show. We love the excitement whether Emma's going through the door, and their effective use of different montage in the scenes.
Emma's Magic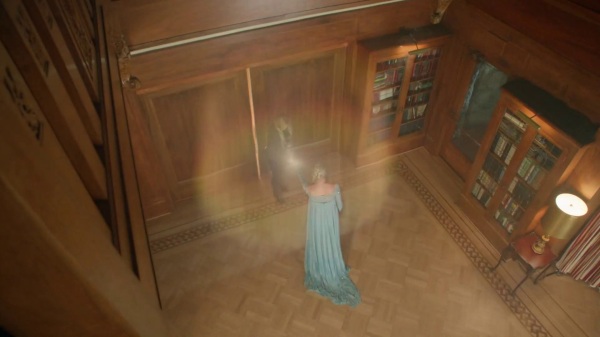 The big thing that Emma learned that we've already heard before that Emma supposedly had learned before, which is to "embrace who you are." Back in season 3A, in Neverland in the episode The Lost Girl, Emma had to admit that she was an orphan in able to find Henry. These people embracing who they are and using it to accomplish something; Emma should have learned that already, and although this was a different situation, but apparently, it seems that the thought hasn't sunk in her yet.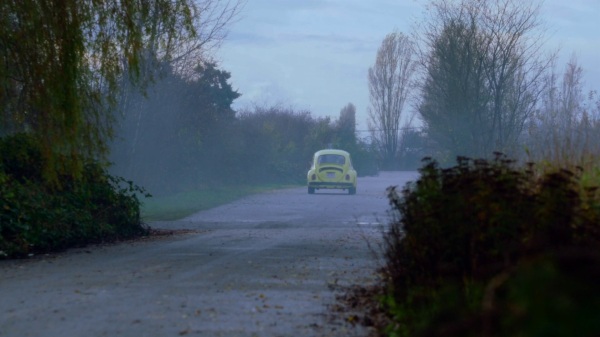 When Emma was driving down the road, we thought, and perhaps other people thought so, too, that Emma might be leaving Storybrooke because the road looks the same as the one in the episode, Going Home. But before she left, Emma went up to talk to Mr. Gold, he said that taking away light magic will be permanent. Listening closely, is he telling her any direct lies? What with all the things he told Emma, why did Emma believe Gold so easily? Rumplestiltskin did like to play with words, after all. Then again, perhaps Emma wouldn't have sensed his lies because she was in an emotional train wreck, and Emma's magic, as per Elsa, is tied to her emotions.
Is the hat's magic actually permanent? If what Rumple say is true about the ancient spell designed to take away light magic from those who choose to part with it, is the hat's magic really permanent?
Elsa's speech about loving the good and the bad in yourself sounds like there was a wishy-washy thing in it. Should we apply that same logic to Rumple? Is it fine for him to be who he is? Is that the point with Belle seeming to be at peace with staying with him? What about all the things that Regina did? However, despite who they are, it was the very thing—embracing who you are—that helped them defeat Pan in Neverland. There might be a grain of truth in what they said, but the wording is probably a bit confusing.
Robin Hood, Regina and the Book
We were still very disappointed with how they threw out all of Robin's honor and turned him into an adulterer and made Regina into the home-wrecker, as she accused Mary Margaret in season 1. Another thing that bugged us was when Mary Margaret and Regina was talking down the road when Mary Margaret told her that she wasn't the only one who have slept with a married man. Was she talking about David when they were curse? On the other hand, the main theme between all these is the idea of hope; even if you are a villain, there is still hope for a happy ending. It was nice to see the creators bring it up, and yes, in some way or another, you can get forgiveness and a chance at grace.
Again, and this time it was Robin Hood who said it, that book was imbued with magic, and Storybrooke started with the clock tower. Why don't they just drop Maid Marian to the well? We haven't seen it for a long time, maybe it will undo the Snow Queen's freezing
curse.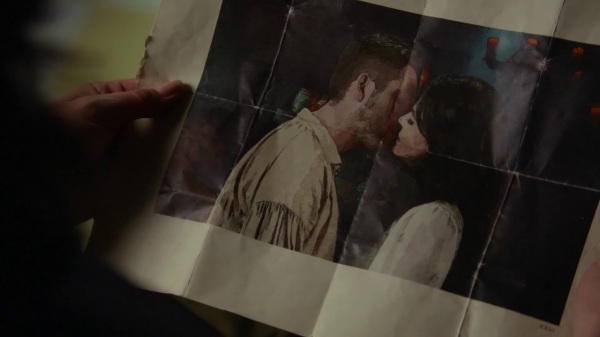 How did a new page appear in Robin Hood's backpack folded up? Was the library magicked? Or was it the book?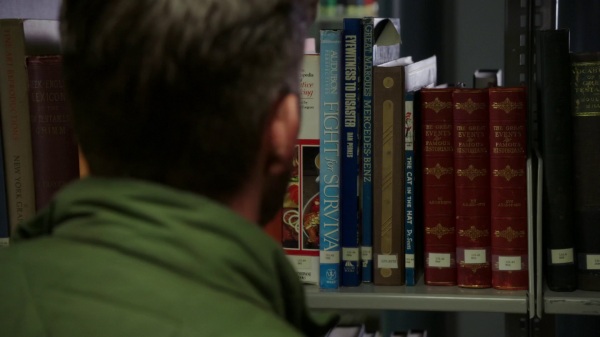 We look closely on the books in the library and found the following:
Fight for Survival from Audubon Perspectives
Eyewitness to disaster by Dan Perkes
Great Marques Mercedes-Benz
The Cat in the Hat
The Great events by Famous historians
1988 Mercedes-Benz 650SL repair manual
It was a nice nod to Once Upon a Time in Wonderland when Will said, "Why would a cat want a hat?" and "I've seen stranger."
Are they trying to make some vague allusions to some questions about God? Like when Regina questions whether the author of the Storybooke is an he, a she, or an it; when Mary Margaret said that "things are not that simple", or when they uttered, "whoever's guiding this seems to think it is."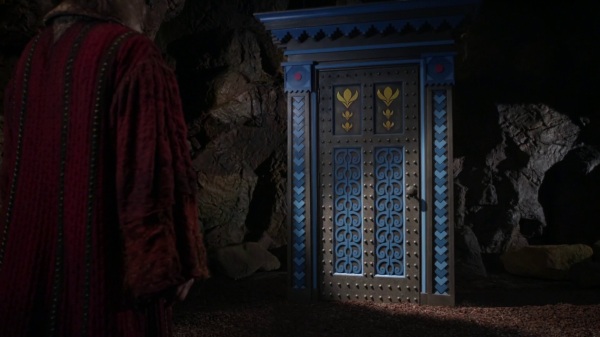 Can the Sorcerer be the author of the book? The Sorcerer's Apprentice told Ingrid in the past in the Enchanted Forest that the Sorcerer found a match, a future match, meaning that the Sorcerer can see across time, can very easily send Ingrid to another world without having the need of a curse; he probably even made Jefferson's hat, and the fact that he can see across time and see possibilities across time. Because of this, it's making us think that this could be an indication that the Sorcerer wrote the book. The way he held the hat, it looked like it meant something very important to him. Plus, with the way they refer to the Sorcerer, they're certainly leading us to something.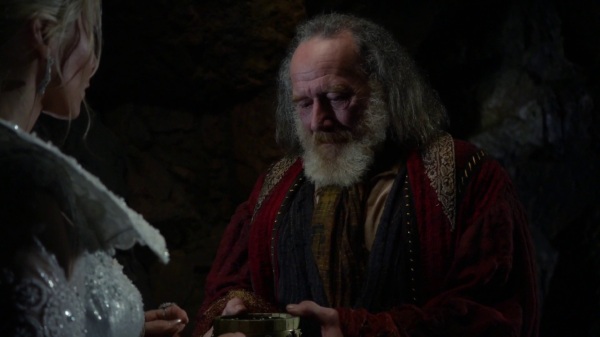 It was interesting to have a second important plot interfering with both the main villain and the heroes. Can the hat be the Sorcerer? Was it possible that the Sorcerer himself made the hat, but got sucked in it somehow?
I kind of am thinking along the lines of the idea brought up that maybe the urn is kind of like the genie lamp where they were trapped but could move around and maybe practice their magic. Or, it could possibly be something like the beloved burning room from the sleeping curse. Maybe the urn transports the person into a netherworld where the person is alone but has room to practice magic, or something similar. The Snow Queen seems to have been in the urn for 20 years or so, but since Elsa was brought to the future, she could have only been in the urn for a few weeks. This would explain why she didn't really have that much of a change in demeanor, but Ingrid did.

— Jessica Olsen
It was finally nice to see Gold use the dust from the urn, referencing it to the deleted scene back in season 3. However, they seem to be breaking their own rules with the dust. The things that we've learned from the urn is that it can remove your magic or it can just capture a magical being; magic wasn't supposed to be able to get out of the urn. When Rumple sprinkled the urn dust around Ingrid, it was clear that she was trapped in there. So how can she project herself to Emma and send magic projections through the mirror? Fortunately, they explained why didn't Ingrid just used the ribbons right after she got it from Rumple.
How in control is Ingrid now? She did say that she wields the magic of her sisters, including Emma's true love. Could it be strong enough to defeat Rumple?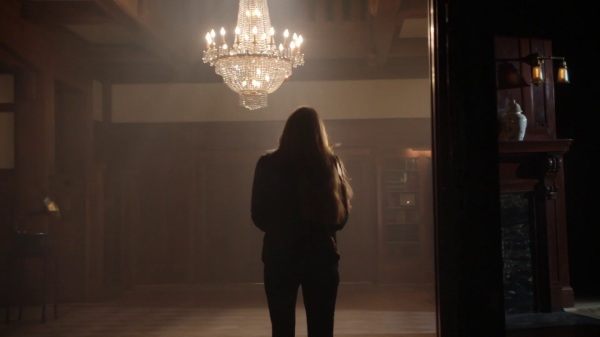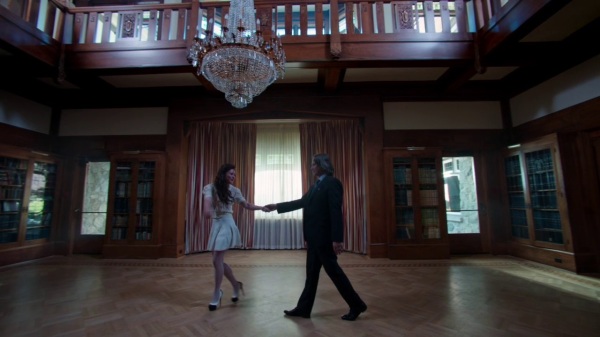 Why did Rumple chose their honeymoon mansion to help Emma with her affliction? Why not go to the woods and destroy it instead? Was it because it was the same place the hat was found? Did Rumple think it was the only place he know he could take the Savior magic?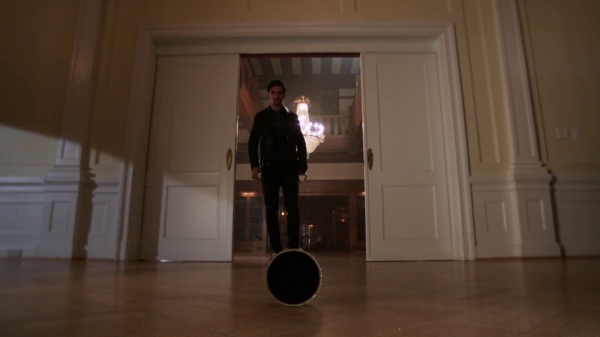 One danger that put Rumple at risk is when he confessed to Emma that now knows that he will never change, as well as always ends up undoing the good. How much was Rumple controlling Hook? Emma can tell that something was off, but couldn't tell what. With Hook's heart under the control of Rumple, Rumple no longer has to blackmail Hook. Now, Hook has become Rumple's puppet.
Elsa, Anna and Ingrid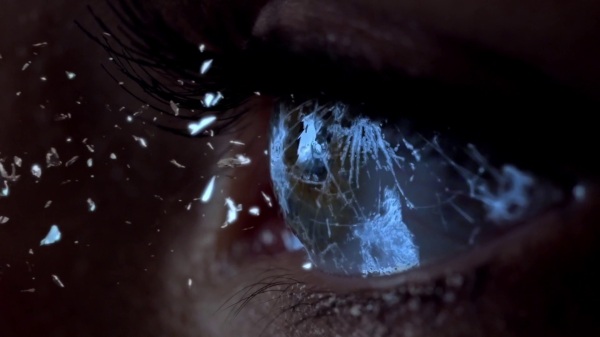 Back in Arendelle, Elsa and Anna seems to keep talking about their parents; how they want to remove Elsa's magic. But was that really why Gerda and her husband went to the Enchanted Forest? Perhaps we'll discover that Elsa's parents didn't actually want a way to remove her magic, but to teach Elsa how to control her magic.
After Elsa got trapped inside the urn by Anna, while Ingrid was practicing the rock troll's memory magic on Elsa inside the urn, Rumple suddenly poofed the urn out of Ingrid's hands. If Rumple hadn't steal the urn, could Ingrid have freed Elsa herself, after all?
Was everything that Anna and Elsa's parents wanted to say written in Gerda's note, or have they already learned whatever they needed to know about why their parents travelled to Misthaven? By the way, we love Anna and Elsa's banter, as well as Elsa and Kristoff's. It gave us that playful sibling relationship, brother-in-law and sister-in-law banter thing going back and forth hat we didn't get much from the movie, Frozen.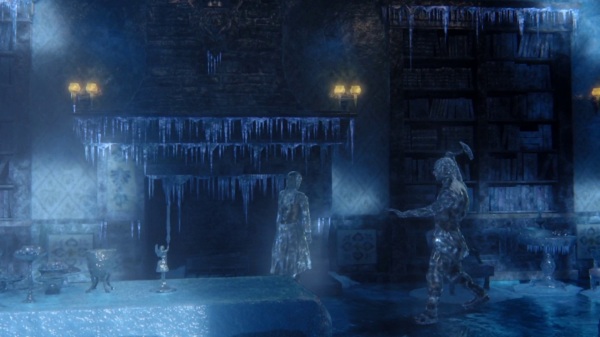 Is Arendelle still Frozen? Are Anna and Kristoff still inside the castle in Arendelle? Or is Anna actually inside the necklace? Ingrid did say that she spent a lot of time with the hat, but if she gave up the hat to the Sorcerer's Apprentice before she came to our world, how did she learn everything she claims to have learned about the hat?
It looked like we have already seen everything we have seen in Arendelle, but have we? We're probably going to get more flashbacks in the remaining three episodes of the third season, but which ones are we getting? Are we going to see more of Arendelle? We're hoping that this time, we'll see more of Emma's relationship with Ingrid.
The Perfect Match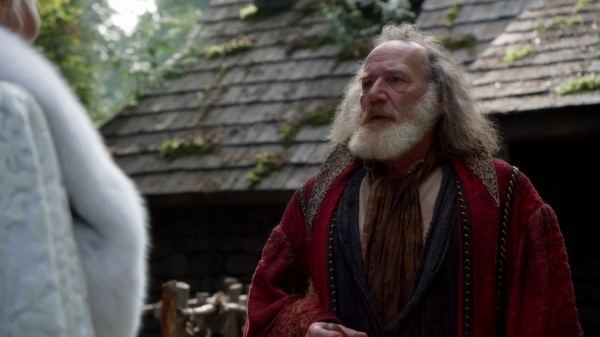 Ingrid told the Sorcerer's Apprentice that she wants a perfect match; born with magic like her. Did the Sorcerer maybe influence Emma's birth? Ingrid also referenced her happiest time as that moment when she and her sisters were chasing the kite, right before she got magic. Does this mean that her happy ending would be without magic? Will the Snow Queen eventually lose her magic?
Now that Ingrid has got the magic of her sisters, to which say they Emma and Elsa could feel. Will Grumpy turn back to being Dreamy again? Will the curse affect everyone? Will Henry go against Regina and Emma? Will Snow and Charming, as well as Regina and Robin Hood go against each other? Who has to kiss who to break this one?
It was nice to get plenty of nods back to all the previous seasons—the heart of the truest believer, Wicked Witch, Peter Pan, Cora, Milah. It was also nice to get some more small tidbits that we noticed in this episode is that Snow White really was a good tracker, as well as more Frozen-related things like the Chocolate Fondue.
Did we miss anything from Smash the Mirror? Share it over the comment section below. You can also start sending in your theories about the next episode via email or by heading over the forum. And remember, there is no episode this coming Sunday, November 23, but will resume on November 30.
Thank you for the podcast reviews!
Fl1212 said, "This is my favorite of the 3 OUAT podcasts I listen to. … Jeremy is pretty good at guessing what will happen. I noticed that by listening to episodes they recorded from seasons 1 and 2 before I was listening in and he guessed some things right on." Go to My Podcast Reviews to read Fl1212's full review.
Your reviews encourage us and help others find the podcast!
Please rate and especially write a review for us on Apple Podcasts.
What did you think?
Email Feedback@ONCEpodcast.com (audio files welcome)
Call (903) 231-2221
Comment on the shownotes
Visit any page on ONCEpodcast.com and click the "Send a voice message" link to record and send a message right from your computer.
Help us out!
Share this post in your social networks
Follow us
On Facebook:
On Twitter:  echo do_shortcode('[twitter follow="ONCEpodcast"]'); ?>
Daniel J. Lewis:  echo do_shortcode('[twitter follow="theDanielJLewis"]'); ?>
Jeremy Laughlin:  echo do_shortcode('[twitter follow="phlegon"]'); ?>
ErinJ:  echo do_shortcode('[twitter follow="erinjcruz"]'); ?>
Hunter Hathaway:  echo do_shortcode('[twitter follow="travelingpixie"]'); ?>
Jacquelyn / RumplesGirl:  echo do_shortcode('[twitter follow="punk_bunny_87"]'); ?>
Spoilers
4×09 "Fall" is written by Jane Espenson and directed by Mario Van Peebles
Promo didn't reveal much, although it looked like Storybrooke residents did find out because Regina does say that by the end of the day, people will start tearing each other apart.
It looks like Snow White is locked up and wants Emma to take on the Snow Queen and win
With the spell of the Shattered Sight probably been cast, it looks like more people will fight each other, what with Josh Dallas recently said that something is going to happen that will affect the Charmings
The Canadian promo showed almost the same as the American promo.
A behind the scenes photo showed Emma and Elsa standing in the street, yellow ribbons still in their arms. Are they immune with what's going to happen?
Adam Horowitz revealed to TVLine that Belle's strength and heroism will play a key part in the fall finale.
There's a behind-the-scene video of Emma and Elsa on the beach, and Anna and Kristoff are in the trunk
Elsa may finally be reunited with Anna and Kristoff pretty soon
Merrin Dungey (Alias) was cast as Ursula for season 4B, making it a trio of villain alongside Victoria Smurfit as Cruella de Vil, and Kristin Bauer van Straten who is reprising her role as Maleficent
Dungey was seen filming with Cruella (Smurfit) and Rumple in Storybrooke
We did get a tease photo of Cruella de Vil filming in Steveston and she looked like her Disney counterpart, only scarier and a lot darker with black and white hair, red gloves and black and white coat. Although, there were no Dalmatian spots seen on her.
Erin visited Steveston and witnessed Emma, Hook, Snow White, Rumple, Ursula, Cruella and Belle filming.
Josh Dallas wasn't filming and hasn't been filming for about a week.
Erin also saw Emma and Hook getting from the Library, as well as Regina walking Henry to the school bus, and Regina and Emma inside the yellow bug.
Erin was also fortunate enough to meet Jennifer Morrison. Congrats, Erin!