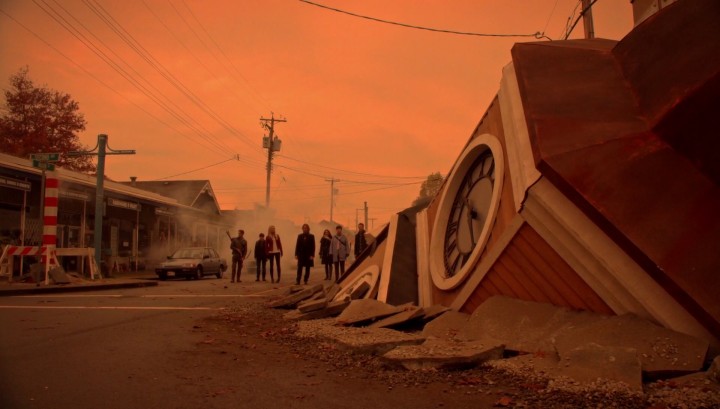 Does the Evil Queen really wanted to kill Snow White? Does Neal really not have any unfinished business? Who's going to be the ultimate Savior in the Underworld—Emma or Regina? Did Hades create the Dark Curse? Has Cora learned a lesson? All these plus a crazy theory about the season 5 finale on our full-discussion of the 100th episode, Souls of the Departed!
Podcast: Play in new window | Download | Embed
We're finally back after three months of hiatus and we hoped you enjoyed the discussions we've had in the meantime, like the packed Once Upon a Time Season 5B Spoiler episode, as well as the discussion we've had about Galavant season 2, and the roundtable with fellow Once Upon a Time podcasters.
Filling in for Jeremy will be Jacquelyn, while we're still figuring out Erin's schedule to see if she can join us, but we are glad that Jacquelyn is here because of her expertise in Greek Mythology.
Enchanted Forest (Past)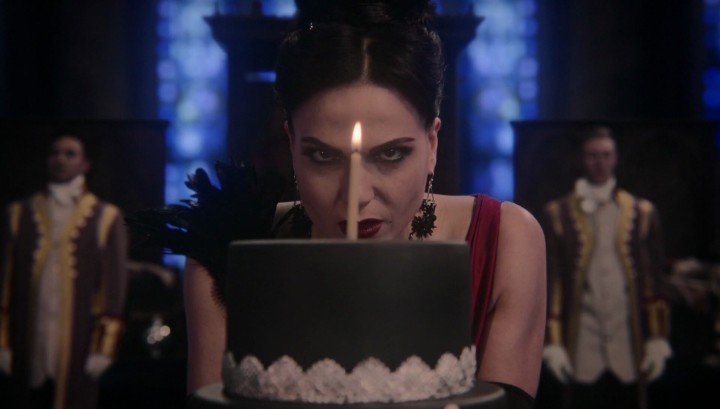 We see flashbacks in this episode and at first we were a bit disappointed to see more of Regina vs Snow White stuff, just like what we said in the initial reactions for Souls of the Departed. However, we were glad that that wasn't the only point of the flashbacks; they were not only solely to show us here's another perspective of Snow White and Regina. Fortunately, this time, we got more from the Evil Queen's perspective and her struggle as opposed to seeing it usually from Snow White's point of view. We also got to see the influence of some other things and some pieces connect together. One of the things that was shown in the flashbacks was when she stuck her thumb in the pie, we were expecting it to be a plum pie or a crow pie, even. It was also the time when we got to see that guy, who is credited to be named as Blacktooth, who reported to Cora that Regina is in the Underworld.
Another thing that we liked to look at in the show is the costumes and we noticed that Regina's necklace is totally on point. The gowns were really beautifully made both by Eduardo Castro, who not only is doing a wonderful job making costumes, but also capturing the emotions and the amount of badness currently present in the characters.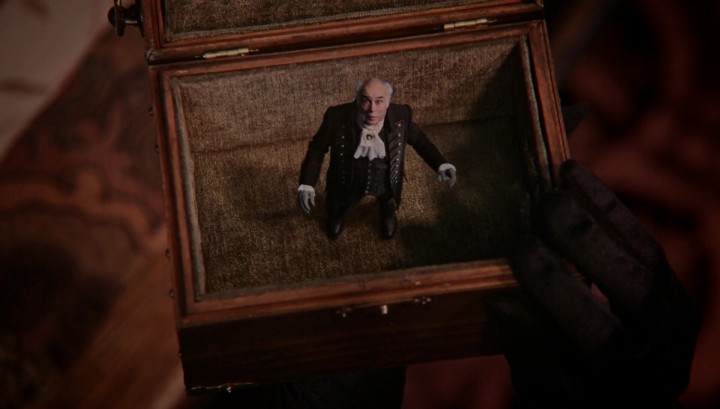 It seems that this might actually fall before Regina even thought of using the Dark Curse. This would also be before Snow White and Charming's wedding, during the time when they were together but kind of battling against Regina. This episode could also be before the episode Hat Trick, because it was when Regina goes to Wonderland and get Henry Sr. back. Confused? Check out our Timeline if you want to know more information about how this fits in the timeline. Huge thanks to Keb who is doing an amazing job in keeping our timeline as up to date as possible.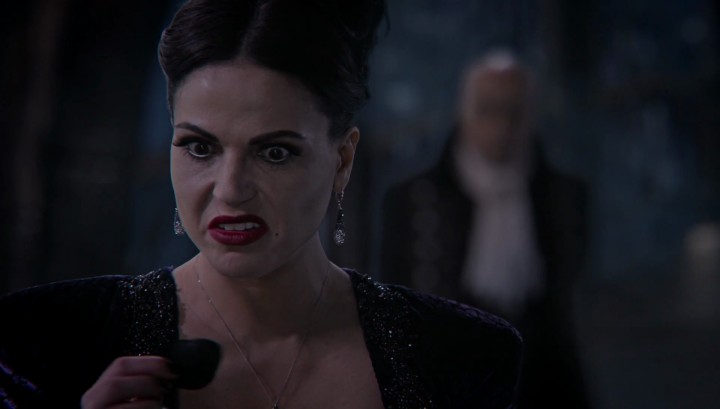 One thing that struck us when the Evil Queen was plucking the rose and Henry Sr. asked the mirror to call Cora was that either the time in the Enchanted Forest is parallel to Wonderland, or Cora really has just a good grasp on time. How did the mirror summoned Cora, though? Did Cora just happens to be right next to a mirror when Henry Sr. called?
We looked deeper into the episode and found that the mirror that Cora steps out of looks very similar to what Rumplestiltskin gave Regina in the episode We Are Both, saying that it was the looking glass, the very same mirror that Regina pushed her mother to banish into Wonderland. If it was the same mirror, then who repaired the glass? Does that mean that Cora can pop through any mirror or just this specific looking glass?
Does Regina really wanted to kill Snow White? She already had her fireballs ready in the forest but instead of firing it at Snow White, she simply extinguished it. Does she really intend to seek revenge from Snow White or does she simply like the idea of chasing after her? After all, it didn't take her long enough to crush Graham's heart back in season 1.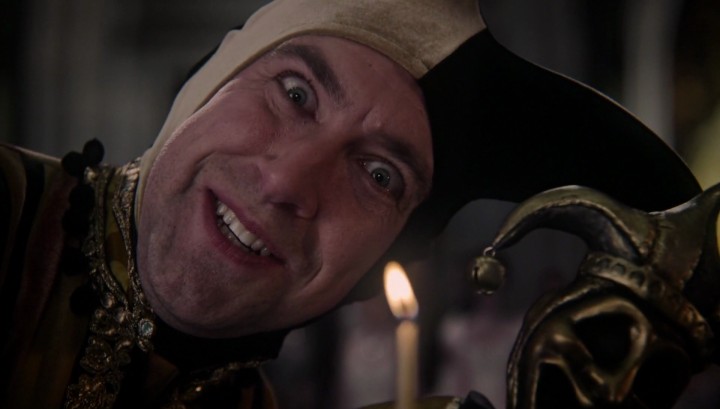 At the birthday party of the Evil Queen, the facial expressions of Regina was so funny, what with blowing up the cake and killing the Jester. However, we were conflicted at first as to where could Henry Sr. have gotten the heart because he didn't have the magic to take out hearts, but then later realized that he could have easily gotten it from Cora's vault.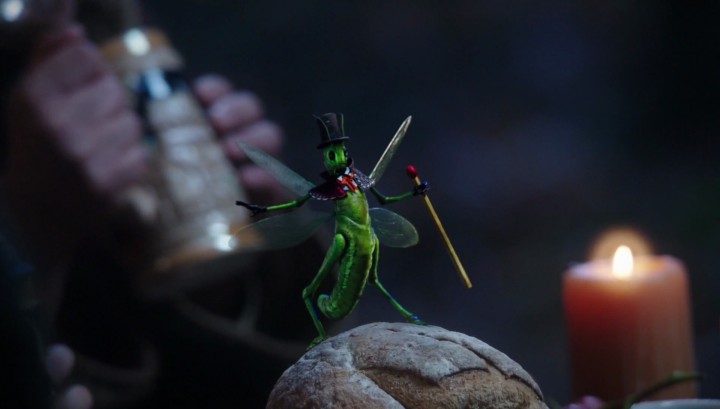 Even without Rafael Sbarge, it was quite nice to see Jiminy again, despite his appearance being one of the most awkward moments ever in Once Upon a Time.
Thankfully for this episode, we now know how Henry Sr. ended up in Wonderland in the first place. Plus, those hands that grabbed Cora from the mirror, alongside seeing beat up Hook were probably the freakiest things that we saw from the show.
The Revelation (Present)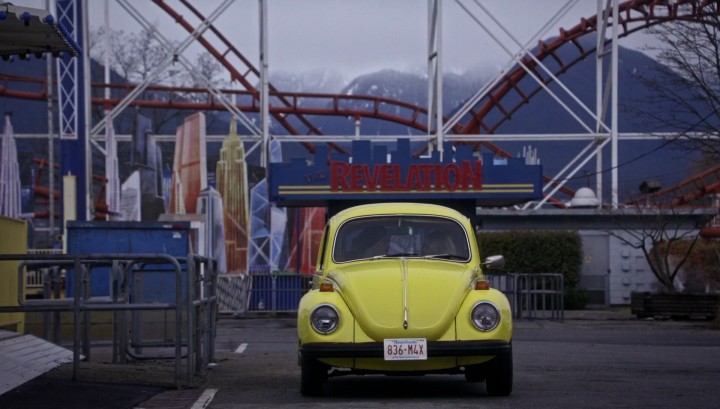 Before moving on to the Underworld, it's really neat to see the same way Neal and Emma met in the episode Tallahassee. We had been spoiled that Michael Raymond-James was coming back for the episode, even though a bunch of the fans theorized that Neal wouldn't have an unfinished business. That being said, it seemed a bit malarkey how they brought Neal back into the show, especially when he asked for his son and how he misses him. Looking back at the episode where Neal died, Quiet Minds, however, it seemed that Neal has resolved all his issues with the people he cares about, including the one with his father.
Still, the question stands—does Neal really not have any unfinished business? Why can't Neal be saved even if Emma seemed to have the ability to save Neal? Emma also told Neal of her plan to save Hook was by splitting her own heart and sharing it with Hook, which Neal specifically told her that it won't end the way she thinks it will. Will it happen? Will it even work with someone who is in the Underworld?
Is Emma also the ultimate Savior in the Underworld, or is Regina the new Savior in the Underworld? Is Regina only the Savior to Henry Sr.?
Underworld (Present)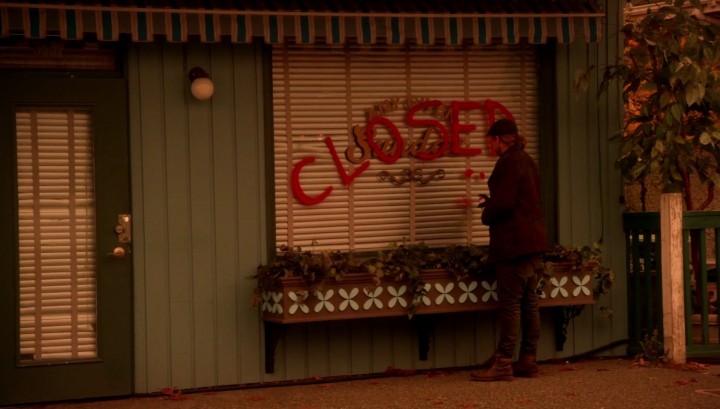 When they arrived in the Underworld, Gold said that everyone is there because they have unfinished business. With the way that Ingrid dies, it made us think that Ingrid isn't in the Underworld, especially after seeing Any Given Sundae being spray-painted "CLOSED." It also looks like Underworld doesn't only have the villains, so how does the other people move on?
What's with all the smoking cones? They're all over the place and certainly not trying to be hidden, so what is with these things? Is it just ventilation from the pit of hell?
Did Hades create the Dark Curse? When you boil it down to its basics, the Dark Curse takes away Happy Endings, the very thing that Emma restores. Are Hades and Emma being set up to be opposites of each other (the enemy of life, the savior or life)? If so, it would make sense for him to have created the Dark Curse that she was destined to break. If it was Hades who did indeed create the Dark Curse, why did he create it in the first place? To bring horrid of people to him?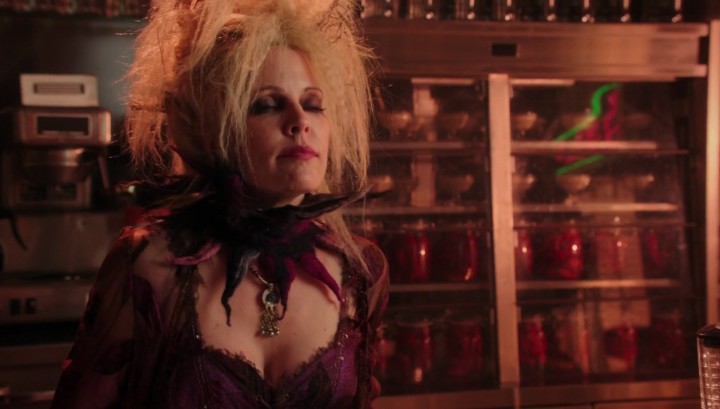 We enjoyed seeing the Blind Witch in the Granny's, but it was a little disappointing that she didn't say, "Butter or Gravy?" It was also nice seeing James as the Sheriff making out with Mary Margaret. Does this mean that James know what's been going on? He should have not a clue that he even had a brother when he died.
Has Cora learned a lesson? She tells Regina that her friends and family holds her back. Does she still consider that love is a weakness, despite saying that Regina is her unfinished business? Does Cora have the ability to pass people on, or did she help that man, Blacktooth, complete his unfinished business? Does Hades have control of the worse place? The clock didn't seem to move when Blacktooth moved into a worse place. Cora referred to the cost of Regina's staying is that Henry Sr. would suffer. However, Regina's father didn't suffer, did Cora really know that Henry could pass on a better place? Does she know how it all quite works or does she pretty much do everything that Hades says?
How did Neal come back to warn Emma about the Underworld?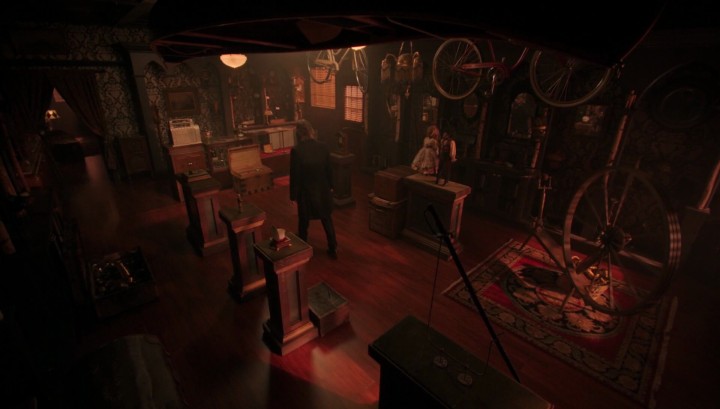 Gold gets to visit his shop and one thing that we noticed is that it looked like it has less stuff. Instead of the regular shelves, there were some featured on pedestals instead, including the following:
Chipped teacup
Peter Pan doll
Marionette dolls
Spindle
Clock
Hook's hand
How did those things end up in the Underworld? Is Hades doling out punishments, making Pan the owner of Mr. Gold's shop, and Cora the Mayor?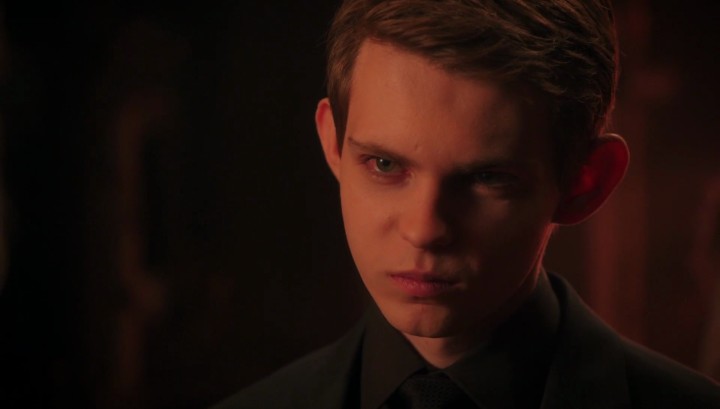 Will Peter Pan become a recurring character again, given his plans of wanting to trade places with someone? Has he learned anything since his passing? Does he get to move on? What is Pan's unfinished business then if he still appeared to be the same guy he was back in season 3?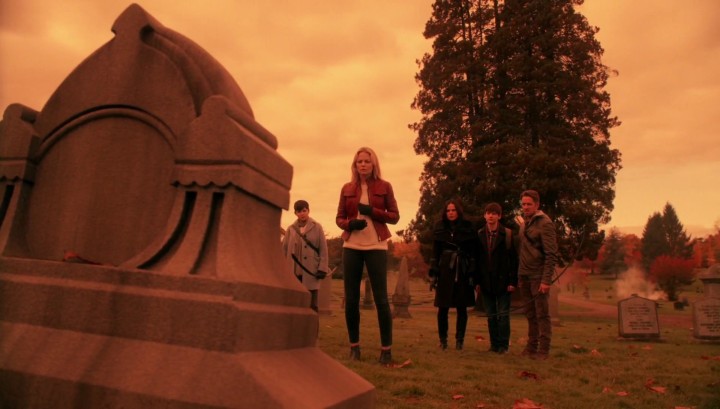 When Rumplestiltskin handed out the Ale of Seonaidh to help Emma find Hook, he also pointed out that everyone in the Underworld has a grave. What makes some stay in graves and others not? The Ale of Seonaidh worked with Regina's father, but Hook looked beaten up, so where is he? Is he in the lowest of the low in the Underworld, suffering in some way?
Maybe he's imprisoned somewhere by Hades.
— Rose
The two talks between Regina and Henry Sr. were definitely the most touching moments of the episode, even if Regina literally ripped his heart out and crushed it; very well done. Henry Sr. also told Regina that if Regina stays, she spreads hope, which is probably the best thing she can do. Will that hope start making a change in the Underworld? Will see more changes in the next coming episodes?
As they take Henry Sr. to the Mount Doom, Cora must not have known that Henry Sr. would get to go to a better place, or does she? Was she just trying to do Hades' bidding, knowing that her husband will go to a better place, anyway? Furthermore, Henry Sr.'s unfinished business said was not letting Regina be herself, but isn't he the reason Snow White lives? Henry Sr. is often thought of as a villain of neglect—he neglected and failed to protect Regina. The fact that this is openly acknowledged as really lovely; the fact that Regina forgave him, and he forgave her in return for sacrificing him for her revenge, was really heartfelt.
We loved the conversation between the two Henry's. It was nice seeing the grandson meeting his grandfather, even though they don't particularly share a blood. That being said, it would've been nice if Henry Sr. acknowledged the fact that Regina named her son after him.
Is the boat still waiting or did they miss the chance of leaving the Underworld? Is Rumplestiltskin stuck with them? Here's an crazy theory: what if by the end of the season, Hades somehow get out of the Underworld himself and bring doom to Storybrooke?
In Hades' room deep in the Underworld, he has a couple of interesting things, including the five rivers, as well as:
Globe
Pool table
Books
Alcohols
Eagle sculpture
Bass
Some kind of big chalice
The five rivers in that mythology all represent something: The five rivers of the realm of Hades, and their symbolic meanings, are Acheron (the river of sorrow, or woe), Cocytus (lamentation), Phlegethon (fire), Lethe (oblivion), and Styx (hate), the river upon which even the gods swore and in which Achilles was dipped to render him invincible. In Dante's version of Purgatory, sinners who have "done their time" are washed in the River Lethe by someone named Matlida in order to wash away the memories of their sins. They then can enter paradise without the burden's of their past.
It had a drop of True Love potion on it so that it could be broken, so what's to say that there's not a drop from each of the rivers on there too, and each contributes to the Curse in some way? Styx – River of hatred. (Someone choc full of hate and anger was needed to cast the Curse.) Acheron – River of pain, which Charon ferries people across to get them into the Underworld. (Giving the Curse the ability to transport between realms.) Lethe – River of forgetfulness. (Amnesia is totally a thing the Curse was about.) Phlegethon – River of fire, that leads to Tartarus. (The caster of the Curse had to toss the heart into a fire.) Cocytus – River of wailing. Oceanus that circles the whole world.

— Phee
Can Emma destroy the Underworld? Hades, as a ruler, makes the Underworld a bad place, but is the Underworld necessarily a bad place?
Who is the woman that's giving Hades a pedicure? Is that Persephone? They chose a great actor to play Hades, but the flaming blue hair CGI just doesn't cut it.
Cora said that Hades promised to save "us." Who does she mean by "us?" Is Cora being turned back into a miller's daughter kind of her sending off to the Forgotten Character Island? If so, why did Hades even bring up Zelena? Will Zelena make it to the Underworld herself? How will Zelena find a way to go to the Underworld?
What do you think of the 100th episode? Anything else that we've missed from Souls of the Departed? Share them all down below the comment section or join the fray over at the forums if you have any theories about the upcoming episodes!
What did you think?
Email Feedback@ONCEpodcast.com (audio files welcome)
Call (903) 231-2221
Comment on the shownotes
Visit any page on ONCEpodcast.com and click the "Send a voice message" link to record and send a message right from your computer.
Help us out!
Share this post in your social networks
Follow us
On Facebook:
On Twitter:  echo do_shortcode('[twitter follow="ONCEpodcast"]'); ?>
Daniel J. Lewis:  echo do_shortcode('[twitter follow="theDanielJLewis"]'); ?>
Jeremy Laughlin:  echo do_shortcode('[twitter follow="phlegon"]'); ?>
ErinJ:  echo do_shortcode('[twitter follow="erinjcruz"]'); ?>
Hunter Hathaway:  echo do_shortcode('[twitter follow="travelingpixie"]'); ?>
Jacquelyn / RumplesGirl:  echo do_shortcode('[twitter follow="punk_bunny_87"]'); ?>
Spoilers
Mary Margaret enlists the help from a childhood hero to save Hook's life
In the Underworld, an escapee from Hades' prison informs the heroes that Hook is being held captive
In the Enchanted Forest flashback, a young Snow White struggles to preserve peace in her kingdom
5×13, Labor of Love, is written by Andrew Chambliss & Dana Horgan, and directed by Billy Gierhart
Emma Caulfield also comes back as the Blind Witch, and Victoria Smufit as Cruella De Vil
Greg Germann guest stars as Hades, Jonathan Whitesell as Hercules, Kacey Rohl as Megara, and Bailee Madison as Young Snow White
Other guest stars also include Kerry van der Griend as Peasant, Teach Grant as Dead Eye the Bandit, Janet Walmsley as Woman Peasant
Promo for 5×13 showed Hercules and Snow White with Snow mentioning that he's a childhood friend.
We also see the three-headed dog in the promo
Behind the scenes photos showed Hook looking pretty beat up in a cave in some sort of mausoleum
Emma, Hercules, Snow White and Regina in the mines under the town where Hook is
We will also get to see a first look at Hercules this week, looking more like a boy next door.
Hades, all dapper in his purple tie and black outfit, and it seems that Emma will be meeting him sooner than we think
First Sneak Peek showed the Underworld with Hook looking beat up, and a girl telling Hook that it's a trick and to not try to escape
For 5×21, a casting call was posted on SpoilerTV for the role of Prince Marcus, who has been described as someone who is "in his late 30s to late 40s, who looks and acts like he was born to be King. He is wise, handsome, and authoritative. A ruler who will deal harsh justice when it is necessary, but he also knows the power of kindness and forgiveness." Zeus?
For the episodes 5×21 and 5×22, a casting call was also called for the role of Jacob, who is "in his late 30s to early 40s. He is an imposing, physical man. Brutish and morally corrupt. Jacob desires power above all else. The power to control his own destiny however he sees fit. With no discernible moral compass, Jacob will use any means at his disposal to get it. Even if it means destroying his own family in the process"
There was also a casting call for the role of Nathaniel, who is Jacob's brother and is in late 30s to early 40s, described as "slight and weak, always in the shadow of his more powerful, and more sinister, older brother. Nathaniel only wishes to be free of his sibling's wretchedness. But fate continues to thwart him, drawing them together in increasingly dangerous ways, and threatening all he holds dear" Could they be the  Brother's Grimm? Scar and Mufasa from the Lion King? Claude Frollo and Jehan Frollo from The Hunchback of Notre Dame?
Merida is set to return in the season finale, filming something in Storybrooke
Rya Kihlstedt guest stars in 5×20 as Cleo, a bail bondsperson and no-nonsense woman who has pulled herself out of a rough early life and trusts her instincts above all else. The character is described as having "a tough exterior hides a strong nurturing side that isn't often given a chance to come out."
Costas Mandylor will appear as Captain Long John Silver in 5×15 The Brother's Jones. Captain Silver is described as someone who has some rough-watered history with Captain Hook, as per ET Online.
5×20 is entitled "Firebird", written by Jane Espenson, whereas 5×21 is entitled "Last Rites" written by Jerome Schwartz
According to Sean Maguire's agent, he would be done filming Once Upon a Time by March, Is Robin Hood going to die? In a recent interview with TVLine, Maguire said, "We're going to the Underworld, so I don't expect much good stuff is going to happen! But as to where it's going to lead [for Robin], I can't say, there are obstacles everywhere — a lot of bad people from the past are coming back and they are not too happy with our heroes. If Once Upon a Time was the Star Wars franchise, this would be Empire Strikes Back. It's going to get dark, it's going to be scary, and there will be surprises."
In addition to this, the cast very recently shot a funeral scene in a graveyard and it was very sad, with Regina dressed in widow weeds, looking pretty devastated and everyone was there but Robin, even Little John.
According to TVLine, a series currently airing on one of the Big Five broadcast networks (i.e. ABC, CBS, Fox, NBC, The CW) is killing off its star in its season finale, which will leave just enough time for an emotional, season-ending cemetery scene in which [redacted] bids an emotional farewell to [redacted]."
Once Upon a Time has been renewed for season six, but the question remains whether season 6 will come in full order or not.