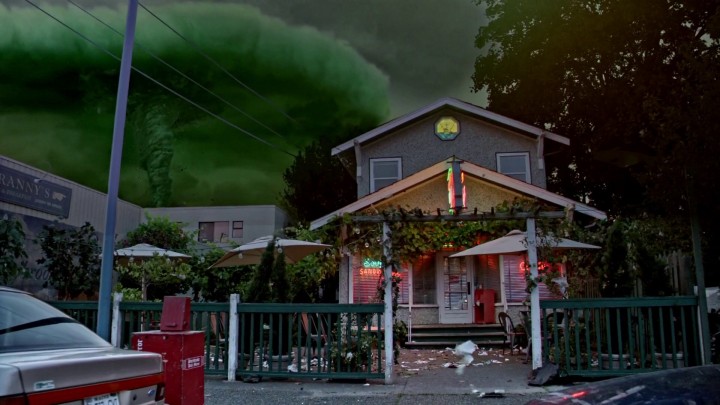 In a desperate attempt to find Emma, Hook resorted into a dangerous way to find her, assigning the newly-appointed Author, Henry to break Zelena out of her new home. In the Enchanted Forest, however, Emma was being guided by a strange voice in her wee head, inching her to start behaving like a Dark One. In order to desperately rid of the dark magic she was cursed with, Emma made her first magical transportation to find Merlin, where she first me Merida. Will Emma let the darkness consume her?
Podcast: Play in new window | Download | Embed
We've heard some good feedback about The Dark Swan episode and some people actually say that this is the best season premier since Season 1 and we couldn't agree more.
Minneapolis, 1989 (Past)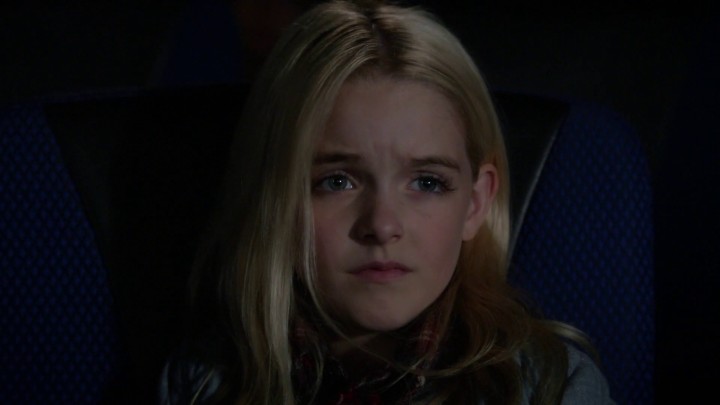 The casting of Mckenna Grace as a younger version of Emma Swan was really good. It looks like they shrunk Jennifer Morrison. But was she on an outing with a foster family or did she just sneak in?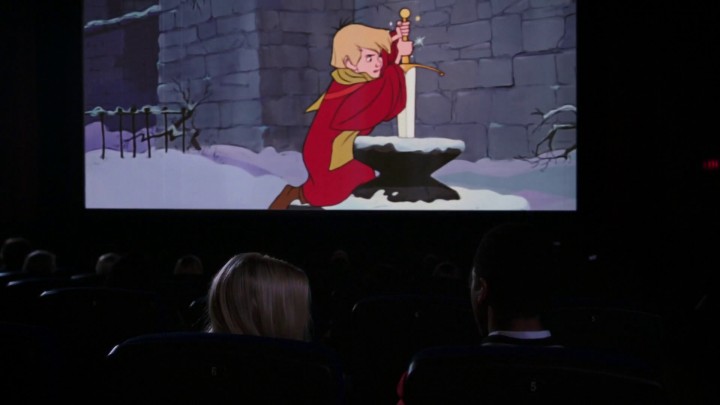 Who was the man who talked to young Emma? Did we just meet Merlin? What did he mean when he told her not to remove the Excalibur from its stone? Is something bad going to happen? Is he speaking symbolically? If they were prophesied to come to Camelot, what could the man mean, then? If Emma is the Dark One and has the dagger to herself and the Excalibur, is there a loophole with the Excalibur that it can control the Dark One because it's the other half of the dagger? Or will it amp the Dark One power? On the other hand, if this guy really is Merlin, the way they keep showing him when Merlin is talking on the screen was not very subtle.
Enchanted Forest (Past)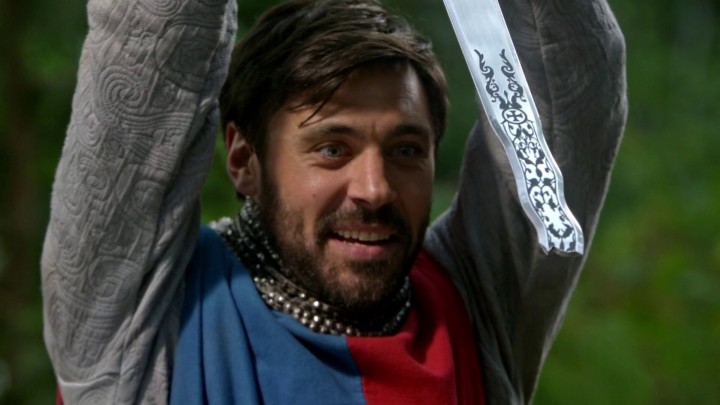 How long has passed since Arthur and company went to pull the sword from the stone? By the fact that Arthur was able to take the sword does show that he is the rightful King, but is he a good King? And what does the different crest on their chest mean? Different divisions of the army, perhaps?
We did a little digging about Sir Kay, and turns out, he was King Arthur's foster brother and one of the first knights of the round table.
It was really cool to see that the Dark One's dagger was the other half of the Excalibur. It was a very interesting narrative point and sets up a thesis for the show as a whole. The fact that the missing bit of it is a weapon of evil and corruption speaks to the fact that there is very little that separates lights and dark and how in order to be complete you need both. Did Merlin forge the blade and it broke into the dagger when he tethered the darkness to a human?
Thank you for supporting us!
David Neuland
Steve Johnson
Lisa Slack
Swangot Hooked
Maryann Livoti
James Kinslow
Jennifer A Treese
Irvin Z. Martinez
Aimee Catellier
Renita Persaud (new patron)
26 Patreon backers ($157 per month)
You can sponsor an episode or more of ONCE podcast, too! Email Daniel@ONCEpodcast.com if you would like to arrange a corporate sponsorship of our podcast for the upcoming third season.
Present Day (Storybrooke)
Did Emma save the town or did she sacrifice herself for Regina? Had Regina become the Dark One herself, will it be doubly bad for the town or will she struggle like how Emma is struggling now? Will they still bring up Emma's potential for darkness into this season at all?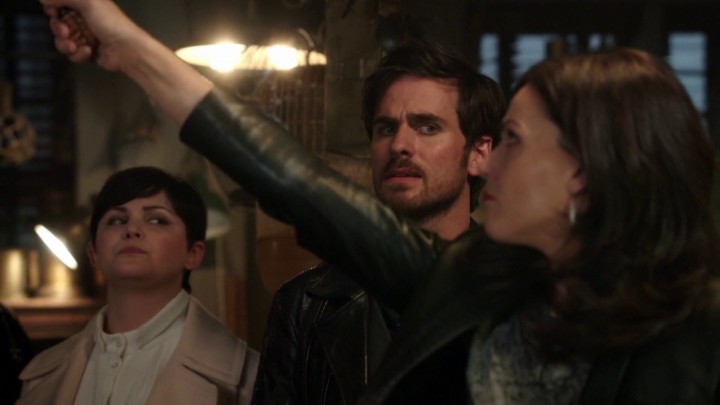 When they went to speak with the Apprentice, there was an interesting things he said that can be taken in two different way. He said Emma "is now where all the darkness is born. In your realm." Did he mean that the Enchanted Forest is where all the darkness is born? When the Apprentice gave them the wand, he said that in order to cross realms, it must be wielded as it is forged with both sides of the coin—light and the dark. Why didn't it work for Regina? They said that Regina isn't evil enough to make the wand work. How was Regina too soft not to be able to wield the wand herself when she's got both good and darkness, while Zelena has no goodness in her, so how does that work?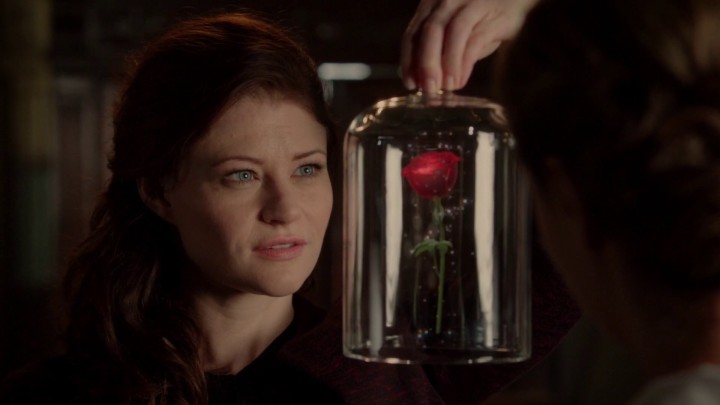 It was nice to finally see the iconic Enchanted Rose from Beauty and the Beast. On the other hand, the rose seems a bit cumbersome. Couldn't the Blue Fairy have made it portable for Belle? Is the Enchanted Rose connected to Emma becoming full-on Dark One? How dark is Emma going to be? And will Rumplestiltskin-in-coma fully die when Emma finally embraced her being the new Dark One?
When they went to visit Zelena in jail at the hospital, you could just feel all of the hate and attitude from Zelena. But while a lot of the fans aren't so happy about seeing Zelena more on the show, she makes a great villain because she's one of those that there's no hope of redemption; she embraces the wickedness. However, Zelena does crazy evil so well, and could be the only person that might tempt Regina to take steps that she has, otherwise, reformed from taking. Will she help turn Emma dark, as opposed to the others trying to fight control Emma's darkness?
It was also nice of them to remind us of Henry being the author. Will it come into play at some point into the season? And when they called Zelena "the person your mother hates most" makes it sound like she'll be relegated to an ingredient in some enchantment.
Before Henry and Hook break Zelena out, we finally found out that the nurse's name was actually Nurse Ratched, who was from One Flew Over the Cuckoo's Nest. And did we finally learn Henry's birthday—August 15? We've seen 815 work as a code on the door. The most recent that we saw someone enter the code was Regina in "A Tale of Two Sisters," where Regina entered 815. However, in the episode "Hat Trick", it appears that Regina entered 4937, and in "The Land Without Magic", Jefferson entered more than 4 digits, although we cannot actually see them.
One of the things that bothered us about this episode was the potion that Hook showed Zelena to rip out her heart. In 2×09, "Queen of Hearts," Regina specifically told Hook that, "The enchantment will only allow you to rip out one heart," which he did with Aurora in 2×08, Into the Deep. Also, why does Hook need a potion to rip out Zelena's heart?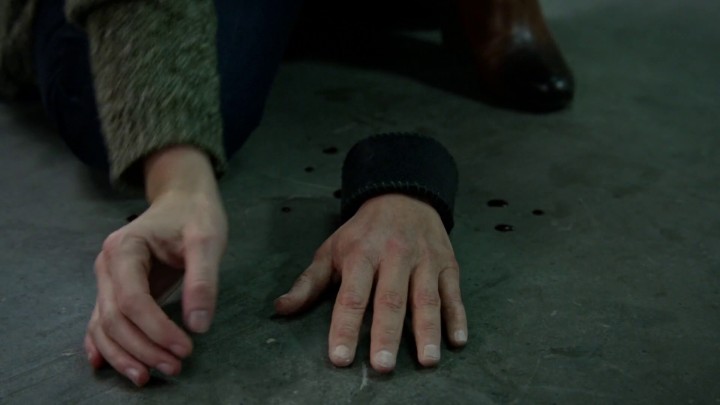 Zelena cutting off her hand showed what we all thought Rumple would do in 3×11, "Going Home", but unlike Zelena, he's not actually insane like she is.
There was a little glitch when Zelena went to Robin. Where's her shape-shifting necklace? On the other hand, it was nice to see Robin detect Zelena was posing as Regina after he kissed her.
We particularly liked seeing how Regina's relationship with everybody has grown, especially towards Snow. We especially liked it when Regina told her that they would be taking Zelena's portal to Emma, and not Oz. Furthermore, it was also cool that Emma's baby blanket keeps coming up. Is it going to be more significant than how it already is?
It was nice to see at least three of the Seven Dwarves come in this adventure, and see them step up in this adventure. The Seven Dwarves were very prominent in Snow's story; they were with Snow with all the things that she has gone through, so it was nice to see them be with Snow again.
Thank you for the podcast reviews!
Ashlehartmn ohio from USA
Great for indepth coverage for OUAT fans
… I got into OUAT on a whim last summer and binge watched the first three seasons on Netflix and Hulu. … The episodes are pretty long in comparison to other OUAT podcasts and incredibly detailed, so thy can be a bit overwhelming at first. On the other hand, I think once you reach a certain level of being a fan of the show the in-depth and comprehensive analysis this podcast offers is incredibly enjoyable. They always bring up details I didn't notice (even after several rewatches) and it's fun to see which theories they discuss end up cannon. I also like the way they weave in listen feedback into this own discuss instead of sectioning it off at the end. … It's almost like the listeners are cohosts along with actual hosts. Also I love the timeline, forums and chat on the podcast website. Again, all vital resources for fans of the show. All in all, a well crafted podcast.
Mark – Wisdom From Dads Host
… It is especially fun when they pull in some tidbit or insight that I NEVER would have thought of without listening. Thanks for the show!
RuthMMartin
This podcast is as much anticipated as the actual TV show for me. I love processing the story with the hosts and hearing different opinions on the show! Best OUAT podcast by far!
Your reviews encourage us and help others find the podcast!
Please rate and especially write a review for us on Apple Podcasts.
Present Day (Enchanted Forest)
We are so happy to see Henry finally being in present day Fairy Tale Land!
Dark One Rumple said that he is Emma's guide. Did Rumple have Zoso as his guide, as well? Who was Gorgon the Invincible? We tried to do some research about it, but couldn't find anything other than references to some video games. It also looked like the bandersnatch from Once Upon a Time in Wonderland. Why didn't Emma look like Rumplestiltskin and Zoso when they were the Dark One? Did they mean to keep her beauty so they made look different than the former Dark One's?
As we were doing some more digging about this episode, we found a forum post by Timespacer from about 2.5 years ago, asking if we were going to see a darker Emma in the future.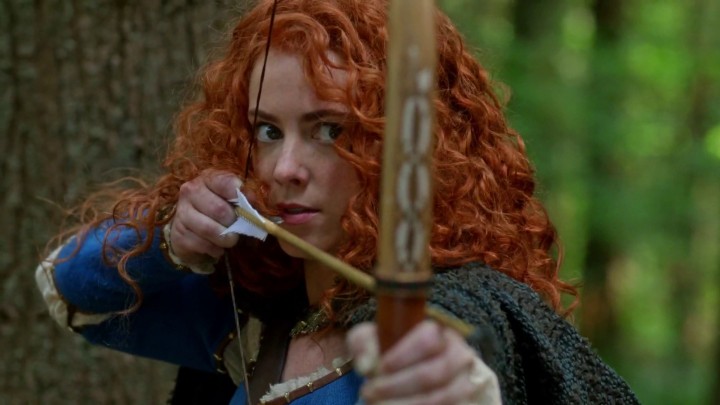 How much Merida will take part this season? Based on how she left in this episode, it appears that she could've gone her own way and is now on her way to forgotten island. Has Emma seen Brave? Does Snow know Merida? It would be cool to know if they have some archery connection between Merida and Snow, or Merida and Robin Hood even.
It was neat to see the struggle Emma was having as well as Merida, and to see her and Merida making up, too. We did like the little show down at the Hail of Stones, by the way, seeing Emma catching the arrows instinctively was really cool. What would have happened if one of the arrows hit Emma, anyway?
Emma gave Regina the dagger and asked her to do what's necessary should they come to that. But how can Regina destroy Emma without becoming the Dark One herself?
I thought it was interesting that the only times Emma could make her hallucination of Rumple disappear was when she was hugging Hook and Henry, or focusing on the people she loves and that love HER. I think one of the things that is going to help her defeat the Darkness is BELIEVING that people love her no matter what.

— Jessica Olsen
What will it take to get Emma out of the Dark One's curse? Will Emma believing in the people who love her help defeat the darkness?
As Arthur arrived during Emma's brief reunion with the others, Arthur said that Emma would reunite Camelot with Merlin. Arthur could be true, or maybe deceptive. Think "Lotso Hugs" from Toy Story 3, and nearly all other movies with a prominent figure welcoming another figure, saying they were expected. Does Arthur mean well, or does he have an ulterior motive himself, planning to take the power for himself?
We saw King Arthur find the sword in the stone or stub in the stone so he sees the dagger missing or something missing and he is going to hide the fact that it's not a full sword. We also see everyone forget their memory right after the scene where our characters enter Camelot. My prediction is King Arthur is going to be evil. Maybe not totally evil but not all good. I think King Arthur is going to be the reason why everyone lost their memories and came back to Storybrooke.

— Jessica Frey
Six Weeks Later (Storybrooke)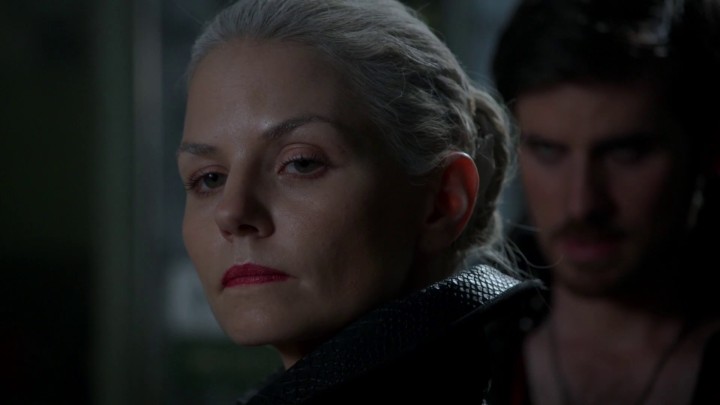 It was intriguing how the last scene was from when they were walking in Camelot. Did they time jump to six weeks ahead and lose their memories just to milk the ships or is it simply a storytelling technique? What actually happened that made Emma embrace her being the Dark One? Why did the Dark Swan take their memories?
Was Emma turning Sneezy into stone as he was wearing a red leather jacket and a beany some way of telling us that everything we knew about the show's story have now been turned upside down?
Could Emma having the dagger mean that Arthur was not successful in reuniting it with the Excalibur? Emma said that they will all be "punished" for what they did. What kind of punishment will she do? How will she punish the people she loves? What kind of terrible things is she going to do in Storybrooke?
"She is a swan… not a reptile."
— Rose Mason
Did you like Emma's look as the Dark One? What does the color white in her transformation mean? It was interesting how despite her dark garb, her hair and nails remain white.
In different Arthurian legends the sword in the stone and Excalibur are different swords. It seems like for now Once is saying they are the same sword, but that might be a twist later on. Young Emma is warned not to remove Excalibur from its stone, but if Excalibur was the sword Arthur pulled from the stone then it would no longer be in the stone and hence Emma could not remove it from the stone. Perhaps this means that Emma will have the chance to remove a different sword from its stone. The Dark One dagger appears to be the tip of the sword in the stone. Perhaps Merlin broke Excalibur when creating the Dark One. Perhaps he was using the sword to battle the darkness and the sword was broken and he used the broken piece. Perhaps the sword was put into the stone because it was too dangerous. Emma was warned to leave the sword alone. I imagine we will see Emma removing the sword from the stone either in the future or missing six weeks. The question is really what will happen when she does. Young Emma is warned that when you do something you're not supposed to do even for the right reasons bad things happen. I imagine this is a lesson Merlin learned from personal experience – maybe we'll hear that back story – but I'm confident we'll see it take place with Emma. If Excalibur was involved in creating the Dark One, it may also be involved in defeating the darkness.

— Gareth Grey
Did Emma chose to fully embrace her being the Dark One? What if Emma chose to become the dark one in order to save everyone? Did Emma actually have good intentions but does the wrong thing in the end? Why did Emma bring them back in Storybrooke? Was she the one who sent them back, or did someone else curse them back to Storybrooke?
While I wasn't thrilled with another time jump with lost memories, I thought it was interesting how they got us to that point. I'm thinking a large reason why they did it was to let us see more of Emma as the actual Dark One instead of just leading up to it and then resolving it. This way they can keep the story to the half season arc while still showing a longer timeline of events. I know it's not really new, but if they really are keeping this story arc to a half season, I think it's the best way to handle it given it's such a big thing for Emma.

— Jessica Olsen
I adored Merida, Amy Manson has done utter justice to her. Her accent is gorgeous and it's her real one which makes it even better! I can't believe King Fergus has passed, I really loved him on Brave. Her poor, wee brothers, I hope there as adorable as they were on the movie. Loved the nod to the movie about her mother being a bear 🙂 I loved Merida's mannerisms and her quick, snappy dialogue, very reminiscent of that from the movie. I also like how she thanked Emma for showing her the darkness, that was meaningful because we all have darkness.

— Aleana Harris
Did we miss anything from "The Dark Swan?" Share your thoughts by filling in the comment section below or continue the discussion by heading over the forum.
What did you think?
Help us out!
Follow us
Spoilers