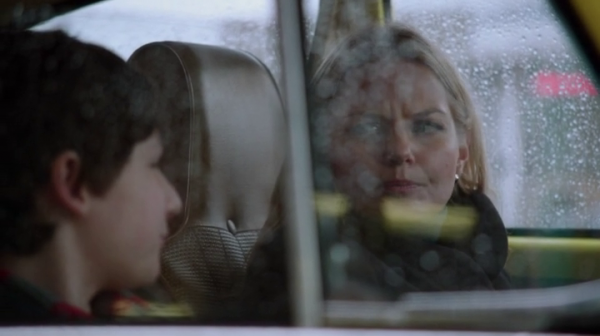 Podcast: Play in new window | Download | Embed
From the ashes arise a new threat in Storybrooke, and a plan that could be the end of everything and everyone we know!
These are just our first thoughts about this Once Upon a Time episode. We'll share more about "The Evil Queen" in our upcoming full episode.
With the aid of Hook, Regina attempts to put a plan in motion that will help transport herself and Henry back to Fairytale land. But her plan revolves around a fail-safe that was planted within the curse, which if triggered could wipe Storybrooke off the map – and kill all of its inhabitants; and Emma's suspicions about Tamara grow. Meanwhile, in the fairytale land that was, the Evil Queen asks Rumplestiltskin to transform her into an unrecognizable peasant in order to kill an unsuspecting Snow White, with the twisted aim of earning the love and respect of her subjects.
Thanks for supporting us!
David Neuland (subscriber)
You can sponsor ONCE podcast, too!
Initial reactions
Some of our interesting discussion points (in no particular order)
We enjoyed this episode! Two episodes left of the season, but no official word on season 3 yet!

Greg seems to be more confident now and he seems to have a new plan.
We've wondered before if Greg was only there to find his father, but now it seems like they both (he and Tamara) have a bigger plan!
Tamara and Greg stopped Regina at a very crucial moment.  Maybe that is good news?  Maybe not.
Tamara and Greg both talk about the fact that they can remove magic… with science.  But how?  Extracting magic with science?
Daniel thinks it is likely the same kind of thing that makes Tamara's taser work.
Regina might seek Dr. Whale for help if she gets away from them.
Are Greg and Tamara collecting people?
We've seen science do things that magic couldn't do but here, science is restricting magic.
The cuff was what restricted Regina's magic.
We saw Malificent again: we were wondering if this was going to happen because she is supposed to be dead.
How did Hook beat Malificent?  Hook had the taser with him when he faced Malificent and then Greg and Tamara brought him back.
When Greg and Tamara talked to Hook about how they could kill magical creatures, did he look a little worried (is he considered a magical creature?)
If they can kill magical beings – they can kill Emma.
Neal helped Tamara make the list of magical creatures.
Will there be side effects from Regina wiping Henry's memory?  Will they bleed through.
We learned there was a trigger that exists that destroys Storybrooke.
Is there only one bean in existence now?
They have set up the potential for season 2 to end with a "fail safe" (Lost reference?)
They confirmed Emma's limitations on her magic.  When she is emotionally involved with something, it limits how she can do things.
This episode was placed on a timeline by Rumpel's comment about his "maid".  This places the episode near Skin Deep but before  King George's kingdom is struggling (so before Snow met Charming)
Rumpel wanted King George bankrupt to snowball into Snow meeting Charming (when his Kingdom is bankrupt, he'll seek Midas' help, his son will die, he'll need David, David will meet Snow, etc)
How many big pieces did Rumpel have to move to get all of these events to go in the direction he needed them to go?
Can he hear when anyone uses his name?
Maybe it is similar to Regina being able to see in every mirror… he can hear when people say his name?
The writers keep giving us hope for Regina, then dashing the hope.
Regina did not even know how to shapeshift in this episode (she has shapeshifted before: to a mouse in "The Thing You Love Most" and into an old hag in "Hat Trick" in season 1).
We haven't seen Blue Fairy for awhile… she is the most powerful on the show (she is "tiny, blue and pretty", so sometimes we forget this)
Maybe Malificent is "undead" now because she was originally a fairy in the original Sleeping Beauty tale.  This has, however, not ever been established in this show.
We love feedback and theories – please email them to us!  feedback@oncepodcast.com!
Jenny liked Emma, Neal and Henry's interactions.  This was not a typical TV reaction; they reasoned with each other.
Our listeners had predicted that Neal would think Emma was jealous if she approached Neal about Tamara.
Daniel would love to see Emma, Neal and Henry going back to the Enchanted Forest with Snow and David.
Jenny thinks Regina will have to go back to the Enchanted Forest to get her magic back.
They used the "best _______" known to man!
Hook isn't magical; the cuff likely wouldn't impact him the same way.
In Fairy Tale Land, Regina called herself "Wilma" when Snow was taking care of her.  Why did she pick this?
This was a GREAT episode!
The next episode is the first of the two part finale!
We gave everything a brief overview and would love to hear your thoughts!
Talk about "The Evil Queen" in our Once Upon a Time forums
Thank you for the Apple Podcasts reviews!
Your reviews encourage us and help others find the podcast!
Please rate and especially write a review for us on Apple Podcasts.
Preorder season-two DVD/Blu-ray set!
You can now preorder the complete second season of Once Upon a Time on Amazon.com! For a limited time, save $10 off the DVD set and $15 off the Blu-ray set!
Preorder the second season today!
Join us for the LIVE podcast!
Initial reactions on Sundays at 9:15 p.m. (EDT/GMT-4)—right after the Eastern and Central episode airing.
Full discussion, feedback, and live calls on Wednesdays at 8:30 p.m. (EDT/GMT-4).
On these days, visit ONCEpodcast.com/live to watch and chat live.
What did you think?
Email Feedback@ONCEpodcast.com (audio files welcome)
Call (903) 231-2221
Comment on the shownotes
Visit any page on ONCEpodcast.com and click the "Send a voice message" link to record and send a message right from your computer.
Help us out!
Share this post in your social networks
Follow us
On Facebook:
On Twitter:  echo do_shortcode('[twitter follow="ONCEpodcast"]'); ?>
Daniel J. Lewis:  echo do_shortcode('[twitter follow="theDanielJLewis"]'); ?>
Jeremy Laughlin:  echo do_shortcode('[twitter follow="phlegon"]'); ?>
ErinJ:  echo do_shortcode('[twitter follow="erinjcruz"]'); ?>
Hunter Hathaway:  echo do_shortcode('[twitter follow="travelingpixie"]'); ?>
Jacquelyn / RumplesGirl:  echo do_shortcode('[twitter follow="punk_bunny_87"]'); ?>