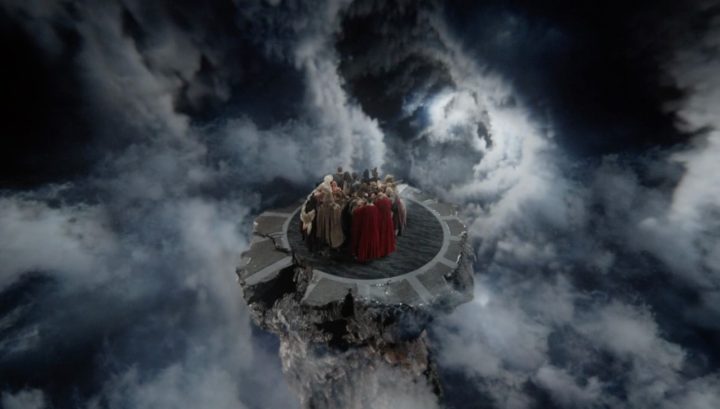 Some rants, some raves, and some answers to a few questions like what does Fiona mean about the final battle being won undoing the laws of magic? And what was Belle afraid of in this curse? All these and more as we discuss some of the things that stood out to us in the final battle. Plus! A theory on the spinoff that is season 7, as well as some feedbacks on the season 7 casting news, some podcasting changes moving forward, and more on our full-discussion of "The Final Battle."
Podcast: Play in new window | Download | Embed
With the show moving from Sundays to Friday nights alongside Marvel's Agents of SHIELD, season 7 feels a lot like a spinoff rather than a new season. Having watched the finale a couple of times, it was still as good as it could possibly be. There was a good chance that the book endings to the episode was very tagged on very late. But while it was good and we loved where it ended up, the vehicle for it is just rickety. It was fun despite it not going what we all thought.
The Other Realms
What was it really Emma not believing or did the Black Fairy really set it up that way? For the past several seasons, the season finale has always been a standalone, except for this particular season finale. Did the Black Fairy took Gideon's heart again when her Dark Curse hit?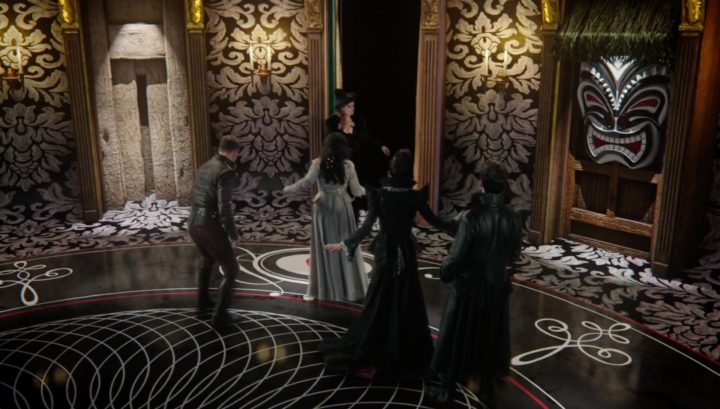 We liked that we got to see Jefferson's hat again. However, what is bothersome in this episode is the hat's rules. In the past episodes, it was said that the same number of people should come in and go out of the hat. They also said that the hat will only go to a land with magic. Doesn't Storybrooke have magic? It's not natively magical, but it still has magic. Was it because the hat doesn't have a door to our world? Where did the others inside the hat go when the smoke was engulfing them in the end and it was down to just a small circle? Then again, it was nice that Rhonda was also returned, as well as everyone else who was supposed to be erased into nothingness.
The doors inside the hat was different compared to the hat that we've seen back in season 1 and 2. However, it was to see other realms get restored that we've seen before—Neverland, Oz, Arendelle, Wonderland, Agrabah, Enchanted Forest. Furthermore, some of the stuff that they showed was also odd, including Charming and Hook being separated from the others. Of all  the realms that we've seen in the final battle, only Camelot and the Underworld were not shown.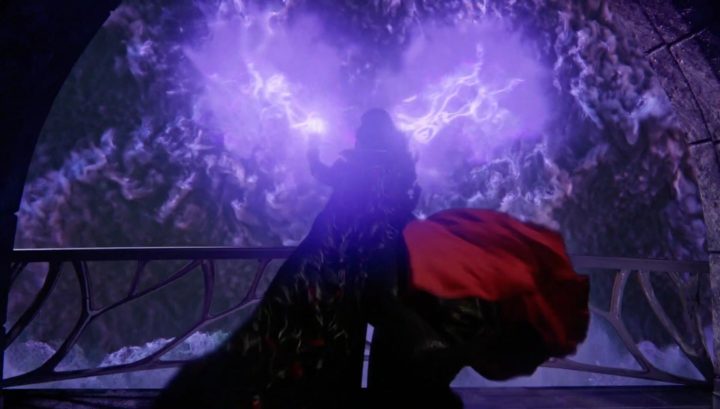 It was neat to see Rhonda save everyone, which was a nice nod to the season 2 finale when Regina decided to stay to stop Pan's curse so that everyone can escape. Even though she didn't do much, but it was awesome watching her on her balcony try. It was a nice way to see the Evil Queen finally get her own happy ending.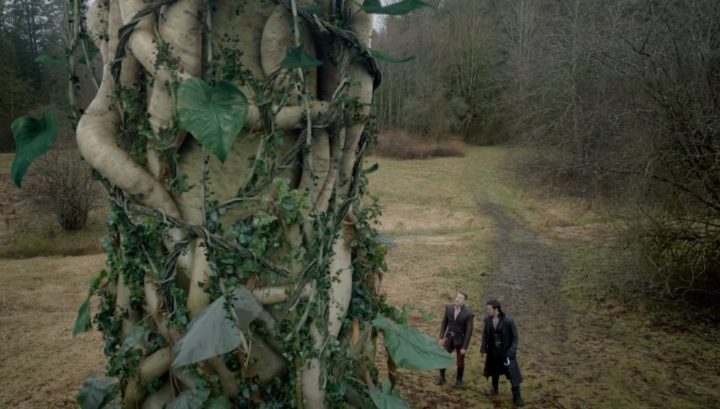 It was really neat to see the nice kissing montage between Snow White and Prince Charming. But how did kissing David save him when he wasn't even under the sleeping curse?
RumBelle and Gideon
Some of the fans have expressed hatred towards the series because of what the show has done to Rumplestiltskin and Belle for the past seasons. While some RumBellers were pretty happy with how everything turned out in the end, it makes us wonder: what was Belle afraid of in this curse? Why did she think she was safe in her house? Why did she think she would have to leave? Did the Black Fairy make her agoraphobic so she wouldn't try to escape? But as far as Rumple and Belle's outcome goes, it was really good because they are earned. In the end, Rumplestiltskin finally made the right choice, the only problem with that is that he could possibly still evil.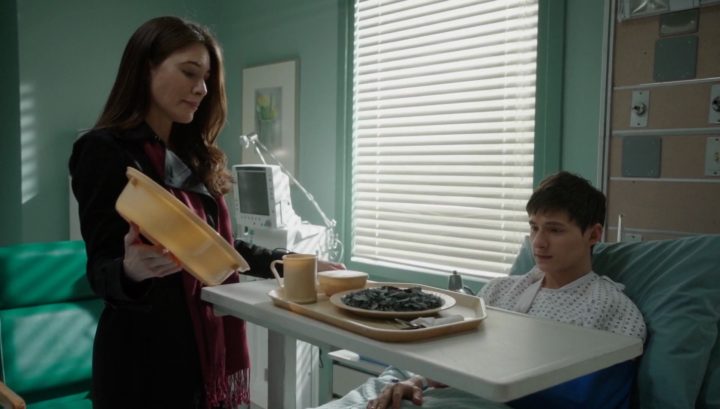 It was hilarious that the season finale was aired on Mother's day, given how many mother-child scenes were included in the episode; when Fiona visited Henry and serving him the burnt story book pages, as well as when Rumplestiltskin killed her mother.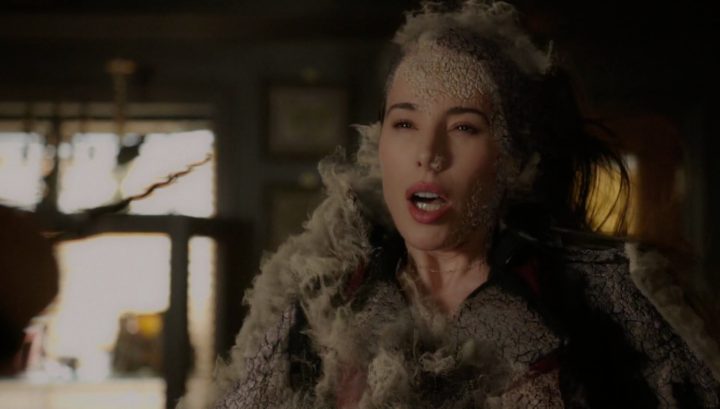 It was also during this scene when it seemed that Rumple chose to not take power, but to take love and his family instead over the power and the darkness. Perhaps this is also what broke the curse, which also means that he ended up being a Savior to this Dark Curse, even though it seemed spiteful and selfish the way Rumple killed Fiona.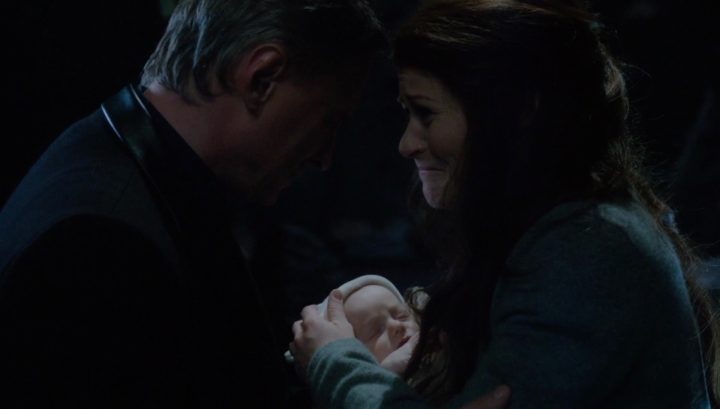 It was fun to see Rumple have his own shoulder Dark One, like Emma had back in season 5. It was interesting, it almost made more sense if it had been a different one, but it was nice to see the Dark One Rumple at least once more. And Gideon turning back to a baby was really cool especially since Rumple never saw baby Gideon.
In the actual final battle between Emma and Gideon, there a single frame or two where Gideon disappears. It was a neat little touch that you have to really pay attention to see, as well as to see Gideon got to go back to the beginning and undo that mess.
Who pays for Emma's apartment? The last time that she was in her apartment was the Pilot, so it was neat to see the blue candle that she blew out in the first episode. But as far as RumBelle goes, we are happy with their happy beginnings, even though it would have been great to see Rumple give up his power once and for all. Maybe he's finally become the person who was prophesied to wield both light and dark magic?
Seventh Season Changes
While we are still committed to continue with podcasting, we may no longer be discussing the episodes as in-depth as we used to for the last seasons. Starting season 7 and going forward, our podcasting format will change, taking the highlights and what stood out to us, as well as bring other deep discussions regarding the episode's main themes in a shorter one-episode per week. The spoilers, however, may be published as its own episode so you may still get two episodes a week, one with the in-depth discussion of the episode, and the spoiler episode. The cohosts for season 7 are also still unknown as of this recording. That being said, everyone is still welcome to come hang and chat on Friday nights during the show's live airing of the episode. Our live full-discussion podcast will also be scheduled either on Sunday or Monday nights. The episode will still be published the day after the podcast was aired live.
The Black Fairy's Curse and The Final Battle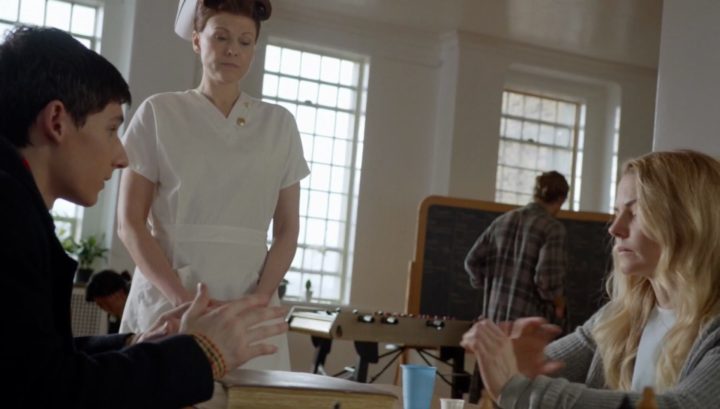 This was the first time Emma was affected by the curse like everyone else, unless you count when Regina gifted her with new memories in the season 3 finale. But was Henry not affected by the curse because he has the heart of the truest believer, and this curse was all about disbelief?
Was this really a curse? The Black Fairy cleaned up after the wedding. Maybe there's some good in her, after all.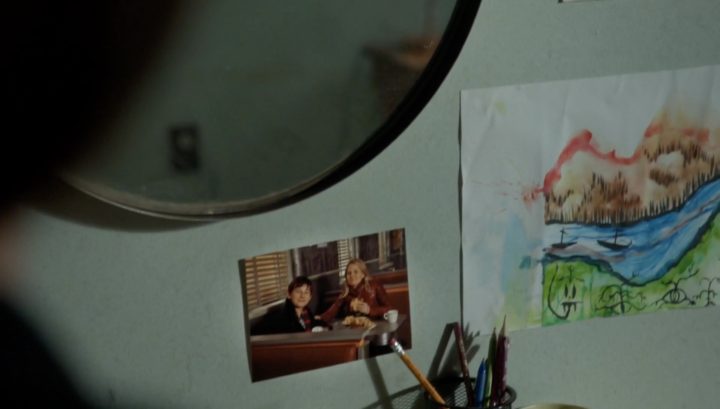 In Emma's room in the psych ward, there was a creepy painting on the wall in her room showing a couple ships and some creepy eyes. We loved that this was Operation Cuckoo's Nest since Nurse Ratched was inspired from the Cuckoo's Nest. But what was the significance of Emma having been in the psychiatric ward for two years? Maybe it was after Henry ate the  poisoned apple turnover that she started getting crazy that they had to lock her up? Was the sanitarium created by Fiona's curse?
The battle between Emma and Gideon, while different, was somewhat the same as the original prophecy. Did Emma change her fate or not? The seer said that she will die, but she didn't. Instead, she sacrificed herself.
We really liked the connections about hope and belief between this and season 1. It all comes back to hope, which was what the show is built on. It was a lot of fun and it was neat that they did emphasize hope in the finale.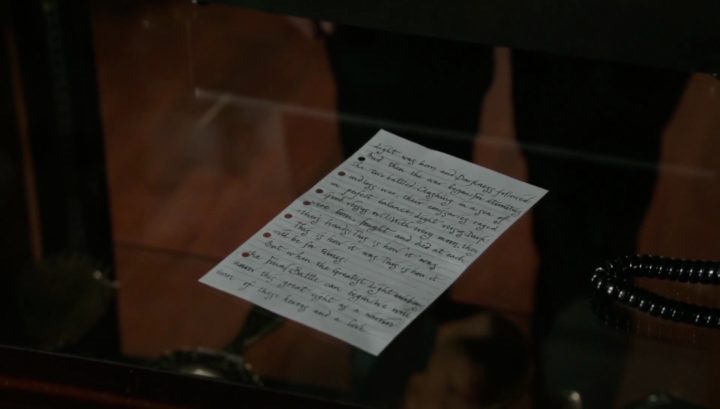 Fiona got the evil pantsuit makeover, a la Cora and Regina, minus the red lipstick. It was also interesting how she almost made Dr. Hopper made into a puppet. As for Henry's page of the runes, there's a brief moment when they showed the translations:
Light was born and Darkness followed and then the war began. For eternities the two battled: Clashing in a sea of endless war, their emissaries raged in perfect balance: Light versus Dark: Good versus Evil: With every moon, they were born, fought and died at each other's hands: This is how it was. This is how it was. This is how it will be for times: But when the Greatest Light awakens the Final Battle can begin. We will know this great light as a warrior born of these heroes and a love.
With the Black Fairy wanting to change the laws of magic and have unchecked magic, she should've met Jafar. What does Fiona mean about the final battle being won undoing the laws of magic?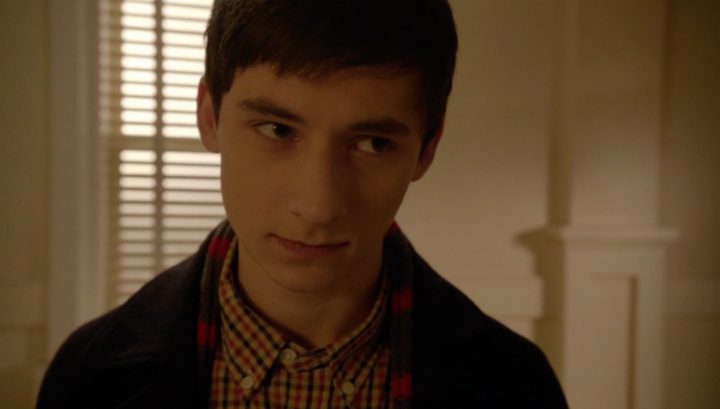 Henry, on the other hand, had a lot of great moments in the final battle, even taking the center stage, making him a warrior and more than just a children's book author. What with leaving Emma a book when she tried to leave again, pulling his grandfather's sword, using the fire extinguisher, it was nice to see Henry taking the center stage in the season finale.
Happily Ever After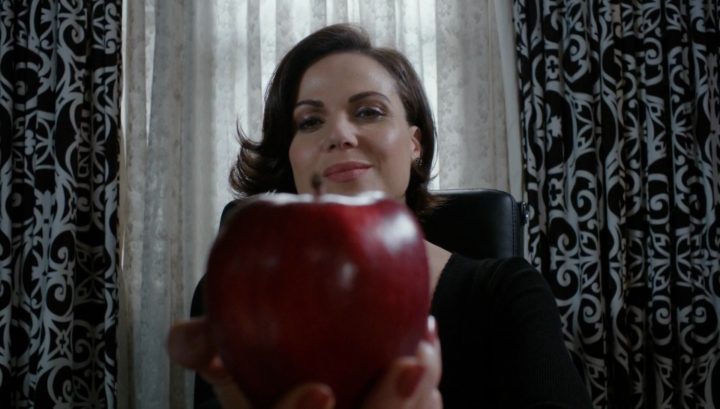 We love the montage of seeing the core characters with their happily ever after, after the curse, including seeing "They lived happily ever after" in the page.
It was also nice to see the  dwarves bow down to Regina and putting up a sign in her office labelled "Queen" even if it's just a term of endearment, as well as Regina's iconic holding of the apple.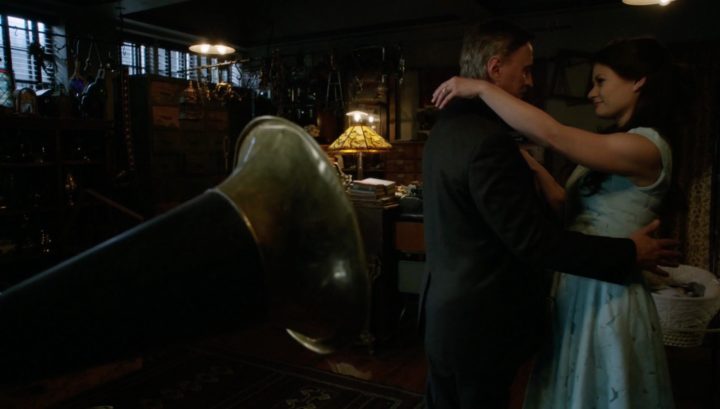 As a Rumbeller, I was very satisfied with this ending. I especially liked the Skin Deep Rumbelle scene parallel to the Final Battle Rumbelle scene parallel. In their first scene together, in Skin Deep, Rumple has his right hand on Belle's back, escorting her away from her family and friends to an unknown dark future with him. And in the Final Battle, in their last scene together on the show, Rumple has his right hand on Belle's back, escorting her toward her family and friends to a happy bright future with their own little family by their side. I thought it was so sweet to do that call back and a appropriate wrap up of their story.

— Andrea from Los Angeles, CA
Some of the things that surprised us more that we didn't get to see includes Rumple giving up his magic, Henry using his pen and writing that the final battle has won. After all, he was only holding the book when the line appears in the pages of his book. We also didn't see Regina and Emma using their magic anymore, as well as Zelena ever getting her magic back. It was also nice to see the Charmings' got their own farm by the end of the episode, but what happened to their loft? Did Henry inherit the apartment?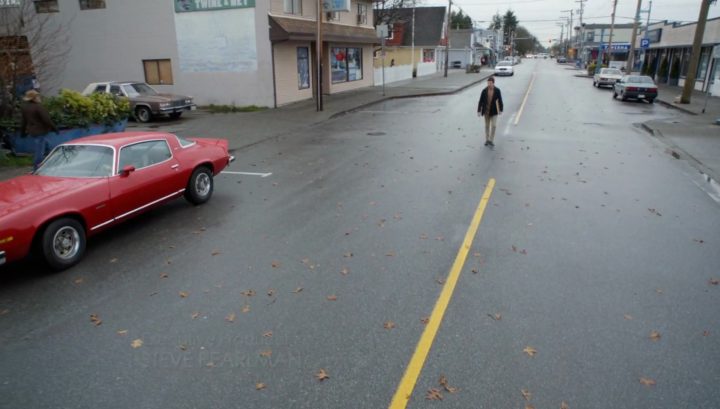 Even though Ruby was not in the season finale, it was cool to see her red car shown as Henry was seen walking down Main street. It was also cool to see Violet waiting in the tree as Emma and Regina looking over their sons going over to meet Violet.
Also in the montage, we see Robin proposed to Rhonda by using one of his arrows and tying the ring in it. It was interesting because in a way, this was the only way for Regina to get her happy ending with Robin.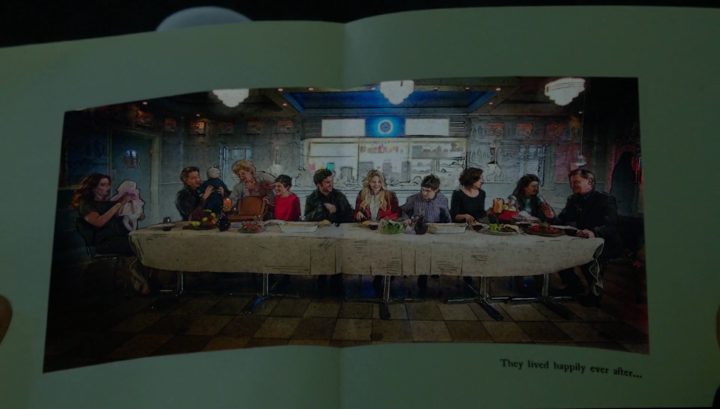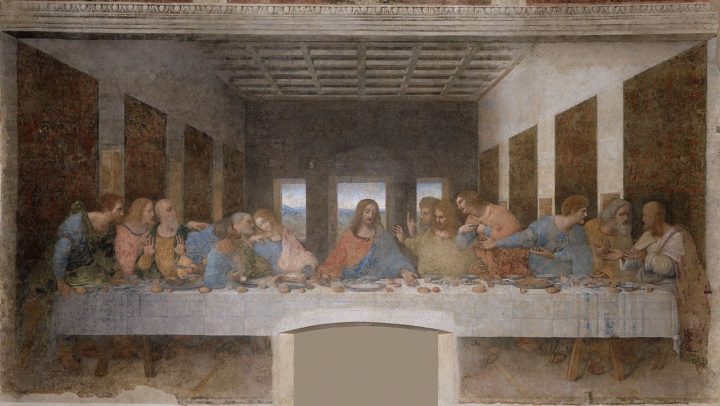 The last supper scene with the core characters was beautiful but rather odd, which was reminiscent of the Last Supper painting by Leonardo Da Vinci. In the original painting, it has Jesus with all of the disciples and Mary Magdalene, and the way that everyone is posed is supposed to be right after Jesus said that one of them is going to betray them. In the painting, Jesus was seated at the center of the table with the rest seating on the one side of the table beside him. To Jesus' right, Mary Magdalene is seated beside him. In the scene, Emma is at the center of the table similar to where Jesus was seated, and Hook was seated next to her on her right, similar to where Mary Magdalene was seated in the Last Supper.
The "Spinoff"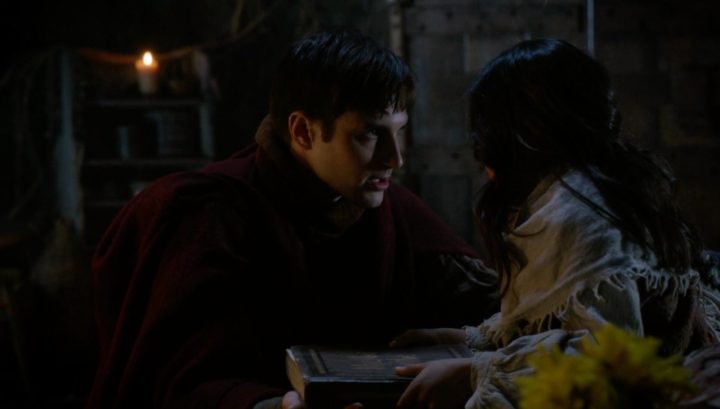 How did Henry forget that he has a daughter?
I think the older Henry we see in the finale is not the same Henry who lived in Storybrooke. It is Wish Realm Henry. I think the upheaval that we see in the Enchanted Wish Realm relates to the fact that Snow and Charming were killed in that realm and that Emma was abducted back to the Storybrooke. Old, round Hook was never in love with Emma in the Wish Realm. Moving between the Wish Realm and, say, Seattle would eliminate the need to explain where Emma is and where the Charmings are. I think we are not going back to Storybrooke. In my view, this is okay. It's a good thing. Everyone that we know from Storybrooke did live happily ever after, just the way we saw in the finale. The versions of characters that we will be seeing again are versions from the Wish Realm. I think we will see Rumple only as the giggly Dark One, who existed in the Wish Realm. Remember that in the wish realm, Belle was dead.

I felt that the finale was an excellent ending to OUAT as we have known it. I'm looking forward to this new "book" because I think the theory above means the new story can work without fans feeling like the happy endings were fleeting.

PS: I think Violet is not the mother of Lucy. I'm so excited to see Prince Henry's story. I also think the new storyline leaves room for some focus on Outlaw Queen. Wish Realm Henry can come find OQ in present-day Enchanted Forest (or he can find them in the EF that existed before he forgot he was Wish Realm Henry and got separated from his daughter.) Why wouldn't he want to find the person he thinks is the Evil Queen? This version of Henry thinks the Queen killed his grandparents and kidnapped his mother? The Queen eventually will have to explain to Henry that Emma didn't belong in his realm. This would be a tragic revelation for Prince Henry, but it will make the cast exits work without being explained in a forest or cheesy way.

— Lisa
Will we focus on the Wish Realm in season 7? If season 7 is based on the Wish Realm, it would take a good amount of good writing to make it work.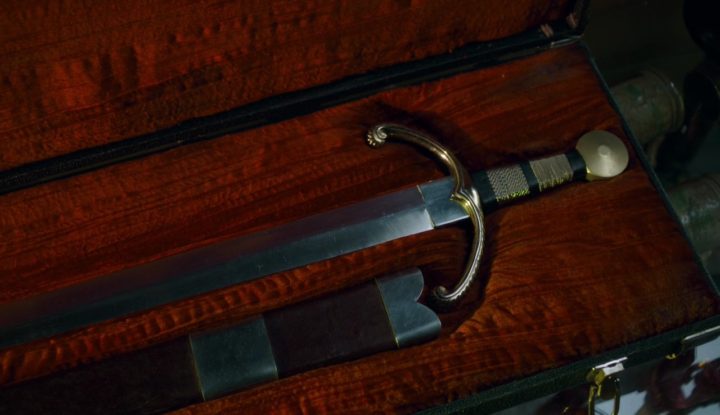 Looking at the 3 scenes we get for season 7, if the timeline happens chronologically, it sounds like the darkness that the guy as Henry referred to were the Ogres, but then other things sounded like wraiths. Looking back to the sword that Henry used to try and fight Gideon was the same sword that Lucy picks up the morning after, which could mean that this is the same Henry as the one in Storybrooke. Do keep in mind that this was Charming's sword that we've seen across seasons. But is he the same Henry as the one in Seattle?
Who is the "they" that adult Henry was referring to in a time of great upheaval at the beginning of the episode? Dragons? Who is Lucy's mother? Does Henry still have the heart of the truest believer? Is he still the author?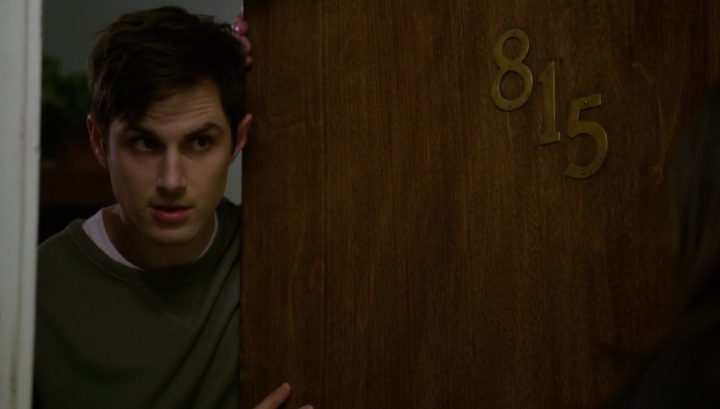 Andrew J. West as adult Henry was casted pretty well. That being said, it's weird to see someone who's about ten years older when Henry's almost an adult himself. Will we still see Jared S. Gilmore in the flashbacks?
I am glad that there are still things to theorize about, this is the positive side of having another season – though I might not watch it until I have listened to the podcast and know its safe. I'd say the field for speculation is wide open here. The name Lucy makes me think of the Chronicles of Narnia. Of course there are three other children, but this could be worked out some way. I don't think the new season / series can do twists on fairy tales. I hope we don't see another version of the Snow White story or anything like that. That being said, they have used up a lot of source material already. Narnia or other more modern fairy tales could be used. Another option is that Lucy's book might be full of stories from the real world (the world without magic) that no one in the Enchanted Forest believes. The only problem with that theory is that Henry appears to be in the real world at the end. If the scenes are in order the question is why does Henry leave Storybrooke and go to the Enchanted Forest in the first place and how does he end up in Seattle? Another question is are the Henry from the Enchanted Forest and the Henry from Seattle the same person? In this season we have already seen many times that it is possible in one way or another to have different versions of the same person. Perhaps the Henry at the end is surprised he has a daughter, not because of a curse or memory erasing potion but because this version doesn't.

— Gareth
With Once Upon a Time beginning again, which characters will we see being brought out of the shelf to be played with? Will we see Lucy's mother in the season 7 premier? Is Lucy even Henry's biological daughter or his adopted daughter, very much like he was Regina's? It would be cool to see Henry pays it forward and adopt others.
Season 7 Casting
First off, I am so glad I had the opportunity to meet you guys in Cincinnati for the season finale.  I have been a listener for a long time, and it was nice to put faces with names.

I just have something I need to get off my chest.  I am normally very spoiler-cautious when it comes to OUAT, and I realized why last week.

My personal experience of watching the finale was totally ruined by the knowledge that Emma was not returning.  I just kept waiting for her to get killed because I figured it was inevitable.  There was no suspense for me whatsoever.  It really, really took the joy out of watching a great episode.  I also knew they had been renewed for Season 7 but knowing that Emma wasn't coming back I was sure it would have to be some kind of reboot.

My question is this:  why would the actors/show runners, etc. announce departures before a finale (that is less than one week away)?  Is it excruciatingly ill-timing or am I being difficult because more than half of the cast is gone at this point?

I would love to hear your thoughts and look forward to hearing you in the future!

— Kathy Gribble
In case you haven't heard, the characters leaving the show and won't be joining the show next season includes Emma (Jennifer Morrison), Snow White (Ginnifer Goodwin), David (Josh Dallas), Henry (Jared S. Gilmore), Zelena (Rebecca Mader) and Belle (Emilie de Ravin). The actors that will stay for season 7 includes Colin O'Donoghue who plays Hook, Lana Parrilla who plays Regina, and Robert Carlyle who plays Rumplestiltskin.
I just re-watched the episodes, and this time I cried. It finally hit me that this was the last time all the characters would be together, and that their happy beginning even as beautiful as the ending was, did not end well. The enchanted forest in upheaval and Henry in Seattle without his family does not bode well for how things transpired. Of course, this is what season 7 will be about…figuring out what happened and getting everyone to believe. The only way to have Hook without Emma, and Rumple without Belle, is that they don't know who they are. Somehow, another curse was cast, and that's what we'll find out…who and why. Maybe it was Hook and he sacrificed Emma to cast it and that's her final scene???? I'm sure it was for a good reason, like trying to save each other, but it went badly somehow. Whoever the Mayor is will be a key to the puzzle right?

— Tracy Miller
This was a solid finale. It would have been an excellent series finale. I wish it had been. I wonder if there has ever been a letter writing campaign requesting a show be cancelled. I blame ABC for most of my biggest complaints about the show and the writers for going along with them. So many times the integrity of the show and its most beautiful moments have been undermined by what I can only interpret as corporate meddling. Will Scarlet was a popular character on Wonderland so they brought him to Once proper for no obvious plot reason and in so doing undermined the ending of wonderland. Killing off Neil to advance the more popular relationship between Emma and Hook was another decision that really undermined the integrity of the big picture story. The list goes on. So I guess my biggest fear regarding season 7 is similar to what Erin said, this season and show ended well and there is a real risk that whatever they do next will totally ruin it. I think the time jump is a good idea, but sadly I fear it means we will never get answers to some of the big unanswered questions of the series (Will & Annastaysia, Lilly, etc.)

— Gareth
I think instead of just killing Emma off, they'll make it more like she and the Charmings have gone missing. That way they hold onto the premise of hope that is so important to the show and Jennifer Morrison can come back for that one episode in season 7. It's just a theory but I think it's more in tune with the show's values than just killing Emma and Hook's love story off. Plus, they are technically part of the Charming family. They always find each other 😉

— Shreya
Where do we go from here? Share your theories with us about season 7 by filling in the comment section below or heading straight through the forums where you can share theories, feedbacks, spoilers, and other non-Once Upon a Time related stuff!
What did you think?
Email Feedback@ONCEpodcast.com (audio files welcome)
Call (903) 231-2221
Comment on the shownotes
Visit any page on ONCEpodcast.com and click the "Send a voice message" link to record and send a message right from your computer.
Help us out!
Share this post in your social networks
Follow us
On Facebook:
On Twitter:  echo do_shortcode('[twitter follow="ONCEpodcast"]'); ?>
Daniel J. Lewis:  echo do_shortcode('[twitter follow="theDanielJLewis"]'); ?>
Jeremy Laughlin:  echo do_shortcode('[twitter follow="phlegon"]'); ?>
ErinJ:  echo do_shortcode('[twitter follow="erinjcruz"]'); ?>
Hunter Hathaway:  echo do_shortcode('[twitter follow="travelingpixie"]'); ?>
Jacquelyn / RumplesGirl:  echo do_shortcode('[twitter follow="punk_bunny_87"]'); ?>