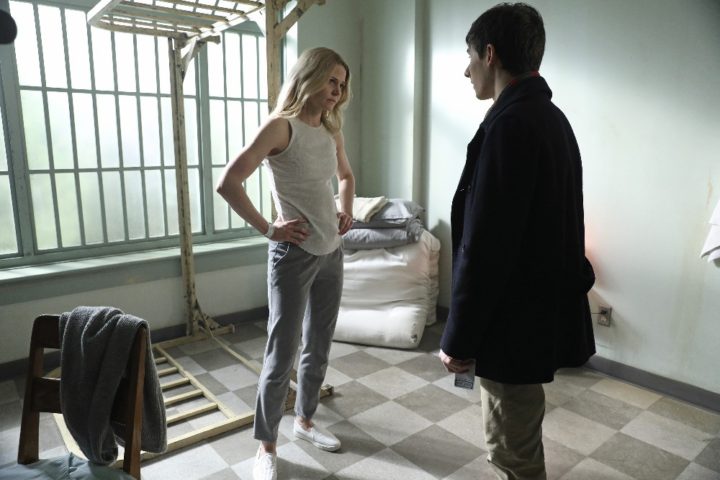 The final battle, all the feels, the spinoff that is season 7, and more as we share our initial reactions on "The Final Battle."
Podcast: Play in new window | Download | Embed
Henry awakens to a cursed Storybrooke and discovers Emma has been in the mental hospital, and the Black Fairy is the new mayor. Henry attempts to help Emma regain her memory while Gold tries to find out what has really happened to Belle. Meanwhile, Snow, Charming, Regina, Zelena and Hook are trapped in a crumbling Fairy Tale Land and desperately try to figure out a way to be reunited with Emma and Henry.
These are our first thoughts about this Once Upon a Time episode. We'll share more about "The Final Battle, Part 1 & Part 2" in our upcoming full discussion (usually live on Wednesdays at 7:00 p.m., USA Eastern Time).
Initial Reactions
What a great way to end Once Upon a Time with the final battle! What a beautiful episode with beautiful story, ending, and a wonderful way to end Once Upon a Time once and for all, but that's not what they're doing. Henry definitely grew up way too fast and have some 'splaining to do.
This episode was a lot and Rebecca Mader was right that about this episode: it gave you "all the feels," or at least some of it. After this long and convoluted story you can't totally wrap it up in one way and had they cut up a couple of scenes, it would have been the series finale. That being said, season 7 looks interesting. The story was so wrapped up that we aren't sure where else things could go.
Where the opening scenes before or after the final scene when Lucy goes to see adult Henry in Seattle by the end of the episode? Did this actually happen chronologically or the other way around? Did Tiger Lily become a fairy again in the present day? Tinkerbell did become a fairy again when she helped stopped the shadow in season 3, after all.
Focusing on some of the theories as to where the story could go from here and that they're jumping forward years from now gives them the opportunity to tell completely different stories. This was a beautiful finale. They wrote the episode so well and told the story so well. They also did the ending so well, and the last supper was beautiful. That all was an amazing collage, where the heroes get to be a hero and everyone saved, villain is defeated, and the hero even sacrificing herself without actually having died but going through the actual act of sacrificing. It was an amazing ending to the series and it looks like it was written to be the end of the series, had it been the series finale. While the writers got to tell their story and end it the way they anticipated ending from the beginning of the show, now they had to include three scenes to give way for the new season. The three scenes that were shown in order to lead in to season 7 could've been cut and replaced with some deleted scenes for what would have been a beautiful and perfect series finale. Now they're giving us completely different story that they didn't have to give us, and now we're stuck with the same characters going through the same loops.
There were so much in this episode that seems like it was designed to be season 1 kind of feels, and so much reverse, too, like Snow and Charming's kiss reversed. There were a few True Love's Kisses that did miraculous things in this episode, as well as a few that should have worked but didn't. When did Henry's arm get better? When the curse got broken? How did Hook survived? Emma and Henry's dynamic were almost identical to the Pilot and it was really enjoyable how they get back into their characters from six years ago as well as they did.
The episode was enjoyable but the actual final battle was kind of a let down. That being said, it was nice to see Gideon and Emma get to have a face-off again like in the vision. It was great, but it would have been better without saying the final battle five times in the episode before that and using superlatives such as "worst than you could possibly imagine."
Knowing the season 7 is coming, we expected to see some beautiful ending, some death or someone moving on, some victory or something beautiful that's going to be undermined in order to lay ground work for season 7. Props to the writers, they did not undermined it yet; everything finished nicely, but knowing that another season is coming prevented us from fully appreciating the emotions in the episode.
On the other hand, Rumplestiltskin finally did the right thing, and it was nice when they mentioned about good and evil both doing the right thing because at almost the exact same time in the other realm, the Evil Queen stepped up and sacrificed herself to hold off the curse to give Regina time to fix the bean so they can escape. Seeing Rhonda again was cool and what a fun little proposal from Robin Hood. It was also nice that they totally logically acknowledge about the Evil Queen being sent to Wish Realm, where everyone hates her.
Several of our core characters are leaving the show—Jennifer Morrison, Jared S. Gilmore, Ginnifer Goodwin, Josh Dallas, Emilie de Ravin, and Rebecca Mader. All we have left going forward that we know of are Colin O'Donoghue, Lana Parrilla, and surprisingly, Robert Carlyle. These three actors were said to be the frontrunners for season 7, will they be actually used much in the next season? How does that work with their various significant others? How do you have Hook still in the show without Emma? The time-jump gives a lot of room for creativity, mystery and flashbacks, but what else can they do with the three core characters left? The way they set it up makes it seem like season 1 all over again, but knowing the casting difference, it really does not feel like Once Upon a Time anymore. With many of the regulars gone and new characters coming in, this gives us the freedom to completely enjoy more stories, which means one thing: no more flashbacks of the Evil Queen trying to kill Snow White and Prince Charming.
That being said, it was nice that we got one of our theories right—ending with the story book ending with "And they lived happily ever after." It was subtle, but it was there. Even the book got a new look. It
What did you think about the season 6 finale? What are your favorite and least favorite moments from the final battle? Share all of your feedbacks with us, as well as your theories about season 7 and join us for our full discussion of "The Final Battle" this coming Wednesday.
Remember, these are only our initial reactions regarding tonight's episode so please bear with us if we're a bit all over the place. If you have your own thoughts, feedbacks, or theories regarding tonight's episode, however, send them over to us and join our upcoming full discussion!
What did you think?
Email Feedback@ONCEpodcast.com (audio files welcome)
Call (903) 231-2221
Comment on the shownotes
Visit any page on ONCEpodcast.com and click the "Send a voice message" link to record and send a message right from your computer.
Help us out!
Share this post in your social networks
Follow us
On Facebook:
On Twitter:  echo do_shortcode('[twitter follow="ONCEpodcast"]'); ?>
Daniel J. Lewis:  echo do_shortcode('[twitter follow="theDanielJLewis"]'); ?>
Jeremy Laughlin:  echo do_shortcode('[twitter follow="phlegon"]'); ?>
ErinJ:  echo do_shortcode('[twitter follow="erinjcruz"]'); ?>
Hunter Hathaway:  echo do_shortcode('[twitter follow="travelingpixie"]'); ?>
Jacquelyn / RumplesGirl:  echo do_shortcode('[twitter follow="punk_bunny_87"]'); ?>