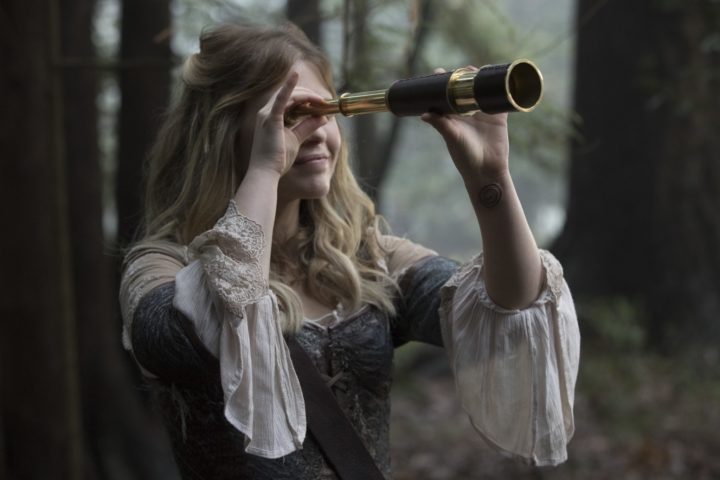 The hippie and the hipster, Operation Hyacinth, some timeline inconsistencies and more in our full-discussion of the episode "The Girl in the Tower"!
Podcast: Play in new window | Download | Embed
This episode was so much better than last week. As long as we don't talk about the timeline, "The Girl in the Tower" was so good. There wasn't glaring problems with the timeline, but if Robin was 25 in these flashbacks, which is what she said when we first met her back when Regina went to get help from Zelena when Drizella first threatened them of the curse that is coming, that means that she is now 33 in the present day Hyperion Heights.
Furthermore, if it's 8 years after this and this is 10 years after Henry left, which is 2 years after the present day that we saw last year, that means we're 15-20 years in the future, so why are they still using their iPhones and why do walkie talkies even exist anymore? All of that pop culture reference was relevant both in the present day and the flashbacks. That being said, it was cute that Robin admitted she was a mean girl in Storybrooke. Maybe the curse was a little time travelly? After all, we still don't know why Regina said that they can't go to Storybrooke and can't know they're in Hyperion Heights. Time travelling was not unprecedented in the show, but there were some similarities in the way Zelena did hers back in season 3 and this curse.
You guys were talking about the inconsistencies in the aging of Nook in the latest episode of Once Upon a Time.

Here's the inconsistency I see. Was "New Enchanted Forest" created by the wish in the last season of Once proper? Otherwise, how could Nook even exist to have Alice in the New Enchanted Forest since he didn't exist until a few years ago on the timeline.

Not to mention that he was already old in the wish timeline, so he never existed as the young Nook until Tremain/Rapunzel used magic to make him young again.

That is, unless the wish rearranged ALL the timelines. Of course, that would actually explain the inconsistencies in the timelines. They were all retroactively changed by the wish in the last season of Once proper.

I'm sure what I just wrote doesn't make sense, but it does to me…

Anyway, love the show!

— Chuck
We've had some discussion around this before and, at the very least, we decided that it must be that when the Wish Realm was created, it was created with an actual real history as far back as any other realm; they have a shared the same history but it just split so at the moment it was changed like the Charmings defeating the Evil Queen, that's where the timelines diverged and they have a common history up to that point.
As with Nook's timeline, it still works so he would've been the same age in the Wish Realm as he was when we first met him in the series in season 2. So when that never happened, their history just continued but it's been long enough for Henry to age, go out of his bike and meet Cinderella. But that's also really the crucial part, the assumption that the realm was created with a history rather than coming to existence at the moment Emma arrived there. Otherwise, since Alice is technically a child, at least partially, of the Wish Realm, she couldn't exist. However, if it has a history and Nook was able to travel to other realms, who knows what effect on other timelines it would have and should have had. It clearly had an effect on assuming another realm is different than the Wish Realm.
Hunting the Big Friendly Giant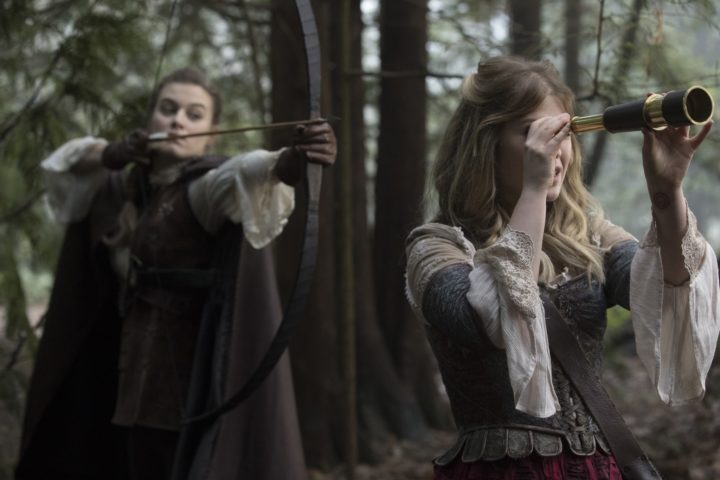 One thing that they did stick to is Alice mentioning she had been in the tower for 6, 205 days, making it her 17th birthday and it's safe to say that she went a little mad being up in the tower alone. Rose Reynolds also made a good job playing a convincing younger Alice in the flashback. It was also nice hearing a few Alice in Wonderland references in this episode, such as the talking to the hat. Alice singing Happy Birthday to herself sounded a lot like the Mad Hatter singing Merry Unhappy Birthday in the animated film of Alice in the Wonderland. That being said, Alice did get out of the tower eventually, with the help of the big friendly giant. How many years since Alice got out of the tower? Four, five years? Did she get out when Henry arrive in the new Enchanted Forest?
Alice and Robin's banter about Nook and Alice calling her Nobin is cute. Robin's storyline about her trying to uphold her father's legacy is a bit of a yawn. It's interesting that it's okay for them to write 2D, stereotypical men in the show to torment the women after how hard they've worked to overcome that issue with female characters. (e.g. The men in the tavern locking them up after saying Robin could stay to protect the women and children.) It was a good girl power moment but, fortunately, they made her realize in the end that she is her own person.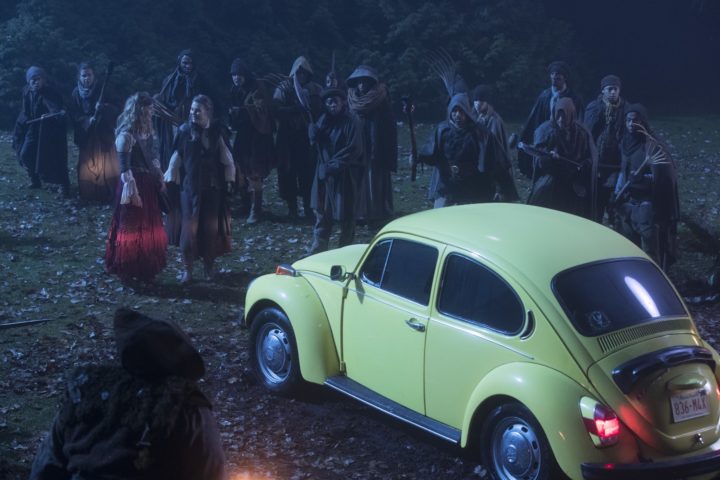 However, it was surprising to find out that Alice has magic, and she should be careful because if the troll showed up when Alice wished not to be alone on her birthday, what else her wish could do? We also loved the conflicting themes of Alice vs. Robin and their lives, bringing the new pop culture references in. It would be nice to see a flashback of Robin stealing Emma's yellow bug in Storybrooke which, we learned from this episode, was insufferably quaint.
What if Alice never left the tower and this entire season is just her imagination? That said, it was nice that this episode tells you that you don't need anyone to save yourself; you can save yourself. However, the constant message of "saving yourself" is dangerous. Spiritual implications aside, there are times in our lives when we need other people, and it could be dangerous for anyone who believes they should be "strong enough" to save themselves. Granted, Alice can't see her father, but she come to that realization that she can't just lean on that anymore because it's pulling her backwards. On the other hand, it was nice to finally see the formation of the Seattle Fremont Troll, which holds an actual Volkswagen Beetle hubcap.
Proving Tilly's Innocence
Speaking of the troll, which is still Tilly's BFF in Hyperion Heights. We loved when she asked him, "I don't have that kind of M-ALICE in me?!" It's interesting that Henry and Rogers are working together. It was also nice how Rogers is competent this week, what with finally knowing how to be a detective this week.
Here's the thing: Tilly is probably the most memorable person you'd ever meet, so how did the people not remember her? Did Gothel put a spell on everyone she met that day, make them forget ever seeing her? That said, we don't know if it's even Gothel who's framing Tilly and if it's not her, who and why would anyone want to frame Tilly? What if it's Zelena? Or Margot? Anastasia? Did she even have it in her to kill anyone? Maybe it's Tiana.
We liked the "what if I don't exist at all" bit. It was nice seeing her happy when Rogers told her that she believed her and that she didn't kill the Blind Baker. It was also cute how Tilly grabbed the Robin Hood book from Henry's bookshelf, and Margot holding the Alice in Wonderland book.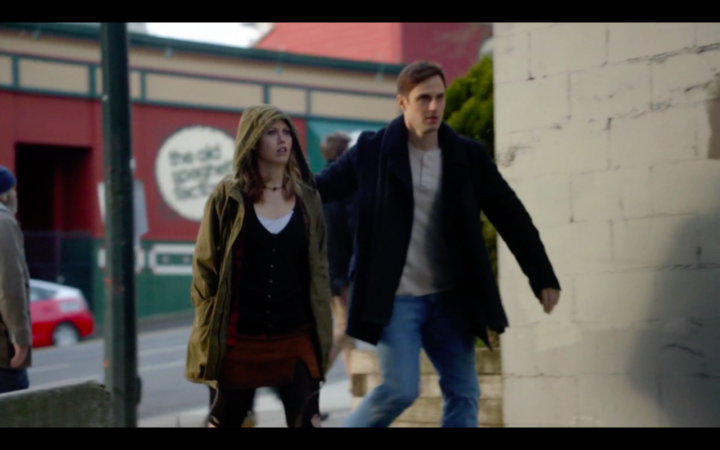 When Rogers was pulling Tilly off the street, you could see The Old Spaghetti Factory in the background. We did a little research and found the actual filming location, which closed down last December. Furthermore, the waterfront where Regina and Samdi went to looked a lot the one in Steveston.
It was nice Rogers offering Tilly to stay with him, which would be creepy and awkward if we didn't know he was her father. It definitely shows he has faith in her.
Operation Hyacinth
Regina sending her granddaughter to sneak into Dr. Facilier's apartment is weird. Henry and Emma did this, too, back in season 1, but it wasn't this reckless. Lucy sure did have a poor peripheral vision, not seeing her phone lighting up. Also, how did Dr. Facilier didn't notice that the lock didn't latch when he closed the door?
The Zelena and Regina feud is infuriating.  Have they not had like 30+ years to trust each other and work it out? That said, it was kinda nice to see Regina and Zelena having conflict without going dark on each other. It was nice to see Regina coming clean to her sister in the end, except for not telling her about the tarot cards.
Dr. Facilier's line to Regina about taking a page on her old teacher's page and finding a way to have it all seems like is still lingers in her mind. Furthermore, it was funny how Regina refers to Rumplestiltskin as Regina's oldest friend. Moreover, when Zelena interrupted Regina and Dr. Facilier in the waterfront, was he about to tell her that he's after the Dark One Dagger?
Regarding Samdi's tarot spread, the death card doesn't always mean someone will die (although in tv and film it usually is taken literally). It just means irrevocable change. In Facilier and Regina's case, Regina must thread carefully because Facilier is a magician (and there's literally The Magician Card in his spread) because he may not be on her side completely. But Three of Pentacles meant that teamwork is essential in breaking the curse, which is why they need to wake up Rogers ASAP.

— Jhack
If they literally need three people to team up, who needs to team up to break the curse? Rumple, Regina and Zelena? What about Lucy? When will we see Lucy wake up? All of Dr. Facilier's stuff is weird.
On the other hand, it was odd that Drizella seems to be pushing Henry toward Jacinda out of a good heart, even apologizing for "everything," but not seeming to be thinking about Henry dying… or is she? With Drizella wanting to find Anastasia, does that mean she holds the key to saving Henry? We've got Weaver, Zelena and Regina, who are all awake and knows that Henry's heart is poisoned but why hasn't anyone of them acknowledged about finding a way to save Henry?
Why does Dr. Facilier want the Dark One Dagger? We haven't seen them together before, do they share a history together? He sure has been around the time back when Regina was still the Evil Queen, but is Dr. Facilier one of the good guys? He encouraged Regina to take a page from her old teacher's book and find a way to have it all, but how did that work out for Regina in the past? Not really well.
With only a few episodes left before the series finale, will we even see the Charmings back? Did Snow White and Charming even had more children following baby Neal? How will all the story wrap up? Who is the Guardian? Who killed the witches? How are the stories going to tie in together? What is Gothel's real agenda? Who is framing Tilly for the murders? Share all your theories with us by filling in the comment section below, or simply by going to the spoiler section of the forum!
What did you think?
Email Feedback@ONCEpodcast.com (audio files welcome)
Call (903) 231-2221
Comment on the shownotes
Visit any page on ONCEpodcast.com and click the "Send a voice message" link to record and send a message right from your computer.
Help us out!
Share this post in your social networks
Follow us
On Facebook:
On Twitter:  echo do_shortcode('[twitter follow="ONCEpodcast"]'); ?>
Daniel J. Lewis:  echo do_shortcode('[twitter follow="theDanielJLewis"]'); ?>
Jeremy Laughlin:  echo do_shortcode('[twitter follow="phlegon"]'); ?>
ErinJ:  echo do_shortcode('[twitter follow="erinjcruz"]'); ?>
Hunter Hathaway:  echo do_shortcode('[twitter follow="travelingpixie"]'); ?>
Jacquelyn / RumplesGirl:  echo do_shortcode('[twitter follow="punk_bunny_87"]'); ?>