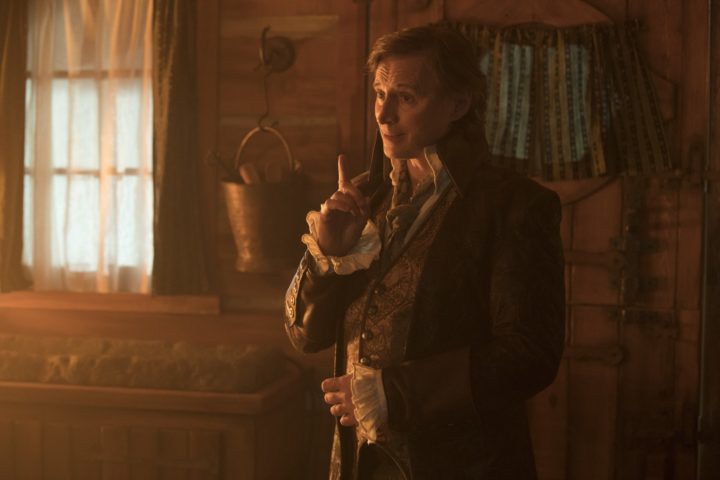 Finding the dagger and the Guardian, a day in H-Town, the writers playing Mad Libs and more in our full-discussion of "The Guardian"!
Podcast: Play in new window | Download | Embed
For this episode, they wrapped up storylines quickly and in a way that doesn't really make sense at all. It wasn't horrible but not that great, a little frustrating and a bit all over the place. However, there were still some things that are good and interesting that keeps us theorizing.
The Dagger and The Guardian
One thing we really enjoyed much in this episode though is Alice, both in the past and present day. Do they know all along that Alice is the Guardian? Or did they just decided on Alice after finding out the show is ending after the 7th season so they wrapped the Anastasia storyline quickly and made Alice the new Guardian?
They had a lot of rules for engagement for this episode, and Rumplestltskin talked about curing the poisoned heart and it makes sense that it needs just as dark magic, Rumple also said that the only cure for a poisoned heart is to sacrifice someone else's, but is dark magic really the only way to do it? They also gave a very good definition of the guardian, which is someone who can be a great hero a protector of the Dark One dagger.
Back in the season with the Dark Ones, we theorized that Emma could be the one who could wield both dark and light magic. Say, all the cast didn't leave at the end of the last season, wouldn't she be a good candidate for being the Guardian? She wouldn't even have to change her role title.
my theory: rumple will actually be the guardian. he was destined to be a savior and he will be the savior in the end. he has saved them all in almost every finale, even against his own parents. keep this in mind. Rumple, the most evil, tortured, soul of them all. will in the end, save them all and be final savior. he is his own guardian. his own pure heart will save them all. MARK MY WORDS.

I also believe Emma's going to come back and kiss Henry in the finale episodes. I just know it. The last curse will be broken, they will be finding a way to help Henry stay alive and Emma will enter the picture and keep him alive. I just know this! Ask me in 3-6 weeks if I was right.

— Faye Weber
If this comes true, it would be a nice throwback to the earlier seasons, both with Emma breaking the curse and Rumple destined to become a Savior. One thing that we learned this episode is that the guardian is necessarily nestled with immortality. So this theory about being Rumplestiltskin being his own Savior is interesting. How will Rumple find another way? After several seasons, they started treating Rumple being the Dark One like Zelena's jealousy.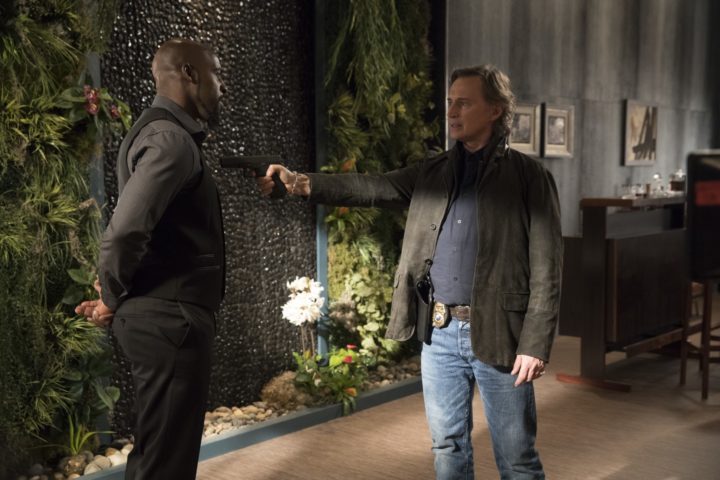 It was fun to see Dr. Facilier's voodoo not working on Rumplestiltskin, although Rumple's Belle shrine was a little creepy. Aside from that, they keep saying that if Rumple does anything bad, he won't see Belle. Will Alice accept the guardianship after all if this is the only way to get close with her father? Rumple lied to Alice about why they were going to see Dr. Facilier, then lied in saying he wanted her to kill him, all as a test. Gothel much? Could it be that that's exactly what Gothel's been doing and she didn't necessarily want people dead?
It was nice that Rumple let Alice live a normal life, however, if Alice is destined to be the guardian, will it really be a burden to Alice if Rumplestiltskin let her fulfill her destiny? Is Alice still going to be the guardian? She's about 90% on the way there, after all.
In season 5A, we've learned that the Excalibur and the Dark One dagger are one and the same, dissolved and forged into a dagger that can control the Dark One. In this episode, Rumplestiltskin said, "All magic comes with a price. Guess it was finally my turn to pay", which is a nice throwback to season 1.
Erin, you've referenced "An Apple Red as Blood" from season 1 a lot, by any chance have you re-watched lately? One of the last scenes of this episode is when Regina prances into Mr. Gold's shop claiming she has gotten rid of an unwanted nuisance (Emma). Rumple has that worried look on him when he realized that she used magic to make magic, he tells her that all magic comes with a price. Regina taunts him by saying he will be the one to pay the price right here because the curse is stronger than ever. We assumed that meant in the context of season 1. It would be creepy cool if it was foreshadowing what we just saw in this episode and it may come later for the finale.

— Keeper of Squid Ink
Could Regina be right? Is Rumple really the one that's going to pay the price of magic? Making the connection now of what Regina is going through because her son is cursed is her price of magic. Even in season 1 and 2, the price of magic has never been established. Back in season 2B when Emma and Regina were fighting over Henry, and Emma, Blue Fairy, Snow White and Charming trapped Regina with squid ink, Emma basically implied that Regina's price of magic is Henry; he was going to pay the price of magic. And in Snow White's case, the price she paid for using the candle that killed Cora was her darkened heart.
Finding the Dagger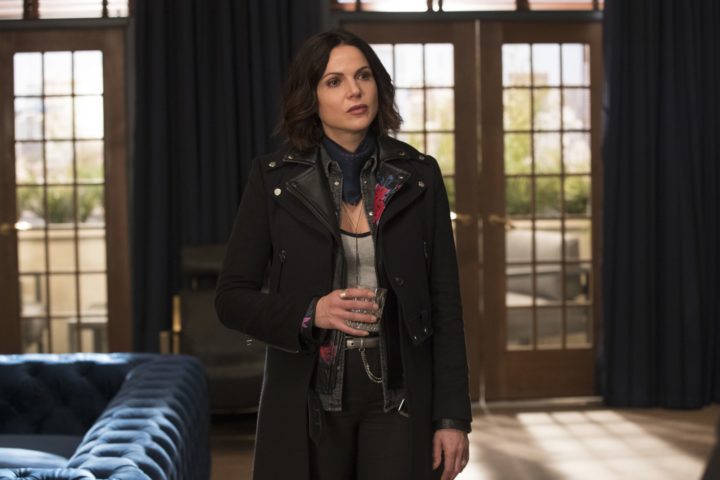 Although Samdi told the truth about him not having the dagger, we still don't get his presence as a character. The Facilier-Regina makes zero sense and tiresome. Also, he said to Regina, "Have you noticed it is always him (Rumplestiltskin) slithering between you and me", implying an entire history that we do not know. The finale could include this story, but with only two episodes before the final two weeks of the series, will we even see Regina and Dr. Facilier's history together? Or will it get wrapped up next week?
It was clever writing in this episode to have used that Nick wrap up as a catalyst to get Henry and Jacinda into a better situation, and move that part of the story on a little bit better. It is weaving together fairly well, it just doesn't feel very coherent as a single season story arc, because our main characters, going into the season, are gone and we're mostly watching main characters that we're introduced to this year.
Why did Rumple use all the magic in the bottle just to find the dagger? Why not just use half of it? Regina had some point; it was very selfish of Rumple to steal the magic from Regina to get what he wanted. We got a feedback from DeAndre and how he was annoyed by how Rumple is so callus towards Henry and how they are making like that again. This definitely brings us back to when Rumple was planning to kill Henry in the swing.
I really want to love Rumple, but when they choose to write him this way, it really upsets me because it's a part of his foundation and his story that begin everything in their universe and this series being Bae. I hope there is some resolution, not only with the Dark One side of the story, but also between he and Henry. He, Baelfire and his grandson.

— DeAndre
That being said, how is Rumple going to choose Belle over his children and grandson? It's the same thing he said to Regina but in reverse. The urgency was inserted artificially by saying he's losing his battle with darkness so he can't remain a good person anymore; the darkness is probably going to take him anyway, which makes more sense than Rumple, with all the darkness inside him, just still decided to be a good person and remaining that way than Hook being a good person because he forgot he was the Dark One.
How did the dagger end up in Tilly's backpack? Why does Samdi has magic in Hyperion Heights? Why did Samdi's magic work on Rumple in present day Hyperion Heights when it hasn't affected Rumplestiltskin before? It was very odd to see Rumple disoriented in present day Hyperion Heights.
Why are they using the wrong names? Why would Rumple call Regina "Roni" and Dr. Facilier "Samdi", or Regina calling Rumple "Weaver" when they're awake?
A Day in H-Town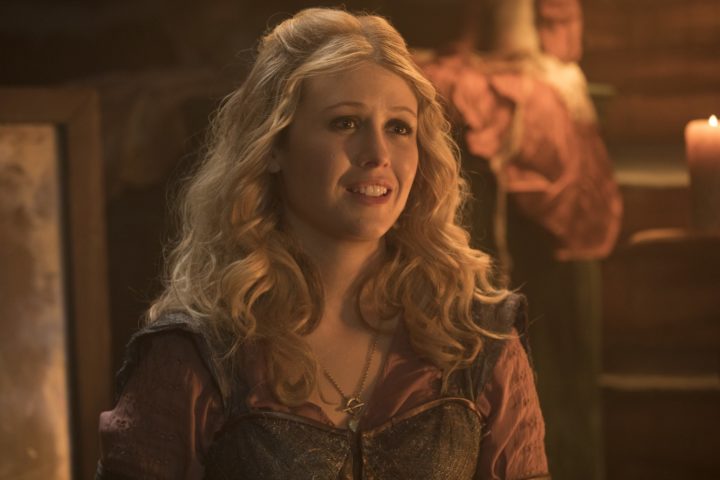 We loved the juxtaposition of Alice having all the adventures in the past versus Margot having all of them in the present, and both envious of the other's adventures. It was cute that they went to the travel section of the bookshop and Tilly telling Margot that you can go anywhere in the world without taking a single step by reading. Tilly's outburst in the bookshop and explanation about good and bad days later felt like a reference to mental health awareness. It was cool that they're addressing those issues, however, is it fair since whatever is going on Tilly/Alice is real?
That being said, Tilly's description of how she is is really nice and on-point. In the episode, she said, "I'm never quite sure what kind of day it's going to be. Sometimes I wake up and the whole day is good and sometimes it's not. I don't want you to see the not good days, not yet. Sometimes they can be too much for some people."
This whole relationship building between Tilly and Margot being presented the same time as us learning about Alice being the Guardian had us wondering if it has to be Henry and Jacinda's True Love's Kiss to break the curse? It would be so predictable if it's Henry and Jacinda who needs to share a True Love's Kiss to break the curse, after all. If it's not any of them, who's going to come and break the curse?
Meanwhile, Henry at this point seems like he's experiencing a sleep paralysis. What with him wanting to see the documentation about him being Lucy's father, confirming the test results in the hospital and him actually believing it, it seems like Henry is going to kiss Jacinda any day now. He would probably believe a warning at this point. On the other hand, there was a moment when Henry asked Rogers if he was okay, which reminded us of how Emma used to ask Hook that way.
Is Drew/Naveen done? With only four episodes left, how are things going to be wrapped up? If they could wrap up Facilier and Naveen in the week coming up and save the last three episodes with breaking the curse and beating Gothel, it would be nice. Where will the final battle take place? Storybrooke? Roni's? How will Regina and the others defeat Gothel? Who will win in the final battle?
On a lighter note, it was nice to see that even though Rumplestiltskin ended up succumbing to the darkness by the end of the episode, Robert Carlyle's amazing acting made it all worth it. It feels like the old school Rumplestiltskin. Will he remain that way 'til the end? If the curse is broken, does he go back to being the old school Rumple? Could Regina be wrong in saying that Rumple hasn't changed at all? With Rumple out of her side, who does Regina have left on her side? Will Rumple help Regina find a cure for Henry?
What do you think about the episode? What theories do you have other than Gothel ruling the world? Share your thoughts with us using the comment section below or head over the forums and join in on the conversation and talk about your favorite and least favorite moments of "The Guardian". Plus, know what lies ahead as we get close to the series finale in the spoiler section of our forum!
What did you think?
Email Feedback@ONCEpodcast.com (audio files welcome)
Call (903) 231-2221
Comment on the shownotes
Visit any page on ONCEpodcast.com and click the "Send a voice message" link to record and send a message right from your computer.
Help us out!
Share this post in your social networks
Follow us
On Facebook:
On Twitter:  echo do_shortcode('[twitter follow="ONCEpodcast"]'); ?>
Daniel J. Lewis:  echo do_shortcode('[twitter follow="theDanielJLewis"]'); ?>
Jeremy Laughlin:  echo do_shortcode('[twitter follow="phlegon"]'); ?>
ErinJ:  echo do_shortcode('[twitter follow="erinjcruz"]'); ?>
Hunter Hathaway:  echo do_shortcode('[twitter follow="travelingpixie"]'); ?>
Jacquelyn / RumplesGirl:  echo do_shortcode('[twitter follow="punk_bunny_87"]'); ?>