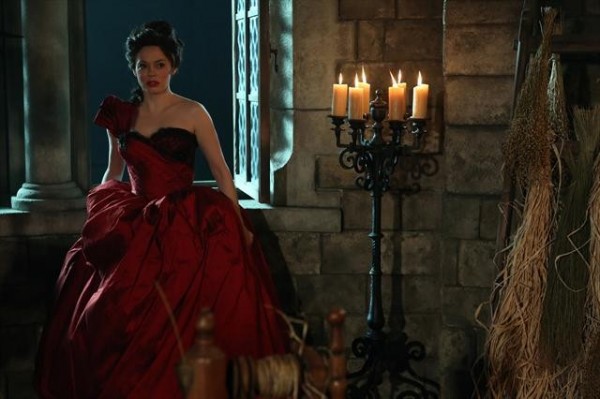 Podcast: Play in new window | Download | Embed
We learn more context to the original Rumplestiltskin tale and see Regina and Cora in a battle over the powers of the Dark One. One will die!
These are just our first thoughts about this Once Upon a Time episode. We'll share more about "The Miller's Daughter" in our upcoming full episode live on Wednesday, March 13, at 8:30 p.m. (EDT/GMT-4).
Sponsor: Test drive the next evolution in TV with SimulTV!
Cora's desire to rid herself of Rumplestiltskin in order to take his place as The Dark One takes one step closer to becoming reality as she and Regina try to overpower a dying Mr. Gold, and Mary Margaret is once again tempted by dark magic. Meanwhile, in the fairytale land that was, Rumplestiltskin agrees to offer his services to a younger Cora – for a price – when the king calls her bluff and orders her to actually follow through on her boast of being able to spin straw into gold.
Thanks for supporting us!
David Neuland
DJ Firewolf
You can sponsor ONCE podcast, too!
Initial reactions
Some of our interesting discussion points (in no particular order):
Princess Eva from northern kingdom, so she's not Cora's sister after all. But where is Leopold (Snow's father) in all this?
The Ball looks like its at Cinderella's castle, but this could just be a reused set.
The dagger David and Mary Margaret found was definitely the real Dark One's dagger.
Rumplestiltskin told Cora to use negative emotions to wield magic, but Mr. Gold told Emma to use positive emotions. Is Emma starting to enjoy magic?
Rumplestiltskin and Cora had affections, but it wasn't true love or else their kisses would've broken Rumplestiltskin's powers.
What a phone call from Mr. Gold to Belle! And Neal is showing love for his dad.
Rumple's visions could see as far as Cora's coming to kill him.
Regina, which means queen, was named that because should was supposed to someday be queen.
When Cora had her heart back, she told Regina, "You would have been enough." This seemed to be her one and only moment of true love.
Regina's holding dying Cora with Mr. Gold standard over was very similar to scenes in the Pilot and "Stable Boy."
Cora is dead! But not Regina will probably become the Evil Queen again, perhaps even in her previous wardrobe (which she has in her vault).
We gave everything a brief overview and would love to hear your thoughts!
Talk about "The Miller's Daughter" in our Once Upon a Time forums
Thank you for the Apple Podcasts reviews!
James K. III kindly mentioned Hunter Hathaway's spoilers in his review
MicMicy
Your reviews encourage us and help others find the podcast!
Please rate and especially write a review for us on Apple Podcasts.
Preorder season-two DVD/Blu-ray set!
You can now preorder the complete second season of Once Upon a Time on Amazon.com! For a limited time, save $10 off the DVD set and $15 off the Blu-ray set!
Preorder the second season today!
Join us for the LIVE podcast!
Initial reactions on Sundays at 9:15 p.m. (EDT/GMT-4)—right after the Eastern and Central episode airing.
Full discussion, feedback, and live calls on Wednesdays at 8:30 p.m. (EDT/GMT-4).
On these days, visit ONCEpodcast.com/live to watch and chat live.
What did you think?
Email Feedback@ONCEpodcast.com (audio files welcome)
Call (903) 231-2221
Comment on the shownotes
Visit any page on ONCEpodcast.com and click the "Send a voice message" link to record and send a message right from your computer.
Help us out!
Share this post in your social networks
Follow us
On Facebook:
On Twitter:  echo do_shortcode('[twitter follow="ONCEpodcast"]'); ?>
Daniel J. Lewis:  echo do_shortcode('[twitter follow="theDanielJLewis"]'); ?>
Jeremy Laughlin:  echo do_shortcode('[twitter follow="phlegon"]'); ?>
ErinJ:  echo do_shortcode('[twitter follow="erinjcruz"]'); ?>
Hunter Hathaway:  echo do_shortcode('[twitter follow="travelingpixie"]'); ?>
Jacquelyn / RumplesGirl:  echo do_shortcode('[twitter follow="punk_bunny_87"]'); ?>