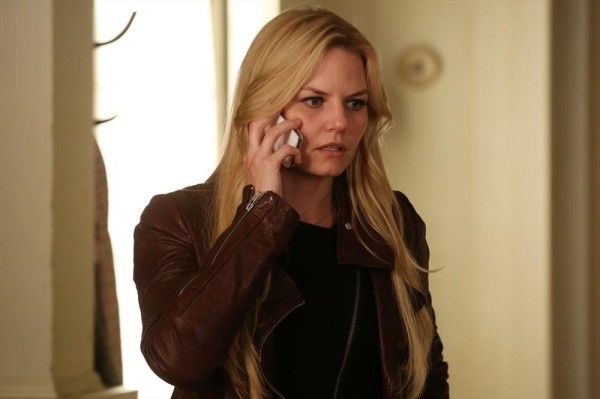 Emma and Elsa finally captured the Snow Queen but just as she was about to find out why the Snow Queen wants to be sister-buddies with her, the ice queen herself showed Emma who she really is instead. Meanwhile, in Arendelle of the past, young Ingrid accidentally hurt her sisterly pack, causing her to experience a fate befitting a monster.
Podcast: Play in new window | Download | Embed
Emma captures the Snow Queen and interrogates her at the sheriff's station. But the Snow Queen uses her prior knowledge of Emma to try to persuade her into thinking that they are more alike than she could possibly imagine. Regina and Robin Hood's relationship grows increasingly complex as they struggle to find a way to save his dying wife, Emma begins to see what she missed out on by not growing up and being a family with Snow and Charming when she sees how involved Mary Margaret is in baby Neal's life, and Henry begins his after school job in Gold's shop while trying to help Regina find a clue to the identity of the author of the storybook. Meanwhile, in Arendelle of the past, we learn about the origin of the Snow Queen and her familial connection to Elsa and Anna as we see her discover her spectacular yet deadly ice powers.
These are just our first thoughts about this Once Upon a Time episode. We'll share more about "The Snow Queen" in our upcoming full discussion live on Wednesday November 12, at 8:00 p.m. (EST/GMT-5).
Initial Reactions
What an ending! We thought it was a really good ending; it brings good mystery back, which gives us something to start theorizing. What does that indistinct whispering about? What is the thing Rumple has to do with great pleasure? Has it anything to do with Regina? Henry?
While we do want to see Regina happy, it may not be the best idea to put Regina and Robin Hood together while Maid Marian is still frozen ice cold out there. Perhaps they need to kill Maid Marian first before letting Regina finally have her happy ending. Will they eventually decide that there's really nothing they can do to save Maid Marian and just let her die instead?
Will Ingrid be successful in casting the Spell of the Shattered Sight? Part of her motivation is alienating Emma from everyone else, which kind of seemed a bit forced to us. While the episode may be enjoyable, some scenes looked forced. Is Snow White really growing to fear her own daughter's magic?
We had theorized before that Ingrid killed or harmed Helga in some way and while we got some details incorrect, we were proven right with Ingrid accidentally killing Helga. Did Gerda also lose her memories or did she hold on to them like everyone else in Arendelle? Was it what Gerda was writing about before their ship went down in the episode, A Tale of Two Sisters, the truth about Gerda's sisters?
We finally got a small picture of what happened between Will and the Red Queen. Based on what Will said, as well as his sad expression, it looks like Will lost Anastasia somehow, and probably is dead. Is she, though?
Rumplestiltskin said that love is free but all magic comes with a price, but what exactly kind of magic that comes with a  price?
How extra creepy was the duke of Weaselton? For a while we thought he was going to do the chicken dance he did in the movie, Frozen.
Thank you for supporting us!
David Neuland (subscriber)
Lisa Slack (subscriber)
Steve Johnson (subscriber)
Kelsey Hunt (subscriber)
Laura Silva (subscriber)
DJ Firewolf (subscriber)
9 Patreon backers ($19.50 per episode)
You can sponsor an episode or more of ONCE podcast, too! Email Daniel@ONCEpodcast.com if you would like to arrange a corporate sponsorship of our podcast for the upcoming third season.
The urn looks different than the hat, where it sucks the magical being like a vacuum, while the Snow Queen melted like a milk when she got into the urn. However, the Snow Queen did say that she knows more about the hat better than Gold. But what is it that Rumplestiltskin was excited to do in order for his missing puzzle to be complete?
Remember, these are just our initial reactions regarding tonight's episode so please bear with us if we were a bit all over the place. If you have your own thoughts, feedbacks, or theories regarding tonight's episode, however, send them over to us and join our full discussion this Wednesday!
What did you think?
Email Feedback@ONCEpodcast.com (audio files welcome)
Call (903) 231-2221
Comment on the shownotes
Visit any page on ONCEpodcast.com and click the "Send a voice message" link to record and send a message right from your computer.
Help us out!
Share this post in your social networks
Follow us
On Facebook:
On Twitter:  echo do_shortcode('[twitter follow="ONCEpodcast"]'); ?>
Daniel J. Lewis:  echo do_shortcode('[twitter follow="theDanielJLewis"]'); ?>
Jeremy Laughlin:  echo do_shortcode('[twitter follow="phlegon"]'); ?>
ErinJ:  echo do_shortcode('[twitter follow="erinjcruz"]'); ?>
Hunter Hathaway:  echo do_shortcode('[twitter follow="travelingpixie"]'); ?>
Jacquelyn / RumplesGirl:  echo do_shortcode('[twitter follow="punk_bunny_87"]'); ?>