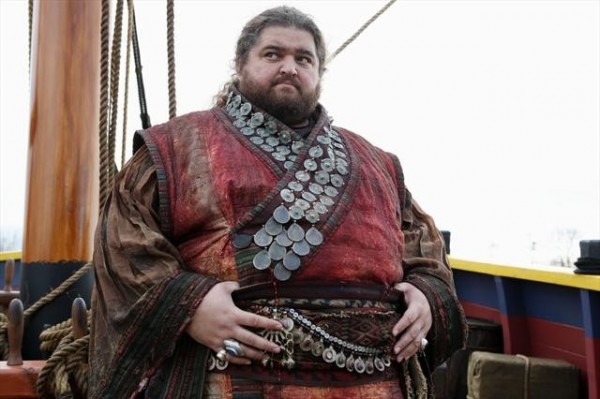 Podcast: Play in new window | Download | Embed
We finally learn David's real name, get to see more about the giants and their beans, and we have new "shipping" for Henry!
These are just our first thoughts about this Once Upon a Time episode. We'll share more about "Tiny" in our upcoming full episode live on Wednesday, February 13, at 8:30 p.m. (EST/GMT-5).
Kidnapped and brought to Storybrooke by Cora, the Giant (Jorge Garcia) unleashes his vengeance on the town when a case of mistaken identity leads him to try and settle an old score with David; Mr. Gold, accompanied by Emma and Henry, attempts to depart Storybrooke – hoping to keep his memory intact when he crosses the town line — and heads to the airport in search of his son Bae; and Greg (Ethan Embry) questions Belle as to what she saw on the night of his car accident. Meanwhile, in the fairytale land that was and against his brothers' wishes, Anton, the Giant, climbs down the beanstalk and attempts to befriend some humans – whose intentions may not be so noble.
Sponsor: Test drive the next evolution in TV with SimulTV!
Thanks for supporting us!
David Neuland
Nasser from Qatar
Erin J
You can sponsor ONCE podcast, too!
Initial reactions
Some of our interesting discussion points (in no particular order):
We now know that Gold has to wear that shawl outside of Storybrooke.
Did Cora shape-shift into Regina in this episode?
Hook's ship was made from enchanted wood?
The giants stopped trading magic beans with humans because of how they used the beans
Exposé on the hospital TV was a Lost reference
Emma helped Mr. Gold and even covered by calling him her father. If Neal is Baelfire, Mr. Gold would almost be Emma's father-in-law!
The basement nurse is back and sedated Belle
Is "Jack" also Alice, or did she maybe know Alice? She said she killed a Jabberwocky (a reference to Alice in Wonderland)
Gold can't use magic outside of Storybrooke. Is this simply for being outside the town, or because his temporary separation from the shawl damaged him?
David is David/Prince Charming's real name! We were right!
Anton can grew new beans in Storybrooke, but what would Cora want with magic beans?
Greg talked to Belle. Where will this lead?
Dream_Drop_Distance named the newest Once Upon a Time ship: Henrybon (Henry + Cinnabon)!
We gave everything a brief overview and would love to hear your thoughts!
Talk about "Tiny" in our Once Upon a Time forums
Thank you for the Apple Podcasts reviews!
tuti101
dclements427
Phee78 from Australia
JesusSeeker1287
Rumple Love
MorningPhyre
Your reviews encourage us and help others find the podcast!
Please rate and especially write a review for us on Apple Podcasts.
Preorder season-two DVD/Blu-ray set!
You can now preorder the complete second season of Once Upon a Time on Amazon.com! For a limited time, save $10 off the DVD set and $15 off the Blu-ray set!
Preorder the second season today!
Join us for the LIVE podcast!
Initial reactions on Sundays at 9:15 p.m. (EDT/GMT-4)—right after the Eastern and Central episode airing.
Full discussion, feedback, and live calls on Wednesdays at 8:30 p.m. (EDT/GMT-4).
On these days, visit ONCEpodcast.com/live to watch and chat live.
What did you think?
Email Feedback@ONCEpodcast.com (audio files welcome)
Call (903) 231-2221
Comment on the shownotes
Visit any page on ONCEpodcast.com and click the "Send a voice message" link to record and send a message right from your computer.
Help us out!
Share this post in your social networks
Follow us
On Facebook:
On Twitter:  echo do_shortcode('[twitter follow="ONCEpodcast"]'); ?>
Daniel J. Lewis:  echo do_shortcode('[twitter follow="theDanielJLewis"]'); ?>
Jeremy Laughlin:  echo do_shortcode('[twitter follow="phlegon"]'); ?>
ErinJ:  echo do_shortcode('[twitter follow="erinjcruz"]'); ?>
Hunter Hathaway:  echo do_shortcode('[twitter follow="travelingpixie"]'); ?>
Jacquelyn / RumplesGirl:  echo do_shortcode('[twitter follow="punk_bunny_87"]'); ?>