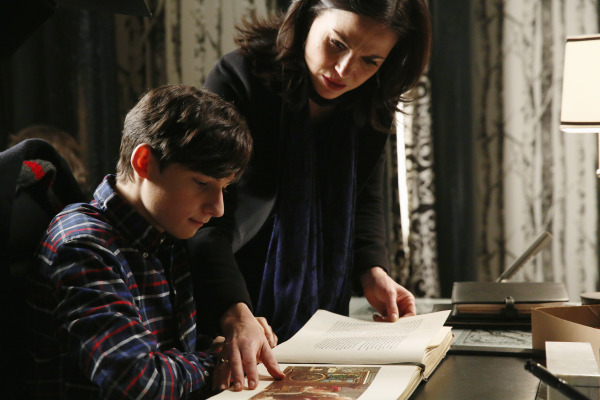 Doubtful about Cruella and Ursula's intention for being in town, Charming, Snow, and Emma picked up their trail to keep an eye on Cruella and Ursula. But while the heroes are busy trying to find a way get the two out of the town, Cruella, Ursula and Rumple put Maleficent out of her slumber. Back in the Enchanted Forest of the past, the Queens of Darkness came to Snow and Charming to make a deal in attempt to defeat the queen and her curse. Join us as we share our initial reactions of the episode, "Unforgiven."
Podcast: Play in new window | Download | Embed
David and Mary Margaret suspect Cruella and Ursula have come to Storybrooke looking for something more than their own happy endings – something that threatens to reveal a secret they thought was long buried. Emma begins her own investigation of Cruella and Ursula, but she can't shake the feeling that her friends and family are keeping something from her. Regina and Henry continue their search for the Author, turning to Pinocchio and Marco in the hope Pinocchio might remember a clue that will help them. Meanwhile, in a flashback to Fairy Tale Land, Snow and Charming cross paths with the Queens of Darkness as the threat of the Evil Queen's Dark Curse hangs over all of them.
These are just our first thoughts about this Once Upon a Time episode. We'll share more about "Unforgiven" in our upcoming full discussion live on Wednesday March 11, at 7:00 p.m. (EDT/GMT-4).
Initial Reactions
Remember, these are just our initial reactions regarding tonight's episode so please bear with us if we're a bit all over the place. If you have your own thoughts, feedbacks, or theories regarding tonight's episode, however, send them over to us and join our full discussion this Wednesday!
The title didn't quite make sense until the very end, but who was unforgiven? Snow White and Prince Charming? Regina seemed forgiven, and it was cool to see her make an apology after throwing that temper tantrum towards young Pinocchio at the Mayor's office. Besides, we know Regina by now; she's no longer the Evil Queen.
The set up of making Maleficent lost her baby is a bit of an odd one. We've seen all kinds of unhappy endings related to babies in this show, and happy endings pursued because of babies, such as Zelena and Baby Neal so she can have her happy ending, that she didn't get. So who's the father of Maleficent's baby?
It was cool to see August again, or at least, young Pinocchio. For those who have blocked it out of their mind, in the episode Selfless, Brave and True, August turned back into a boy, but lose his memories in the process. But will we see a flashback about August, especially after Henry found a clue about the author from August's bag? Which door will it lead to? And since we're bringing back people that we've known from Storybrooke that we haven't seen in a long time, is it possible to see Jefferson again, will we see Jefferson again, or at least his hat? See if the door matches one of those doors in Jefferson's hat?
What is going on with Belle and Will? He walked into one scene and then the next thing you knew, they seem to be kissing. Did they really kiss or did it look like they are kissing? If it was really a kiss, does that mean that Anastasia, Will's girl from Once Upon a Time in Wonderland, is completely gone and dead? Or are they just setting us up for pairing up Belle with Will?
It was great to be reminded of the time when Regina stole the dark curse from Maleficent back in the episode, The Thing You Love Most. We thought that the secret Snow and Charming were keeping was that Emma wasn't theirs. If they did then one of the best scenes in the show would have been ruined—Snow White giving birth to Emma and Charming taking baby Emma to the wardrobe while sword fighting. But to make Emma think that they were always the goody-two-shoes kind of the parents that they always were, that they were always perfect and they've always been heroes? Emma's a big girl, she certainly can handle the truth. They could have even walked into the last scene and spill the truth their daughter right then and there, Emma surely will understand or at the very least, tell them what she was saying to Hook. Speaking of Hook, what went on between Hook and Ursula?
Thank you for supporting us!
David Neuland (subscriber)
Steve Johnson (subscriber)
Lisa Slack (subscriber)
11 Patreon backers ($39.25 per episode)
You can sponsor an episode or more of ONCE podcast, too! Email Daniel@ONCEpodcast.com if you would like to arrange a corporate sponsorship of our podcast for the upcoming third season.
We're still hoping out hope that we get to see August back, because it was really see how the pages were different. It was nice of them to acknowledge August's knowledge about the book. It was also awesome to see his motorcycle back, especially since it was the one thing that we have been theorizing before. However, there's a part of us that doesn't want to go back to those days because it reminded us of how Henry lose faith in Regina then.
What do you think about tonight's episode? Send in your theories by emailing us about it or by joining us over the forums. You can also put in your comments below and don't forget to join us this coming Wednesday at 7:00 p.m. (EDT/GMT-4) for our full discussion of Unforgiven.
What did you think?
Email Feedback@ONCEpodcast.com (audio files welcome)
Call (903) 231-2221
Comment on the shownotes
Visit any page on ONCEpodcast.com and click the "Send a voice message" link to record and send a message right from your computer.
Help us out!
Share this post in your social networks
Follow us
On Facebook:
On Twitter:  echo do_shortcode('[twitter follow="ONCEpodcast"]'); ?>
Daniel J. Lewis:  echo do_shortcode('[twitter follow="theDanielJLewis"]'); ?>
Jeremy Laughlin:  echo do_shortcode('[twitter follow="phlegon"]'); ?>
ErinJ:  echo do_shortcode('[twitter follow="erinjcruz"]'); ?>
Hunter Hathaway:  echo do_shortcode('[twitter follow="travelingpixie"]'); ?>
Jacquelyn / RumplesGirl:  echo do_shortcode('[twitter follow="punk_bunny_87"]'); ?>