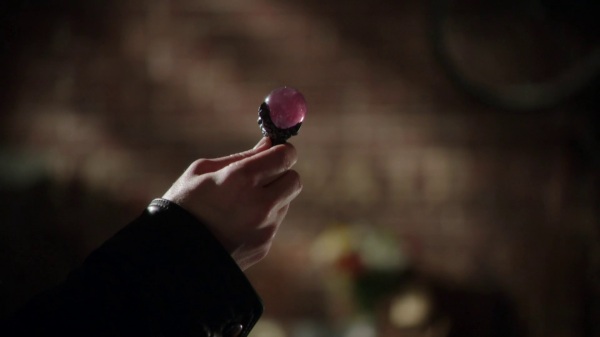 Still unconvinced that Cruella and Ursula are really seeking redemption, Snow White and Charming followed the witches all the way down to the mines in the hopes of stopping Cruella and Ursula from resurrecting Maleficent, only to be faced by the person they wronged the most. On the other hand, Snow and Charming went to the Tree of Wisdom to inquire how they could defeat Regina and her curse after abandoning the Queens of Darkness, only to find out that the child she is carrying has the potential for both good and darkness back in the Enchanted Forest of the past.
Podcast: Play in new window | Download | Embed
Unforgiven is the kind of episode that, for us, the more we watch, the more frustrated we get. Although we do love the episode, and are excited to talk about it, it just gets frustrating as we watch the episode more and pay closer attention to certain things.
Enchanted Forest (Past)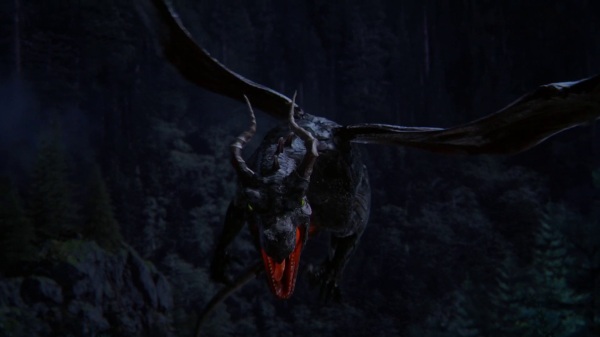 It's nice that they gave us the context that it happened right after the honeymoon at the Summer Palace, which probably happened a few weeks after the wedding but we also reckon that the meeting that happened between Snow and Charming, and the Queens of Darkness happened even before they went to Rumplestiltskin to ask about the Evil Queen's curse. But one of the things that has us wondering was Snow mentioning that all those people were put under a sleeping curse. If that many people were put under the sleeping curse, wouldn't that mean there would be a lot of people at the Red Room of Fire, enough for them to have a party there? Or was it simply just a poppy powder that knocked them out?
Didn't David place a golden egg with a potion inside dragon Maleficent back in season 1? It was something Rumplestiltskin had him do in exchange for the ring to find Snow and I believe it was the first time that Charming had met Maleficent. So does she just have a golden egg in her in these Enchanted Forest flashbacks, or was it somehow only in her when she is in dragon form? Just wondering how that works since we know the egg made it to Storybrooke inside dragon Maleficent.

—Jessica Olsen
If Charming first met Maleficent when he put the golden egg, tasked by the Dark One, inside her when she was in dragon form, does that mean that Maleficent only have the golden egg inside her the whole time? Was it just inside her when she was in dragon form?
We were a little bit concerned because it seemed like they have broken a lot of cannons with Maleficent in this episode. In the episode 1×02, "The Thing You Love Most," she said that Regina had just stolen the dark curse from her, but she looks more Disney-like now than when Regina stole the curse. Also, according to the same episode, Regina made a deal with Maleficent and traded the dark curse for the sleeping-curse apple. In addition, it sounded like Maleficent didn't know who gave Regina the dark curse in the same episode. But in 4×13 "Darkness on the Edge of Town," Maleficent herself helped Rumple to steal the dark curse from Bald Mountain.
When Snow and Charming first run into Maleficent in this episode's flashback, I noticed that Maleficent told Charming "I was afraid you wouldn't recognize me." Is this their way of acknowledging that she was wearing a different outfit back when we originally saw her encounter with Charming in Season 1? My headcanon in regards to the outfit change is that, like Regina, Maleficent has different outfits. The purple outfit she wore in Season 1 could simply be her loungewear, as both scenes with her in Season 1 were when Charming and Regina had met up with her while she was lounging about at home.

—MatthewPaul
What is Cruella's deal with Charming? Every time she sees him in every scene, it looks like she is quite the flirt with him. Did they share some sort of a history? Desperation and gin?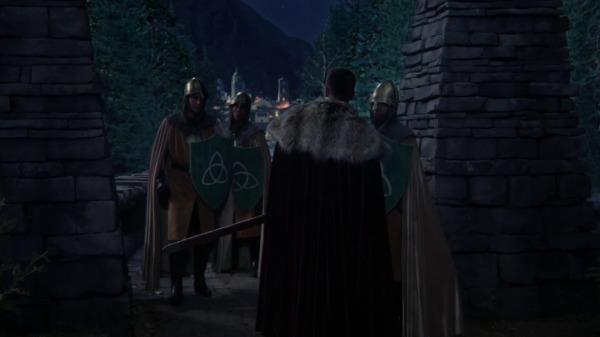 And whose guards were those at the bridge? What was the crest symbol in their shield? It looked a lot like the Trinity knot, also known as Triquetra, a Celtic symbol popularly seen in the show Charmed. However, in contemporary Ireland, it is traditional for a man to give a loved one a trinket such as a necklace or ring signifying his affection towards her. The triquetra, also known as a "trinity knot," is believed to represent the three promises of a relationship such as to love, honour, and protect, and can be found as a design element on Claddaghs and other wedding or engagement rings.
Ash23 from the chat pointed out that it was also seen in Thor's hammer. This has us wonder if there would have some sort of cross-over between characters or ideas between the two shows because of what is currently happening with the two simultaneously. Are you an Agents of S.H.I.E.L.D. fan? Listen to our friends over at Welcome to Level 7 Podcast and hear them share their thoughts about the show, Agent Carter, and the Marvel universe itself!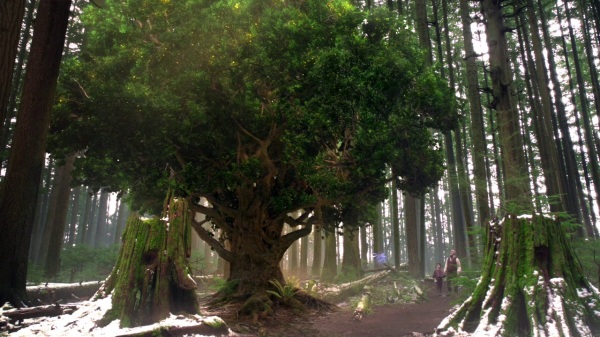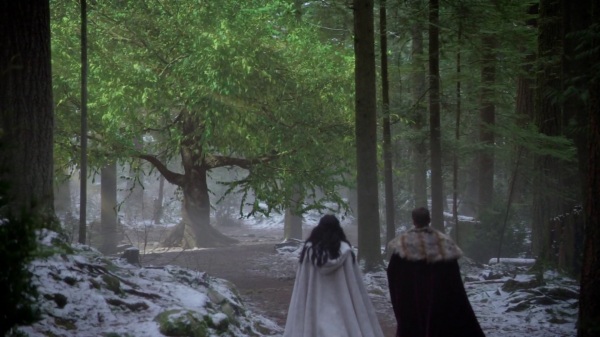 During our Unforgiven initial reactions, we wondered whether the Tree of Wisdom and the one Geppetto made the magical wardrobe from were the same, but turns out, those were two different kinds.
Being the product of true love, Emma, as it turns out has the potential for great good as well as great darkness, as told by Maleficent. Snow also told Maleficent when Maleficent visited her later that day, "Charming and I will win. But we won't compromise who we are to do it." Isn't she compromising that now? Haven't we all, in one way or another, have done things out of our own character? When Maleficent turned into a dragon and killed the guards, although Snow and Charming didn't do anything they were co-conspirator to doing that cause, was it noble for Snow to say no or is it more noble for her to help her? It might have been a smarter leadership decision for Snow to at least hear Maleficent out and what she wanted to do, rather than diss her completely without even giving Maleficent a chance to speak. Then again, maybe Snow was just afraid that if she got involved, Maleficent would just do things.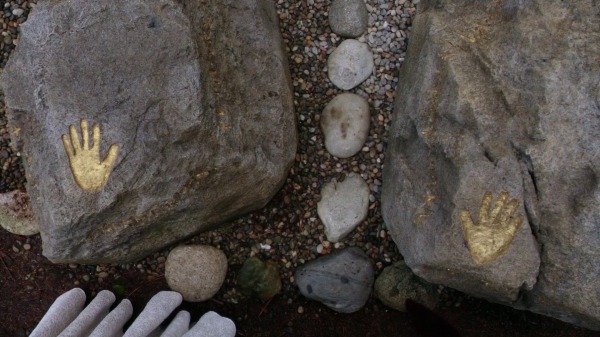 Whose handprints were they at the Tree of Wisdom? Any chance it was the Author and the Sorcerer?
Baby Nealflake + Snow with Blackened Heart was pure enough to go through the door to see Glinda that Reforming Regina couldn't in S3, but now Baby Emma cancels out Snow's heroism because she's not a savior yet?

—Keb
The tree must be more fickle than the door, but Emma is still human and are, therefore, capable of  both good and bad traits.
Who's Maleficent's baby's daddy? Maleficent is a dragon. Could it be possible that the father of Maleficent's baby was the Dragon from the episode, Selfless, Brave and True? Was Maleficent really pregnant or does she simply have an egg under a heating lamp somewhere? And what did they mean when Snow said that the baby was "lost?" We all know that when it comes to this show, "lost" doesn't necessarily means dead.
I wasn't satisfied with the theories people were suggesting, so I blurted out:

"Maybe Lily is the unicorn, thrust out into the world when the Curse was cast, away from her "mother". (I think I'm only half joking, God help me.)"

What began as a joke quickly became a mound of evidence, and though it sounds sort of ridiculous, I'm going on the record so that if they DO do it, I can say I called it. 😉

The evidence –

Exhibit A:
The star scar on Lily's wrist could be from when she lost her horn. Yes it should probably be on her forehead, but that might have been a bit too obvious for them to do.

Exhibit B:
Maleficent is a human who can turn into a mythical creature, so it'd be kind of poetic if her "child" who was a mythical creature, was turned into a human.

Exhibit C:
Regina cast the Curse to ruin people's happiness. Regina didn't like Maleficent. Regina saw that the unicorn was Maleficent's BFF, her only family, and the source of her happiness. So Regina programming the Curse to separate Maleficent and her unicorn permanently is a thing I could see her doing, and the unicorn being tossed out into our world would accomplish that.

Exhibit D:
One of the classic images in mythology is the lovely young maiden, being drawn to a unicorn, and them chilling on the grass:

Emma was drawn to Lily, and chilled with her on the grass:

Exhibit E:
My friend Jo pointed out that JK Rowling wrote about unicorns in "Fantastic Beasts and Where to Find Them":

"It generally avoids human contact, is more likely to allow a witch to approach it than a wizard, and is so fleet of foot that it is very difficult to capture."

I think this is relevant because Lily was on the run, Emma could be considered a witch, and Lily even gave a shoutout to "Harry Potter" in that ep.

Exhibit F:
Lily wore her dark hair tied back in a PONYTAIL:
Maleficent's unicorn had a dark haired tail.

Exhibit G:
Maleficent's unicorn wore a black collar, studded with silver bits:


Lily wore a cuff that looked like a black leather strap, studded with silver bits, that had been wrapped around her wrist a few times, (the collar would be long enough to wrap around your wrist a few times):


So, what started as a joke has become an actual theory backed up by evidence. My friends and I have dubbed her #LILYCORN, and speculating about her is the most fun we've had with this show in ages.

—Phee
Thank you for supporting us!
David Neuland (subscriber)
Steve Johnson (subscriber)
Lisa Slack (subscriber)
11 Patreon backers ($39.25 per episode)
You can sponsor an episode or more of ONCE podcast, too! Email Daniel@ONCEpodcast.com if you would like to arrange a corporate sponsorship of our podcast for the upcoming third season.
Storybrooke (Present Day)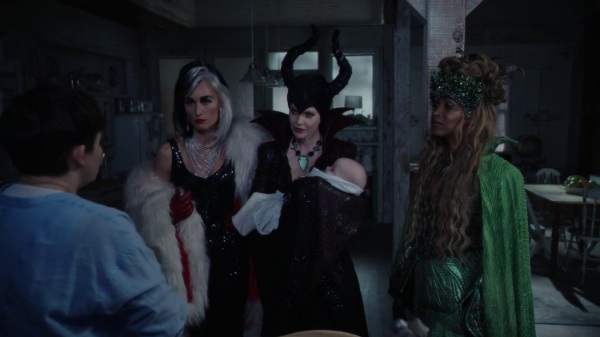 We thought it was a little ironic that the Charmings would have a mobile with sheep over Neal, considering David's past with Bo Peep. But was Mary Margaret having a Deja Vu kind of dream or was it a guilty mind? A little bit of both, perhaps?
At the diner, Will's brief interaction on the show seemed to cause more discussion than anything else in the episode. After the few scenes he had, we were pretty convinced they were going to get Will to be the Sheriff, especially after Regina told David that knowing what Cruella and Ursula are up to sound like the Sheriff's job.
It was nice to see how Regina was so protective of Henry knowing the things she did in the past. But speaking of details, we noticed that the second drink that Will got at Granny's Diner turns out, was for Belle, because there was a drink from Granny's when Cruella and Ursula paid her a visit.
Did you liked Cruella's Dalmatian phone case? We found it on Amazon!
When we saw Henry and Regina working together at the Mayor's Office, we love that they brought up August again. It was so awesome see them do that, like we have been pointing out since the first season. Regina said that the pages were different, but if August was the one who added the story, who did the illustrations? What if the typewriter came from the author itself? Did the author make the Pinocchio pages himself?
While David and Emma were staking out and ended up pulling the witches over, Cruella obviously committed a lot of parking violations. It was also funny how Charming and Emma were so alike each other; how he stole from thieves and she stole a stolen car. We also liked that Emma calls her parents "Mom" and "Dad" regularly now.
Another cannon thing that bothered us was when Emma was in the Sherriff's station, she mentioned about checking out the ATM footage beside Mr. Gold's shop, which we never noticed until this episode. We also noticed a 1986 file box prominent behind Emma, with boots on top. Graham's?
It seems like Emma's superpowers of knowing when someone's lying was working. On the other hand, now she's putting more doubt in herself even if she's right.
We understand Pinocchio losing his memories, but how come he didn't even remember going into the wardrobe or even meeting baby Emma?
My favorite scene was Regina coming to apologize to Marco for threatening Pinocchio. I think they had a real parent to parent moment. But I loved that during their argument, Marco pointed out that maybe finding the author of the book isn't the best end for Regina's happiness. Something I've been thinking ever since she got on the Operation Mongoose trail is that maybe she's in her happy ending right now. Yes, Regina pointed out that she had been happier when she had Henry and Robin and Rowland and she wants to get back to that level but I wish she would open her eyes and see what's in front of her. She has the love of her son, good friends, gaining the respect of the people around her, and a fabulous wardrobe. It wasn't that long ago that Henry was Regina's everything. Now she has him she needs Robin or someone else. Once she gets him she'll need something else. I think she and Henry can get a better hobby to do than drive the town crazy with Operation Mongoose.

—General Sunshine
All the awards to Gepetto! This is a lesson all the villains should learn. Maybe you don't get what you thought was your happy ending because you've done TRULY TERRIBLE THINGS. Yes, you can be redeemed but that doesn't mean that you get to lead the life you see fit. Maybe you have to actually pay a little. So Gepetto reminding everyone that Regina had caused so much unhappiness and thus she doesn't get to have it all…good for ONCE. That was like S1 level good.

—Jacquelyn
Looking into everyone in Storybrooke, Regina doesn't seem to be the only one who is seeking her own happy ending. Villain or heroes, everyone in Storybrooke is still after their happy ending, it just depends on what it means for a person.
When Snow and Charming went down the mines in the hopes of getting to Maleficent's ashes before Cruella and Ursula did, we noticed that now, the ladies are lying to Rumple. Are they planning something else for Rumple than just following his plans?
By the way, we love how Maleficent re-materialize from the ashes to her old, human form, which reminds us of MatthewPaul's mashup of Taylor Swift's "Trouble."
Knowing like we do now that Rumple knows how to use blood magic to resurrect the dead, it seems like the obvious natural progression ought to be bringing his son back to life. His happy ending was, and always will be, his son. Rumple himself was the one who wronged Baelfire the most by abandoning him, so all he has to do is shed a drop of his own blood on his son's grave. Rumple doesn't even have to die to bring back his son, since a small paper cut would do the trick.

—Slurpeez
Cruella and Ursula said that resurrecting Maleficent requires the blood of the people that wronged her the most. Maleficent was in Aurora and Philip's story, why didn't they get their blood instead to resurrect her rather than going for Snow and Charming's?
It was really great seeing Regina righting her wrong right away when she went down to Geppetto after she screamed at Pinocchio. However, we wish she would also apologize to Pinocchio because she probably scared the young boy as well. It was also  great seeing August's old stuff and motorcycle when Geppetto handed her his bag. Will we see the paper when it said "I know you're Baelfire?" The one August showed Neal back in Boston in the episode 2×14, Manhattan?
Back at the Sherriff's station, we learned that Hook did worse than break Ursula's heart. What could have happened between them? Were they involved romantically?
I hope it's something like, she actually WAS a goddess, and something Hook did stripped her of her goddess powers and immortality, and turned her into a mere octohuman.

—Phee
Is it possible that Hook caused her to lose her child, too?
Hook and Emma's conversation shows how to handle real adult relationship issues in a healthy and respectful way. Should Hook have lied about his relationship with Ursula? No. But stuff like that happen in early stages of relationships. It is more the way they both handled that issue after- Emma calling him on lying but understanding his need to confront that clearly painful subject in his own time.  Hook letting his walls down a little, showing his past wrong doings affect him very much nowadays. Both of them choosing to be each other support system, and cheerleader.

—Lady
I have a real issue with Emma here. It's fine to accept that your boyfriend has a past but it's another to totally dismiss that past as unimportant. She literally has NO idea what Hook did to Ursula. It could—at this point–be anything at all and she's just given him carte blanche for all his past deeds because "you are not that man anymore." What she should have said was, "you can tell me in your own time and then I will decide how to feel about it" instead dismissing what I'm sure is going to be a doozy of a secret. What if Hook murdered someone Ursula cared about? Or what if he's responsible for Ursula not being a goddess anymore? Even if you take this to its most preposterous and totally out there extreme idea of what might have happened, it's a really terrible message for Emma to just say that it's okay because Hook changed. No. It's not okay. It doesn't diminish what Hook did to Ursula or how Ursula feels now.

—Jacquelyn
Emma being able to put the past behind was good, but there's also the other side that there might consequences after knowing all the details before deciding how she feels towards whatever Hook did. Then again, it could easily mean that whatever Hook did, Emma genuinely feels that she they're still going to be good once he told her what he did exactly to Ursula, same thing she understood Regina despite her dark past.
We were, however, so disappointed with Snow and Charming. They could have told their daughter right then and there, it would have been the great time to rush in and talk to her but instead, she chose to keep her mouth shut about the truth.
We think there was neat, subtle gestures of trust when Snow asked Regina to keep a secret for her and Regina moved even closer. Clearly, their relationship are growing; probably the best Regina-Snow scene in the long time.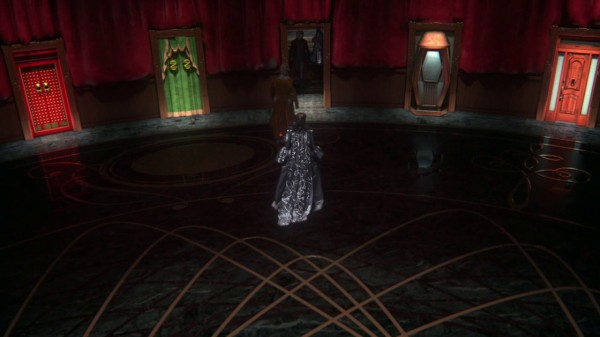 During our initial reactions, we mentioned how the door could be in Jefferson's hat. After checking it again, we noticed that the door August has pictured is inside Jefferson's hat. We've seen several doors inside Jefferson's hat, not necessarily all of them, but there is a door very similar to the one on August's page in it. Not exactly the same, but very similar to it. However, it's not the door itself that confirms it is in Jefferson's hat, but everything around the door. The wood workings and paneling below the doors looked a lot like the ones pictured in the page not in the book, but in August's things.
However, Jefferson's hat was burned by Spencer, if it still exists, will we see it and, hopefully, Jefferson again? What about the Sorcerer's hat? Could they use the Sorcerer's hat to have that specific door materialized, the same way the Apprentice did to door portal that took Ingrid to our world, and Anna, Elsa and Kristoff back in Arendelle?
So did Belle and Will really kissed? After re-watching the episode, it looked like Belle and Will definitely shared a kiss. But did it really happen? Or was it just an illusion set up by the witches? Are the Queens of Darkness just making Rumple see things? And if Will is kissing Belle, where is Anastasia? What happened to her?
I have a feeling that Rumple will be killed, dead, sacrificed at the end of this season so I'm of the opinion that Rumbelle is probably over with. This angst is to get the final ending where they admit their love, his curse is finally broken, and then he dies. I am upset about Ana/Will. I just rewatched Wonderland finale this week and it was beautiful.

—Josephine
Honestly, the way this is being presented, this feels more like a diversion, and won't be endgame. Especially the way they introduced this pairing without seeing how they got together in the first place. Even if they go the whole "what Alice showed to her daughter wasn't accurate anymore" angle, that's still retconning what the original ending of Wonderland implied. If they actually had a long term plan of permanently separating Will and Anastasia for the sake of including Will on the parent show, then they would have left her dead. But no, they went the extra mile to resurrect Anastasia with Nyx's water because "it wasn't her time." Let's face it, this whole Will and Anastasia separation thing comes down to one thing: They can't bother to get Emma Rigby back to stick around as another regular or even as just recurring, most likely because they don't want to spend money or just can't afford her. We know they didn't have room in their regular cast budget for her, because they couldn't even make Robin a regular as a result of making Will one. Their recurring cast budget had to go towards the Frozen characters for 4A and the Queens of Darkness for 4B. They wanted Will on the show, so what do they do? They write around Anastasia's lack of availability by creating a scenario where she and Will are currently separated. Therefore, they have opted to further explore his ties with Robin Hood (since he's already there anyway), and to have him acquaint with other regular characters on the show (Belle). I'll be impressed if they can even get Emma Rigby back for a flashback to explain the separation.

—MatthewPaul
Will never stopped loving Ana, even during his heartbreak after she wronged him in WL. Sure, he had a couple of flings on the side to try and get over Ana, but that was when he'd removed his heart to stop feeling the heartache. Yet, despite everything, he always loved his Ana, and he forgave her when she proved her remorse for wronging him. I cannot ever imagine Will entering into another romance with any one else while knowing his Ana was still alive. If Ana has had a relapse as the Red Queen I'll be very, very upset, seeing how she had already been redeemed as the White Queen of WL. And for obvious reasons, I don't want Ana to be dead. I want Will just to think that she's dead, and then for her to turn out to be alive in S5. (Though even that seems very repetitious after what Ana went through in W, but it beats the alternative).

—Slurpeez
Is Will simply staying with Belle to get more information about Anastasia? He did say that he lose his sack, and he was holding a page about the Red Queen when he passed out inside the library; Belle works at the library, could that be why Will is hanging out with her?
The last line of the episode, Snow said, "Because of us, Maleficent lost her child." Prior to the conversation, Snow said that they went to extraordinary lengths to ensure Emma's magic will be light, rather than dark.
What if they took Emma's potential for darkness and stuck it into Mal's baby. It could have attracted the sorcerer's attention and he/she could have banished the baby to our world where it wouldn't be a danger to anyone.

—Felie
If Maleficent's baby is still alive and well, where is the baby now and who is it? We've gathered some popular theories regarding the possible identity of the baby, including two of Jessica Frey's:
So I have a theory regarding what Snow and Charming did. I think it could tie into the Sleeping Beauty story in that because Snow and Charming decided to make sure Emma was a true hero, another baby had to suffer. That baby could be Aurora. Perhaps Aurora is Maleficent's daughter and, because of Snow, Aurora is raised by King Stefan so it was like some kind of trade. This would be because where Emma is the product of true love Aurora was created out of wedlock. Thus Mal can't raise her daughter while Snow got to try and protect Emma.

I want to add instead of sleeping beauty being her daughter what if maleficent's daughter is Lily. Lily would be the same age as Emma. She had that weird tattoo and she said she felt out of place. If the daughter of Maleficent was Lily that would tie together the whole season in a way.

—Jessica Frey
Did we miss anything from the episode, Unforgiven? Sound them all in using the comment section below!
What did you think?
Help us out!
Follow us
Spoilers