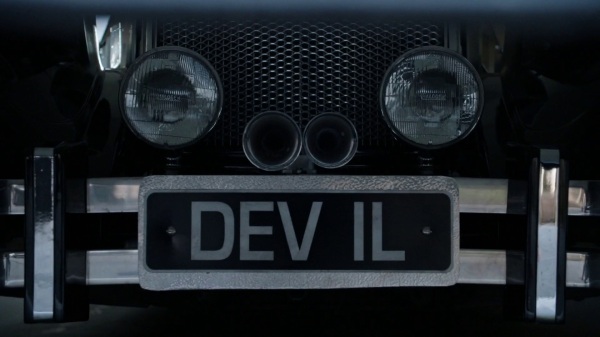 After banishing Rumplestiltskin, Belle, Hook and the others find a way to release the fairies that were trapped inside the Sorcerer's magical hat. In New York, meanwhile, Rumplestiltskin, Ursula and Cruella De Vil drove to Storybrooke's quaint little town, hoping that Regina will let them in, with a hidden agenda to change the odds. In the Enchanted Forest of the past, however, the Dark One sent an invitation to the Queens of Darkness and led them to stealing the Dark Curse in promise of regaining their greater glory, only to realized that the Dark One is full of empty pursuit and false promises.
Podcast: Play in new window | Download | Embed
Before discussing about the Spring premier episode, Darkness on the Edge of Town, we also watched Secrets of Storybrooke, a special feature shown before the airing of the Spring premier episode, which was narrated by Jennifer Morrison. The special showed a lot of behind the scenes stuff, and even the casts thought that the curse wouldn't be broken until the end of the series. Check out this website if you haven't watched it but wants to.
Enchanted Forest (Past)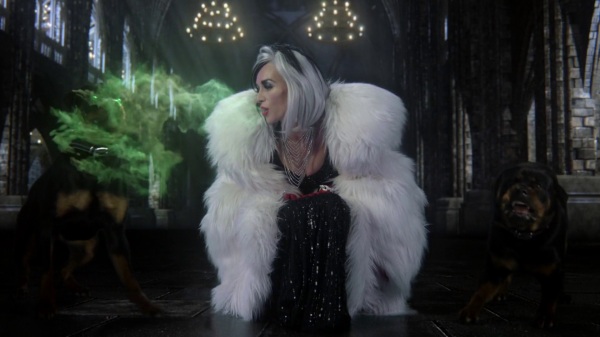 Whenever we see "many years ago," the first thing we think of is where do this fit in the past? But we think that everything we see here happened before Belle or even Sleeping Beauty. We also wonder whether Rumple had communicated with the Queens of Darkness since their last face off.
We expected to see Cruella be accompanied by Dalmatians, but in the episode, she was actually with two Rottweiler. And how come Ursula, the one that no one has seen in a very long time, came when summoned? What did Rumple told her that made her decide to show up?
Before the Queens of Darkness and Rumple went to steal the Dark Curse, Rumple told them it's time for villains to get their happy ending. It seems the difference between Rumple, the Queens of Darkness and Regina is that with Regina, she was trying to redeem herself before so she can get her happy ending. The Queens of Darkness and Rumple, on the other hand, seem to only want to get their happy ending and stay evil at the same time.
When they were at Maleficent's hall, the same hall where Maleficent and Regina talked when she come to retrieve the Dark Curse from Maleficent, Rumple said that each of the Queens has a secret desire. What do they secretly desire? Could these be what we are going to see in the flashbacks in the next coming episodes? Still, this exchange between Rumple and Cruella are currently one of our favorite parts of this story arc. There surely are a lot of witty comebacks in this episode.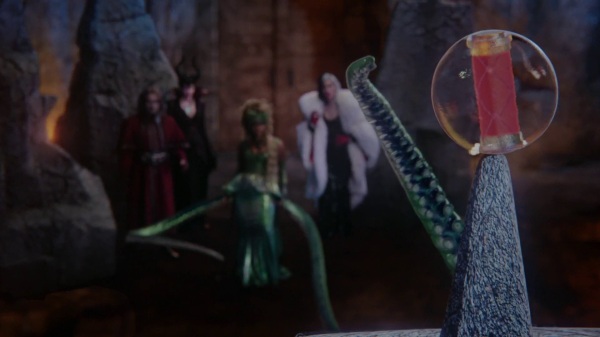 When they go to steal the Dark Curse is definitely one of the highlights for us, because it ties us back to the origin story as well as how everything started since the Pilot episode. Will this be the only time we're going to see about the Dark Curse? Or will we learn more about the curse that started it all?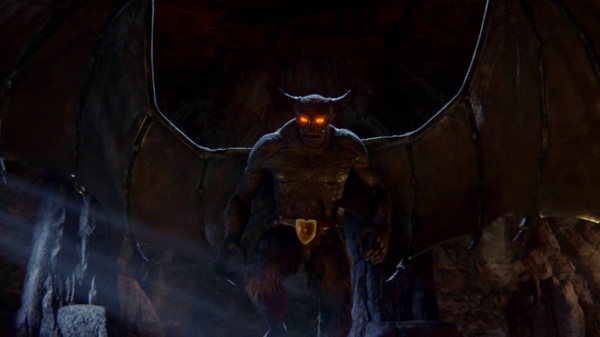 Every time they talk about what Chernabog does, it's always so specific. They said that the Chernabog seeks out the heart with the greatest potential for darkness. This has us wondering what could that really mean? What makes two identical people go the other way or influences their decisions? If Emma was the one with the most potential for darkness, what kind of obstacle will she face? Will she turn on the dark side? Will she face challenges that will make her consider going evil or turning to dark magic?
It was kind of cool to see the three witches work together and although Maleficent initially thought that Ursula and Cruella were going to abandon them, they didn't, which means that they might have more honor than Rumple. But why is Cruella even in the Enchanted Forest? Perhaps Cruella's backstory is likely going to be the most changed from the original villain than she was in the movies.
Thank you for supporting us!
David Neuland (subscriber)
Steve Johnson (subscriber)
Lisa Slack (subscriber)
Tappnbird (subscriber)
Laura Silva (subscriber)
Mark Stapleton
11 Patreon backers ($39.25 per episode)
Lynda.com/once
You can sponsor an episode or more of ONCE podcast, too! Email Daniel@ONCEpodcast.com if you would like to arrange a corporate sponsorship of our podcast for the upcoming third season.
Present Day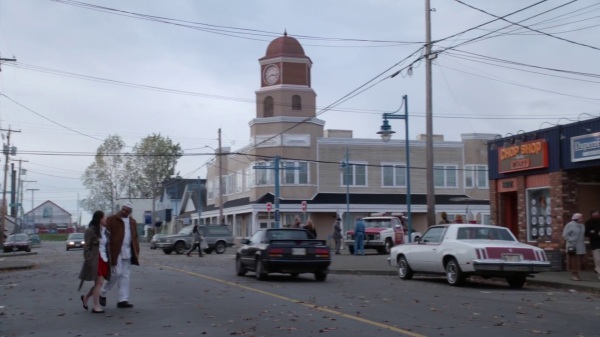 We love the small montage that they showed us where they show what happened in the past six weeks, as well as seeing Regina taking the Mayoral position back. We also noticed that some of the shops were still in town, such as Any Given Sundae, the ice cream shop owned by Ingrid but is now closed, Bo Peep's Chop Shop and of course, Mr. Gold's Pawnshop. In the episode Shattered Sight, we talked about a guy in white outfit that stood out most to us. Turns out, that same guy in white outfit was still shown in the montage, this time arm in arm with the girl from Granny's Diner.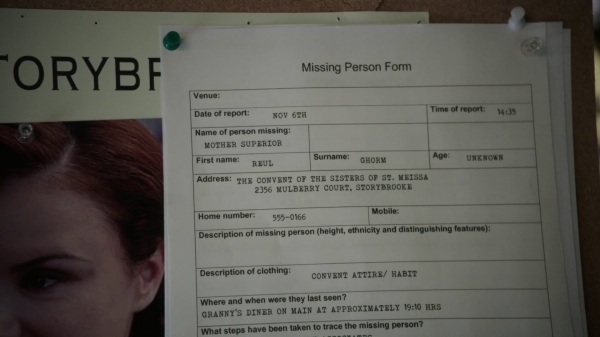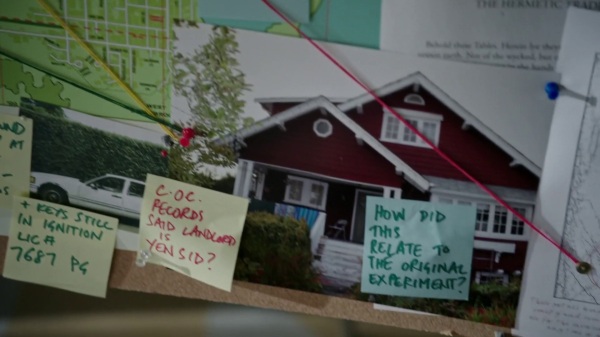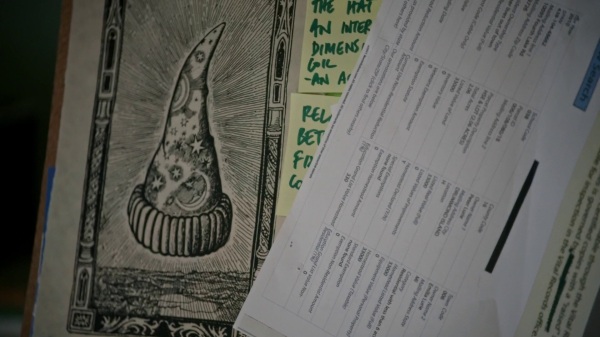 Inside the library where Belle and Hook were working on trying to find out how to release the fairies, we caught a few things, including:
Blue Fairy's missing person form says, First name: Reul, Surname: Ghorm, Age: unknown
Records said "landlord is Yen Sid?" on apprentice's house
"How did this relate to the original experiment?"
Names on some kind of search: Peter Lurie and Emilia Lurie
The shape of the hat is an inter-dimensional coil—an accelerator
Yen Sid, if you haven't remember, is the name of the Sorcerer in the movie Fantasia, and we are holding to the idea that the Sorcerer we hear being referenced is Yen Sid. Maybe not the author as well, as Blue Fairy told Regina that they are two different people, but there might be a chance that the Sorcerer is also Yen Sid.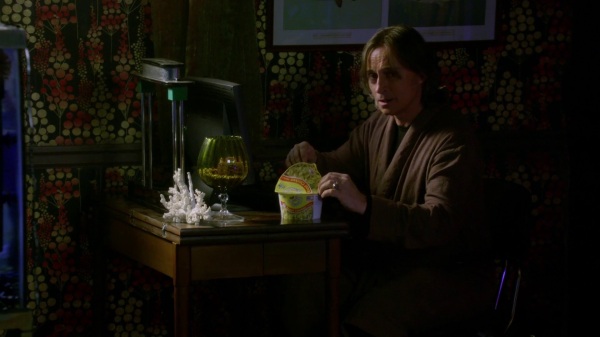 In New York, on the other hand, Rumple has been living with Ursula for six weeks, eating all of her ramen noodles in his bathrobe and crashing on her couch. However, it's cool finding out that he has been working out his magic by posing as a Linguistics Professor in Oxford.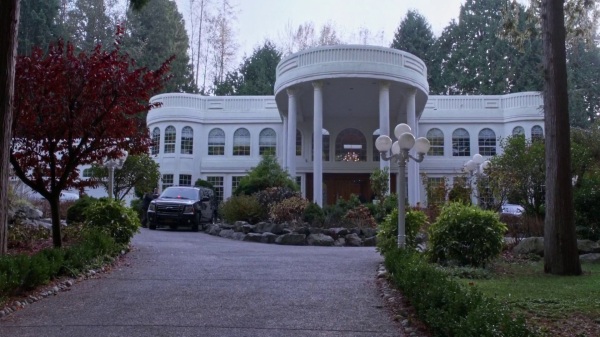 When they went to Great Neck, Long Island to get Cruella, where she was known as Cruella Feinberg, we saw that there was a man being taken away from the house. Was Cruella a con artist? When she faced Rumple and Ursula, Rumple told Cruella that there was magic in the Land Without Magic, they just have to know where to look. However, we know that there's still a bit of magic even outside of Storybrooke, like the time when young Emma used her magic in the arcade with Ingrid.
During our Darkness on the Edge of Town initial reactions, we said that the voice at Mr. Cluck's drive through sounds familiar, which now we are sure that it might be Hugo from Lost. However, while they were ordering, Rumple said that the book has power. Does the book really contain powers? Was the author so powerful that when he writes, he creates an entire world, and are therefore the only one that can finish the story? Aside from this, Rumple is also certain that the author is in Storybrooke, as also proved by Blue Fairy. Was the author the one that put the page 23 inside Robin Hood's backpack?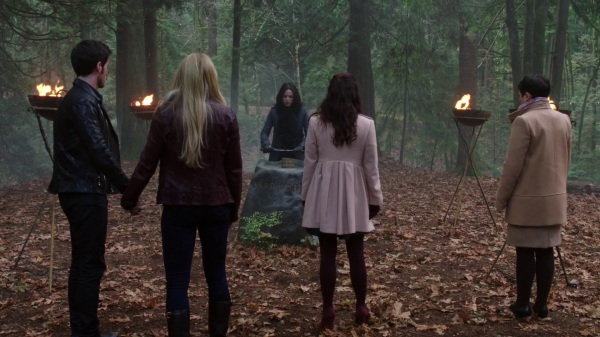 It was great to see the camaraderie grow between Regina and Emma when they were chatting at the Mayor's office. And thanks to Belle and the unknown Linguistics Professor from Oxford, it's Free the Fairies Day! As Regina, Emma, Hook, Belle and Mary Margaret gathered to free the fairies, we saw some runic writings on the stone where Regina placed the magical hat.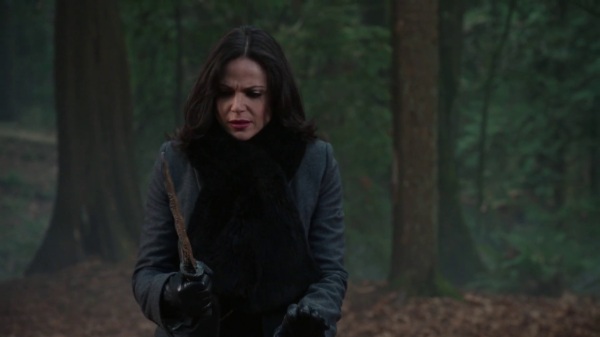 Speaking of Regina, there was something in the way she holds the Dark One's dagger, it was showed several times that her hands were shaking. Was there anything to Regina's looking at the dagger that way? Was the Dark One's dagger too powerful for Regina or did she find it tempting? We didn't see her give the dagger back to Belle, is she thinking of controlling the Dark One herself? Why didn't anyone heard when the Chernabog went out of the magical hat and flew away from their back?
Ugly Ducklings Inc. is holding a fundraising charity raffle. Check out their website to learn more about this exciting fundraiser that is set to happen soon!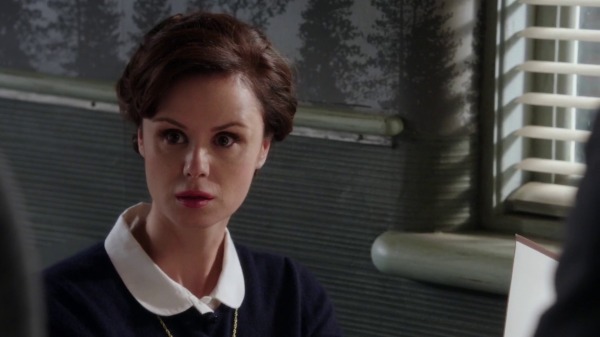 When Rumple took the ladies of darkness at the Storybrooke town line, cleverly marking it using his neck tie, it made us wonder how Rumple managed to come back when Belle commanded him to leave town and never come back? Did Belle actually not mean for him to never come back, that's why Rumple was able to sneak back in?
Back at Granny's Diner as they're celebrating the return of the fairies, Blue Fairy seemed clearly disturbed, especially when she found out that the Sorcerer could be in Storybrooke. She almost look incredulous as if she and the Sorcerer had a past. Blue Fairy told Regina that the Sorcerer and the author are two different people, was the author trying to find his own happy ending as well? And if the Sorcerer and the author are two different people, does that mean that two are actually nemesis? She did say that the book is very powerful, what could that mean? Does that mean that each of them is the author of the book? If August was able to steal Henry's book and add his own story, does he know who the author is? Will we see adult August again, since little Pinocchio doesn't remember anything?
When Ursula and Cruella called Regina, asking if they could be invited inside the town, didn't Regina sensed that it was just an act? After re-watching, we realized that as Emma and Regina teamed up yet again against the Chernabog, it was clear that the Chernabog was after Emma.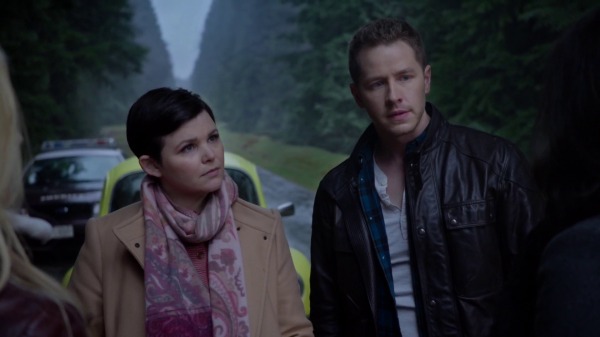 Before Emma and Regina let Ursula and Cruella in to the town, Snow and Charming seem to know exactly how bad it is that Cruella and Ursula are now in Storybrooke. Why doesn't anyone wonder of the women knew exactly where the town line was? Is whatever Snow and Charming trying to keep Ursula and Cruella from telling anyone has something to do with Emma specifically? Back at the town line at  night as Rumple awaits Ursula and Cruella, how long did the ladies wait before sending the scroll through over Rumple?
Thank you for the podcast reviews!
MaxtheDog5 said, "So good even a troll would love it. This is a great little show that sprays charm all over the audience. It's fun, insightful, and brilliant."
startswithaj said, "… after listening to all of their discussions on the current season, I intend to re-watch OUAT and listen to their podcast from the beginning as I do so. Their podcast is informative, insightful and just the right amount of humour. Plus Daniel J Lewis has a voice that is perfect for radio. It kind of reminds me of the way someone like Ira Glass(from This American Life) speaks. Where his voice alone pulls you in and makes you want to hear what he has to say from the second he opens his mouth. Not that the others(Jeremy and Erin, I believe) don't sound good as well. Their voices work well with his and all three seem to have great chemistry. …" Read the full review.
Your reviews encourage us and help others find the podcast!
Please rate and especially write a review for us on Apple Podcasts.
After Rumple crossed back the town line, it looks as if he was going to pull a Cora now, trying to manipulate anyone so he can get his way. He also mentioned that he plans to resurrect Maleficent and that she isn't fully dead. How are they going to do that? Will she look like the Once Upon a Time Maleficent or more like the Angelina Jolie version of Maleficent? If you look into the Maleficent during the first and second season, Maleficent looks very different. In season one, Maleficent looked more broken, in her purple garb, whereas currently, she was in her black outfit a la Angelina Jolie. We think this changed happened after Sleeping Beauty.
Chernabog might be taken from Fantasia in terms of appearance, function, and characteristics, but the name originally comes from Slavic mythology, where it's spelled Czernabog. The name means "black god", and is a figure of darkness and evil. He actually appears in Neil Gaiman's novel American Gods, alongside of his brother, Bielobog, which means "white god" and is a figure of light and goodness. —Michael Lucero
I hope the hidden clues that the Author left aren't hidden Mickeys but that is totally what I thought of when Blue said mentioned the clues. Blue does seem to be nervous about the Sorcerer and kind of surprised or almost scared they wanted to find him. I thought it was interesting that Blue said it could be a "she". I hadn't really thought about it before, but it is interesting to think about. Since the books belonging to the Author are found in the Sorcerer's house, that makes me think they at least know each other, if not work together. It would be really interesting if the Author was the Sorcerer's wife! —Jessica Olsen
I am thinking that if both Snow and Charming were involved, and both Ursula and Cruella (and possibly Maleficent), it had to have happened sometime before Charming and Snow were married or while Snow was pregnant with Emma. It could be that they made some sort of sketchy deal with them. I don't really know what would need to be such a secret that would cause Snow to threaten to rip out their hearts, but my guess is that would have to do with either protecting Emma or defeating the Evil Queen back in the Enchanted Forrest. —Jessica Olsen
Down in the forest, as Snow and Charming meets Cruella and Ursula, Mary Margaret told them that they shouldn't say anything to anyone, especially Emma or else Mary Margaret will rip out their hearts herself. What are Snow and Charming hiding that is so bad that they don't want to their daughter to know? Let us know your thoughts about Darkness on the Edge of Town using the comment section below!
What did you think?
Email Feedback@ONCEpodcast.com (audio files welcome)
Call (903) 231-2221
Comment on the shownotes
Visit any page on ONCEpodcast.com and click the "Send a voice message" link to record and send a message right from your computer.
Help us out!
Share this post in your social networks
Follow us
On Facebook:
On Twitter:  echo do_shortcode('[twitter follow="ONCEpodcast"]'); ?>
Daniel J. Lewis:  echo do_shortcode('[twitter follow="theDanielJLewis"]'); ?>
Jeremy Laughlin:  echo do_shortcode('[twitter follow="phlegon"]'); ?>
ErinJ:  echo do_shortcode('[twitter follow="erinjcruz"]'); ?>
Hunter Hathaway:  echo do_shortcode('[twitter follow="travelingpixie"]'); ?>
Jacquelyn / RumplesGirl:  echo do_shortcode('[twitter follow="punk_bunny_87"]'); ?>
Spoilers
Emma investigates Cruella and Ursula, but also feels like her family is keeping something from her.
Regina and Henry continues their search for the Author.
Snow and Charming cross paths with the Queens of Darkness in the past at the Enchanted Forest
4×13 "Unforgiven" was written by Andrew Chambliss and Kalinda Vazquez and directed by Adam Horowitz
American promo shows Maleficent being in the forefront.
It looks like Maleficent is threatening Baby Neal but in the Canadian promo, it looks like Snow is just dreaming
The Queens of Darkness might make the Charmings pay
Rumple goes down the mine, where it looked like he put the Charmings to sleep, will there be a blood sacrifice?
ABC released two clips. One shows present day Charming and Snow in Storybrooke where David was holding a totem similar to the orb that Maleficent carries in her staff
David suggests tossing Maleficent's ashes into the harbor
The second clip showed Charming and Snow in the past coming from the Summer palace, probably after they faced Medusa. In the clip, Snow still looks concern about Regina's threat.
The clip also showed the Queens of Darkness appearing before Snow and Charming to make a deal
Set photos reveal Mary Margaret and Charming walking down the mine, backpack in hand
Another set photo also showed Regina in the office with Henry and the book
Another photo showed Emma talking to young Pinocchio; Geppetto was also seen in the Mayor's office talking to Pinocchio
ETOnline reported that at the end of 4×14, Rumple will start on a "new quest that he's really energized about."
Belle is making at a point to keep Mr. Gold's Pawn Shop up and running, while keeping the Storybrooke library in tip-top shape.
TVLine reported that Belle might soon be paired with Will who is, like her, is also looking to move on. Looks like there might be a new ship on the horizon
Barbara Hershey is set to return to reprise her role as Cora in 4×20
TVLine also reported that Agnes Bruckner (Covert Affairs) was cast in a 3-episode guest arc. Although there are no confirmation yet as to who she's set to play, our guess is that she will probably play the adult Lily
4×18 is entitled "Sympathy for the De Vil" and is written by David H. Goodman & Jerome Schwartz
4×19, Lily, is written by Andrew Chambliss & Dana Hogan
4×20, titled "Mother" is written by Jane Espenson
Episode 14 will show Regina and Maleficent's backstory; how they became friends.
Episode 15 will reveal Ursula's origin story. Dubbed as a "soul-crushing episode," it will show Hook as a pirate and why he has a quite complicated past with sea witch, TVLine reports
In episode 4×20, there will a surprise concerning Regina and Maleficent
Henry may soon find love of his own
EW reports that Robin Hood will have an entire episode of his own in New York City
We are going to meet the Author at a certain point.
We're going to see Oz again, as well as the Sherwood Forest, and a few surprises.
There will be a death, but not clear if it was a major death or not
4×20 Mother – we'll find out if Regina is pregnant but Kitsis and Horowitz are being tight-lipped about it