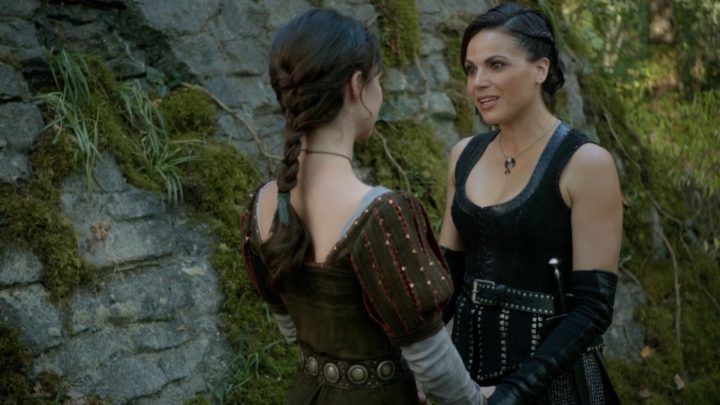 Is Lucy really Henry and Cinderella's daughter? Who actually cast the Dark Curse? What is the bad thing that will happen to the people that Regina loves if the curse is broken? All these questions plus a lengthy conversation on Roni's wake up call, Drizella and this Dark Curse, and more in this full-discussion of this well-acted episode, "Wake Up Call."
Podcast: Play in new window | Download | Embed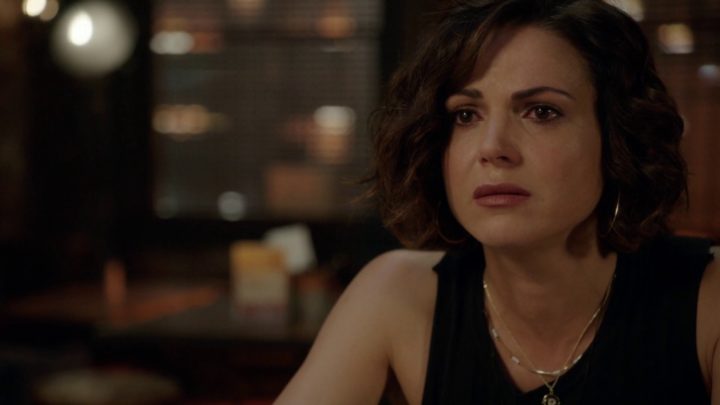 "Wake Up Call" is may be the best acted episode of the entire series. Perhaps not the best written episode, but the dialogues are good. Regina and Ivy, their back and forth, especially Lana Parrilla's expression and without saying a word said so much is amazing. How she has to do that in acting, as well as Adelaide Kane's, is fantastic. Adelaide Kane's Drizella had the same depth as Lana Parrilla playing Regina.
The title card showed a tower in ruins, however, the tower that we saw in the episode was not ruined. Does the bat in the tower have something to do with towers? Is the ruined tower the bat's home? How is the tower relevant to the story? Is it more foreshadowing of things to come rather than necessarily relevant to this episode in itself?
The Butterfly Effect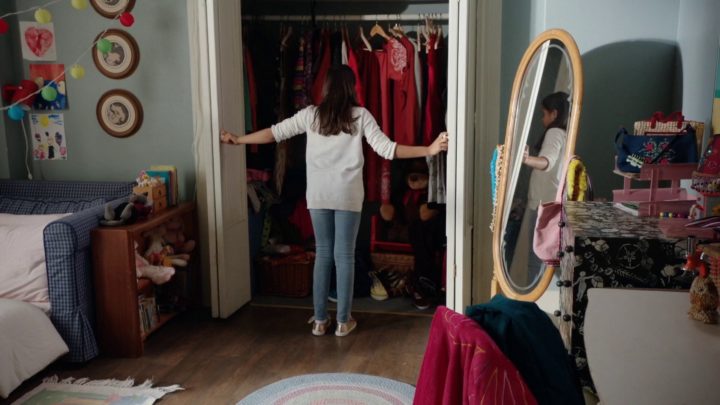 Lucy is on the quest to finding the story book and have them touch it. But, Henry's story book isn't there. It also seems there aren't a lot of illustrations in Henry's book since he didn't even recognize Roni the first time he met her at Roni's. As far as we know, the book that Henry wrote is his story, not the one about the original Once Upon a Time story book. After all, this has adult Emma and young Henry getting two mothers, but also referencing the stories that were in the original book. Furthermore, this curse gave them the exact same background, just with more modern labels to it. Killian was actually shot and was actually saved; Roni actually tried to adopt a baby but got turned down; Henry basically has Emma's story but he was actually born in prison. It seemed like it twisted their memories rather than erase them; their stories weren't changed as much compared to Regina's Dark Curse.
The whole forgetting part of everything was always added to the curse. Zelena added the forgetting potion when she flew around before the curse hit. Regina also managed to add in and gave them new memories when she cast the original Dark Curse. What embellishment did Ivy add to this Dark Curse? Is this even THE Dark Curse or an entirely new curse?
I have a new theory regarding Lucy. I've theorized that Lucy is not really Henry's daughter and that she had to have been around when he met Cinderella for the timeline to work, but now I'm thinking something different. After this week's episode and the revelations about Drizella, I just don't feel like it would've taken her 10-11 years to build this curse. She's a quick study and she would've never been patient enough to take that long for her revenge, unlike Rumple and Hook. So, I'm wondering if the fairies created Lucy, kind of like Dawn from Buffy the Vampire Slayer (for those who watched it). I'm wondering if she was implanted into Henry's memories in the Enchanted Forest 2.0 as a way to help him get back to Jacinda during the curse. If we look at what Lucy has been saying to Henry, all she had said is that Henry and Jacinda are her parents and that they are cursed fairy tale characters. But she doesn't seem to know anything about her past before the curse. The only people she recognizes from the curse are her parents. She had no idea who Roni was. You'd think she would know her grandmother if Regina was living with them, or even came to visit once in awhile. But she doesn't. She only knows her parents. So I don't think she is real, in the traditional sense. I think she was conjured up by the fairies to help Henry and Jacinda find their way back to each other in the curse.

— Lisa
Is Lucy even Henry and Cinderella's daughter? Or was she created to help Henry and Cinderella find one another? What if the book that Lucy was carrying around is actually Henry's book that is also cursed? Does this mean that it took Drizella 10 years to figure out how to make the Dark Curse unbreakable? As in Potterverse, what happens if you break an unbreakable vow? You die.
Even this direction they're trying to take Lucy, do they really need her heart after all? With Lady Tremaine seemingly partially awake, she sure seemed to be advantaged to the curse. How did Lady Tremaine remain awake if she wasn't the one Drizella was in talks with when Drizella cast the curse? What's this suffering that Drizella is foreshadowing about Victoria Belfry?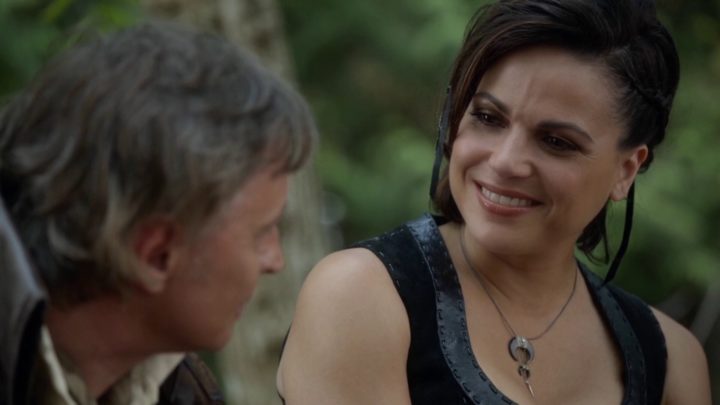 It was nice seeing matured, calmed down Rumplestiltskin in the Enchanted Forest, and not the conniving, manipulating and skiving Rumple/Weaver we've seen before and now in Hyperion Heights. He really has changed and probably glimpsed of who he really is, so he probably isn't as fully awake as Regina now. What favor does he want from Roni/Regina? Does it have something to do with him freeing from the Dark One power? What will happen when Roni/Regina comes across Rumplestiltskin/Weaver now that they are probably both awake?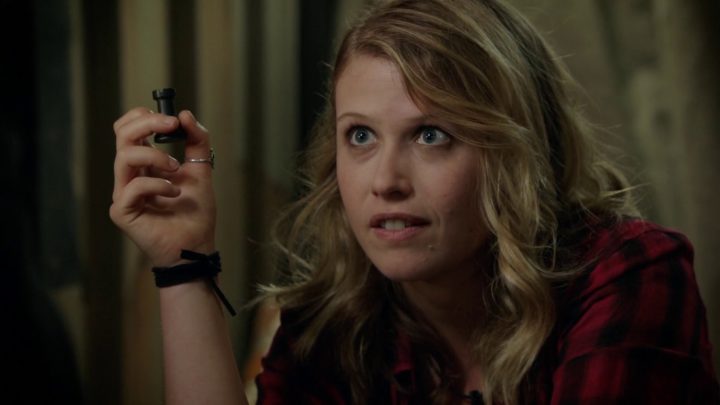 Is Tilly the daughter that Wish Realm Hook is looking for? In Hyperion Heights when Rogers and Tilly were playing chess, Tilly and Rogers were both holding the rook chess piece. Also Alice's cursed name was tied to her cursed name: Tilly = Eloise Gardener.
It's interesting how Colin O'Donoghue gets really flustered whenever he's looking at this missing person's case. Also, the way he describes Eloise Gardener as someone who "liked art, hate school, a bit of an amateur poet, fearless" looks a lot like Alice.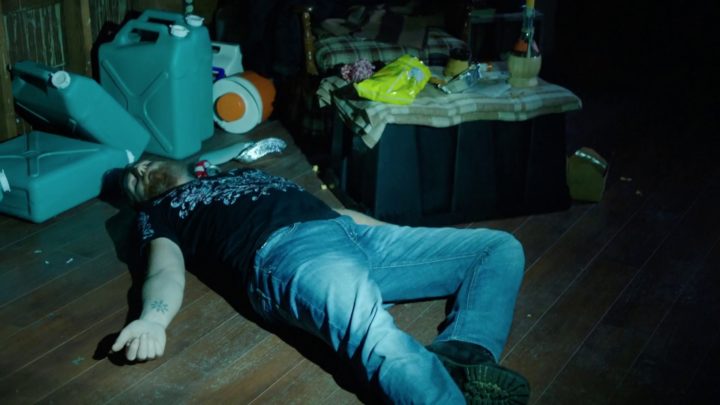 I was on Pinterest today looking for a picture of a medieval compass for a project of mine and was surprised to come across an image that looks surprisingly like the symbol in the missing girl's diary. If you search for "vegvisir viking compass" you will come up with some very similar images.

I did a quick search for info on the image and found the following:

The Vegvisir (Icelandic Vegvísir, "That Which Shows the Way;" pronounced "VEGG-vee-seer") is a symbol found only in one modern Icelandic collection of spells, the so-called Huld manuscript. That book has nothing more than this one sentence to say about it: "If this sign is carried, one will never lose one's way in storms or bad weather, even when the way is not known."[1]

Source site (where you can read more): https://norse-mythology.org/vegvisir/

It's not an exact match, but I'd say it's definitely related, and the meaning of the symbol certainly seems to fit with our missing Captain's Daughter, though not with what the bearded man told us about the rune warding off evil.

Have a great day and thanks for the wonderful podcast!

— Opera13
By the way, the thug that Rogers found in the house that he broke into was Sam Ochotta. Why kill the messenger? Just because he's a loose end? Who did he call: Victoria or Drizella? Where does the symbol connect to anything? Is it connected to the bat in the Belfry? What if Anastasia the missing girl? Is Dr. Facilier going to come back into the picture? Is he the one who captured Wish Realm Hook's daughter?
Roni's Wake Up Call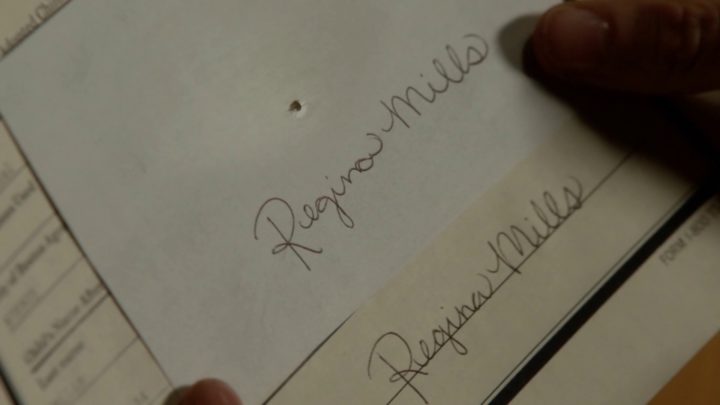 One of the exciting things about this episode was the mention of Cora and her comparison with Lady Tremaine. We liked how Drizella said that Regina was good at breaking hearts when the trust is she rips them out and crushes them. Are we the only one who thought that Ivy was going to put Regina under the sleeping curse when she said that Regina was not going to be a problem by the end of the day?
Can Regina just go around giving them to people to wake them up without having to break the curse? What happens if you give them to the wrong people? Can they die just like what happened to Henry when he ate the poisoned apple turnover that Regina originally gave to Emma to put her under the sleeping curse back in season 1?
Now that the bat got what she wanted, is she going to get more powerful?
Now that Roni is awake and she's Regina again, it creates an emotional burden. She now sees her son and wants to be his mother again but she can't wake them up because vey bad things will happen to the people she loves if the curse is broken. Who does she going to go to for help now that she's awake? Weaver? Is it like in other cases that we've seen where she still have all of Roni's memories and know how to be Roni convincingly?
Back in the new Enchanted Forest, Henry and Regina had some wonderful moments when he said that she was "the first to love me. You're the only person who loved me, for many years." And if you couldn't tell already, this was an Espensode, written by Jane Espenson and Jerome Schwartz.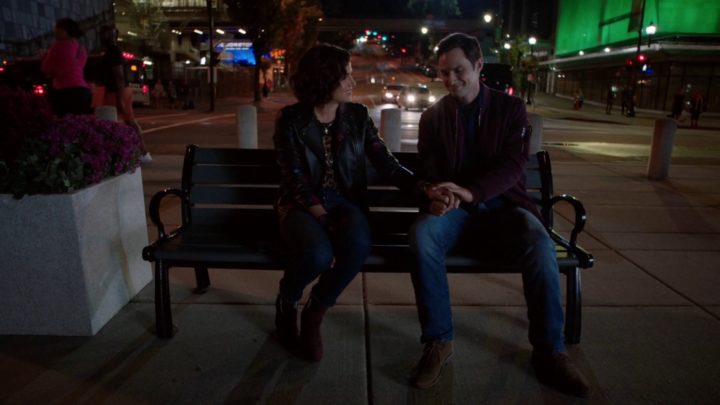 What is the bad thing that was going to happen to the people Regina loves if the curse is broken? Regina seemed pretty terrified when she remembered. Why does it have to be Henry and Cinderella's kiss that was meant to break the curse? Why not Henry and Regina sharing a mother-son moment or Henry and Lucy sharing a father-daughter moment that will serve as a loophole to break the curse? Why would Drizella even add the kiss into the curse if she doesn't want the curse broken? Does this mean that the curse is breakable but that she added this so that they wouldn't want the curse broken?
Is Regina going to sacrifice herself to prevent this bad thing to happen and still allow the curse to be broken?
Henry and Cinderella, in the meantime, are finally going out but Roni is now probably going to stop them from falling in love to prevent the curse from breaking.
Mixed Bag of Ivy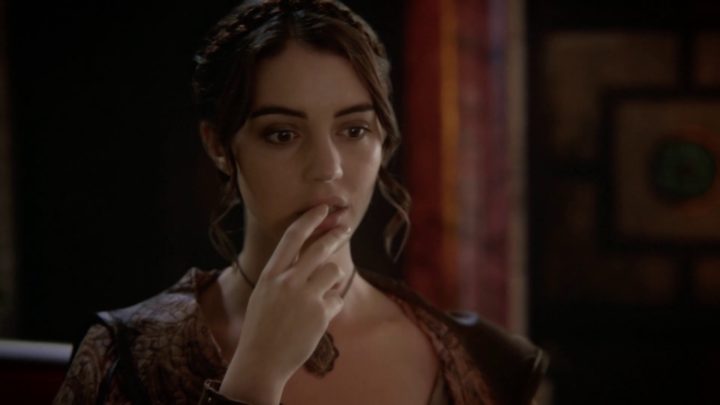 Drizella killing Prince Gregor to darken her heart is a silly mechanic. We liked the way it was executed, it was well-acted and she looked so creepy after doing it but it was also a silly mechanic.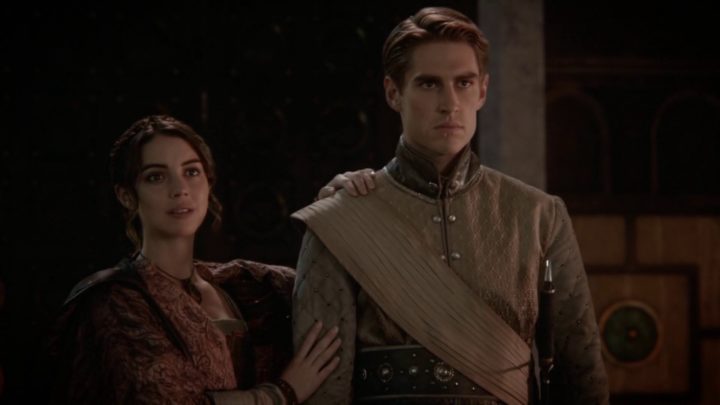 For anyone who didn't know, in this last episode 7×06, Prince Gregor (Drizella's prince whom she killed) was played by Julian Haig who is the brother of Georgina Haig aka OUAT's Elsa. Just a fun tidbit of trivia.

— Ry4Christ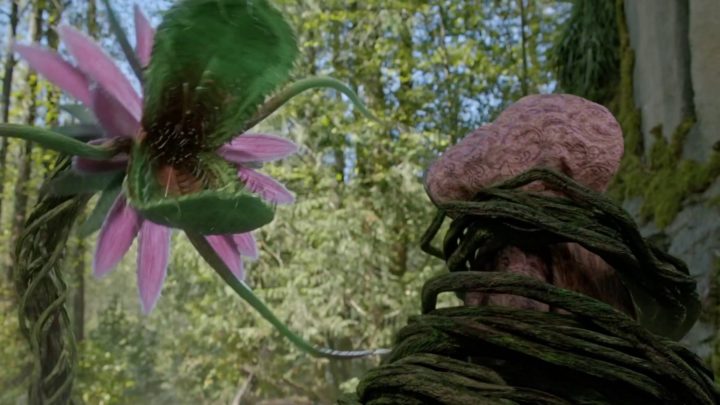 So Drizella was born with magic but not allowed to cultivate it. How does she even know? Emma didn't know that she had magic until she got to Storybrooke. When she was outside the tower and found the chest, did she make the beast come out and attack her? Did Ivy's magic cause Anastasia to die that's why she was not allowed to cultivate it, very much like Elsa accidentally harming Anna in Frozen?
Don't know how or why. But the language Drizella was using when she spoke about the curse in the bar didn't give me the impression that she cast it. I think it's going to be a plot twist. We are going to think it was her because she says she was going to cast it but it turns out to have been either Regina or Cinderella who cast it.

— The Watcher
Did Drizella actually cast the Dark Curse or was it Regina who actually cast it? But if Regina cast it, why would she allow herself to not be awake?
Why do I get a bad feeling Victoria Belfry/Lady Tremaine will wind up being Cora's half-sister?

If LT winds up being Cora's half-sister, it will mean that LT is an aunt to Regina and Zelena. It would mean Drizella and Anastasia are Regina's and Zelena's nieces and Henry's cousins.

LT daughters would have the same sisterly problem as Regina and Zelena. It would mean that Drizella, like Zelena, was born with magic. Therefore, it would be interesting to know if Anastasia was born with magic; or if she was born without magic with no ability; or if she learned it along the way, the way Regina did.

If Regina is our new teacher of magic to the next generation, then she too will have the same Yoda, Obi Wan and Luke realization of who should be worthy to be taught magic and be the "guardian" of it.

I think it would be a very Star Wars crossover story to have it be played out within the ONCE universe.

Since the next Star Wars movie the Last Jedi is due to come out in December, then why not.

I am just not sure I could argue that the use of magic and the force are one in the same.

— Keeper of Squid Ink
Is Lady Tremaine actually related to the Mills?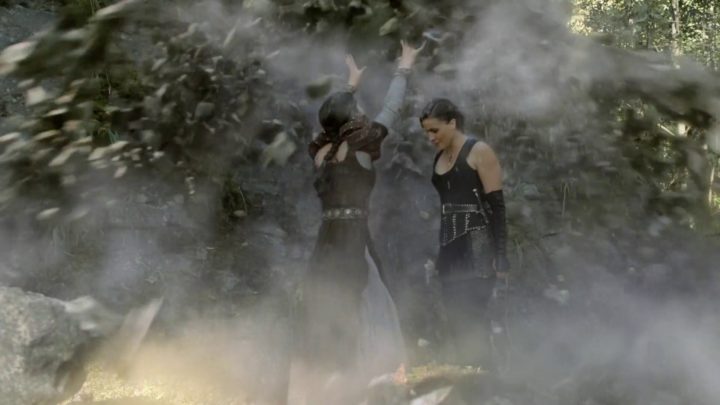 When Regina was training Drizella, it was a lot like Star Wars with Obi Wan training Luke. Could Lady Tremaine be Rumplestiltskin's sister? What is the seed of pain that has been planted? Aspartame?
As much as I liked the complete surprise at the end of the last week's episode, it frustrated me at the same time because it does not sense.

If Ivy does not have anyone else to care about other than her mother, then whose heart did she sacrifice to create this cursed reality?

Her mother is still here in present day.

Her sister, Anastasia is missing a heart and is almost dead.
She should be very dead, especially if her heart was crushed to create the curse.

If Ivy/Drizella was jealous of Anastasia because her mother preferred her sister over her, then how can Anastasia be the person she loved most to be sacrificed to create the curse?

Either we are being mislead as to who created the curse; or we are being mislead as to how we got to this reality of Hyperion Heights.

It may have been done by some means that we are not accustomed to from ONCE proper.

Hmm…  I think there is some squid ink in our future.

— Keeper of Squid Ink
Whose heart was used to enact the Dark Curse?
Please note that this Friday's Once Upon a Time is going to be a 2-hour back to back episodes. In line with this, we might do separate podcasts for the episode, like what we did with Birth and The Bear King. But what did you think about the episode "Wake Up Call"? Did we miss anything worth discussing from the episode? Sound them all off by using the comment section below or head over the forum to discuss more about "Wake Up Call."
What did you think?
Email Feedback@ONCEpodcast.com (audio files welcome)
Call (903) 231-2221
Comment on the shownotes
Visit any page on ONCEpodcast.com and click the "Send a voice message" link to record and send a message right from your computer.
Help us out!
Share this post in your social networks
Follow us
On Facebook:
On Twitter:  echo do_shortcode('[twitter follow="ONCEpodcast"]'); ?>
Daniel J. Lewis:  echo do_shortcode('[twitter follow="theDanielJLewis"]'); ?>
Jeremy Laughlin:  echo do_shortcode('[twitter follow="phlegon"]'); ?>
ErinJ:  echo do_shortcode('[twitter follow="erinjcruz"]'); ?>
Hunter Hathaway:  echo do_shortcode('[twitter follow="travelingpixie"]'); ?>
Jacquelyn / RumplesGirl:  echo do_shortcode('[twitter follow="punk_bunny_87"]'); ?>