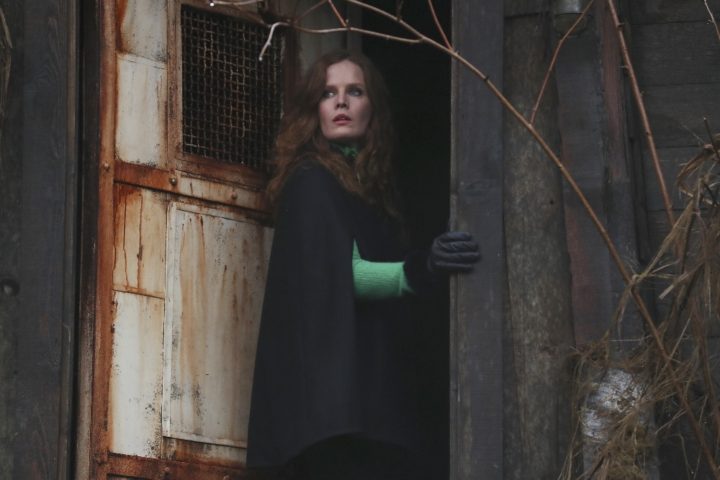 Is the Black Fairy's darkest secret a weapon that can be used against her or simply a thing that she doesn't want everyone to know? Let's get into "Where Bluebirds Fly" and hear us share our initial thoughts about the "ultimate sacrifice", planning for Emma and Hook's wedding, the other piece of the Elder wand, and more!
Podcast: Play in new window | Download | Embed
In flashback, Zelena befriends a young woodcutter who has been cursed and turns to her for help finding a new heart. Zelena is forced to choose between keeping her powers and her friendship with him. Meanwhile, in Storybrooke, Zelena decides to take on the Black Fairy and put a stop to her, once and for all, against Regina's wishes, and the Charmings disagree over Emma and Hook's wedding plans.
These are our first thoughts about this Once Upon a Time episode. We'll share more about "Where Bluebirds Fly" in our upcoming full discussion (usually live on Wednesdays at 7:00 p.m., USA Eastern Time).
Initial Reactions
The title of the episode, "Where Bluebirds Fly" is apparently in reference to the song "Somewhere Over The Rainbow," which is kind of a reference to Oz which makes sense to this episode. It's one of those that made the least sense and if you didn't know where the phrase "where bluebirds fly" is, it wouldn't make sense. Then again, they've used other phrases and such that are from books and poems like that that bear some connection with the episode, although not necessarily something that's tied directly to the stories and the episode. Maybe they're running out of titles?
It was nice to see the Oz flashbacks. They're getting traditional again with the flashbacks, which is enjoyable because that's one of the reasons that made us love the show. During the promo before the episode airs, it said that someone is going to pay the "ultimate sacrifice" and while they paid a big sacrifice, it doesn't seem like an ultimate sacrifice. It was a hard decision, clearly, but she is still alive and that's good.
Although the plan for the Black Fairy was to turn all the crystals black so that she could use them to start the final battle, which was undone, but she seems not really fazed by it. If any, she seems to be more afraid of the Blue Fairy than of the fact that she doesn't have all the black crystals anymore. Perhaps the Blue Fairy has the other half of the wand that originally banished the Black Fairy away? However, if that is the case it seems peculiar that the Black Fairy stole baby Gideon so easily from the Blue Fairy the last time they had a run-in with each other. Maybe the Blue Fairy knows where the other piece of the wand is?
Why did the Black Fairy give up Rumplestiltskin? Is this darkest secret a weapon that can be used against her or simply a thing that she doesn't want everyone to know? Is the missing part of the wand not another object, but is actually Rumple? Did the Blue Fairy have to use baby Rumple as part of the weapon in order to banish the Black Fairy and trap her inside of the Dark Realm? Is the Elder wand the exact opposite of the Dark One dagger? What will happen if the Dark One dagger is placed in front of the crimson heart? Is it automatically good magic now?
This whole thing about finding a wedding location seemed a little silly but also makes sense; it's developing the characters and letting us that they are trying to move on. It was nice that they referenced it back to season one with Snow White and Charming's wedding, which makes sense why David is weird throughout the episode. There's been a call from fans for more Charmings moment and we liked seeing that. Although David seemed off, it was cute that he is fussing out about Emma being a princess and wanting her wedding to be perfect, and not wanting her to feel what her parents did back then.
What was it that David saw in Henry's drawings? Was it simply a reminder about the foreboding evil or did he recognize some of the drawings? If it is something more, it's something that can carry on to the next episode, which if it is then they didn't focus on it enough for it to be something that can carry across a separate episode.
We really liked that they showed Henry trying to write a victory for Emma that didn't work, like they have been reading our minds before we even had these thoughts in our minds. Maybe they did hire a nerd in the writer's room.
What did you think about this episode? Share all your feedbacks and theories and join us for our full-discussion of "Where Bluebirds Fly" this coming Wednesday!
Remember, these are only our initial reactions regarding tonight's episode so please bear with us if we're a bit all over the place. If you have your own thoughts, feedbacks, or theories regarding tonight's episode, however, send them over to us and join our upcoming full discussion!
What did you think?
Email Feedback@ONCEpodcast.com (audio files welcome)
Call (903) 231-2221
Comment on the shownotes
Visit any page on ONCEpodcast.com and click the "Send a voice message" link to record and send a message right from your computer.
Help us out!
Share this post in your social networks
Follow us
On Facebook:
On Twitter:  echo do_shortcode('[twitter follow="ONCEpodcast"]'); ?>
Daniel J. Lewis:  echo do_shortcode('[twitter follow="theDanielJLewis"]'); ?>
Jeremy Laughlin:  echo do_shortcode('[twitter follow="phlegon"]'); ?>
ErinJ:  echo do_shortcode('[twitter follow="erinjcruz"]'); ?>
Hunter Hathaway:  echo do_shortcode('[twitter follow="travelingpixie"]'); ?>
Jacquelyn / RumplesGirl:  echo do_shortcode('[twitter follow="punk_bunny_87"]'); ?>